With expansion plans and a public offering to raise capital, does automotive company Lucid Group (LCID) deserve a place in your portfolio? Let's look at its financial metrics to get an idea…
Lucid Group, Inc. (LCID) operates as a technology and automotive company that designs, engineers, and builds Electric Vehicles (EVs), EV powertrains, and battery systems. The luxury EV maker is planning to venture out into the Chinese market in the near term.
According to an anonymous source, the company would sell imported cars in China and consider local production. LCID is also raising funds through a stock offering. At the end of last month, the company announced the commencement of a public offering of 173.54 million shares of its common stock.
In addition, its majority stockholder and an affiliate of the Public Investment Fund, Ayar Third Investment Company, agreed to purchase 265.69 million shares of LCID common stock in a private placement for an aggregate purchase price of approximately $1.8 billion.
However, the company is dealing with a challenging market amid an uncertain economic landscape fraught with high-interest rates. The stock closed its last trading session at $6.21, lower than its 50-day moving average of $7.41 and 200-day moving average of $10.07.
Therefore, let's take a look at the trends of some of its key financial metrics to understand why it could be wise to avoid the stock now.
Tracking LCID's Financial Metrics
The gross margin of LCID has experienced fluctuating trends over this period. It increased from 22.8% on December 31, 2020, to 28.9% on June 30, 2021. However, a sharp decline to -47.1% was observed on December 31, 2021.
This declined further to -37.4%, -28.2%, and -21.4% on March 31, June 30, and September 30, 2022, respectively. The reported gross margin stabilized to -17.1% on December 31, 2022, after which there was a slight dip to -17.2% on March 31, 2023.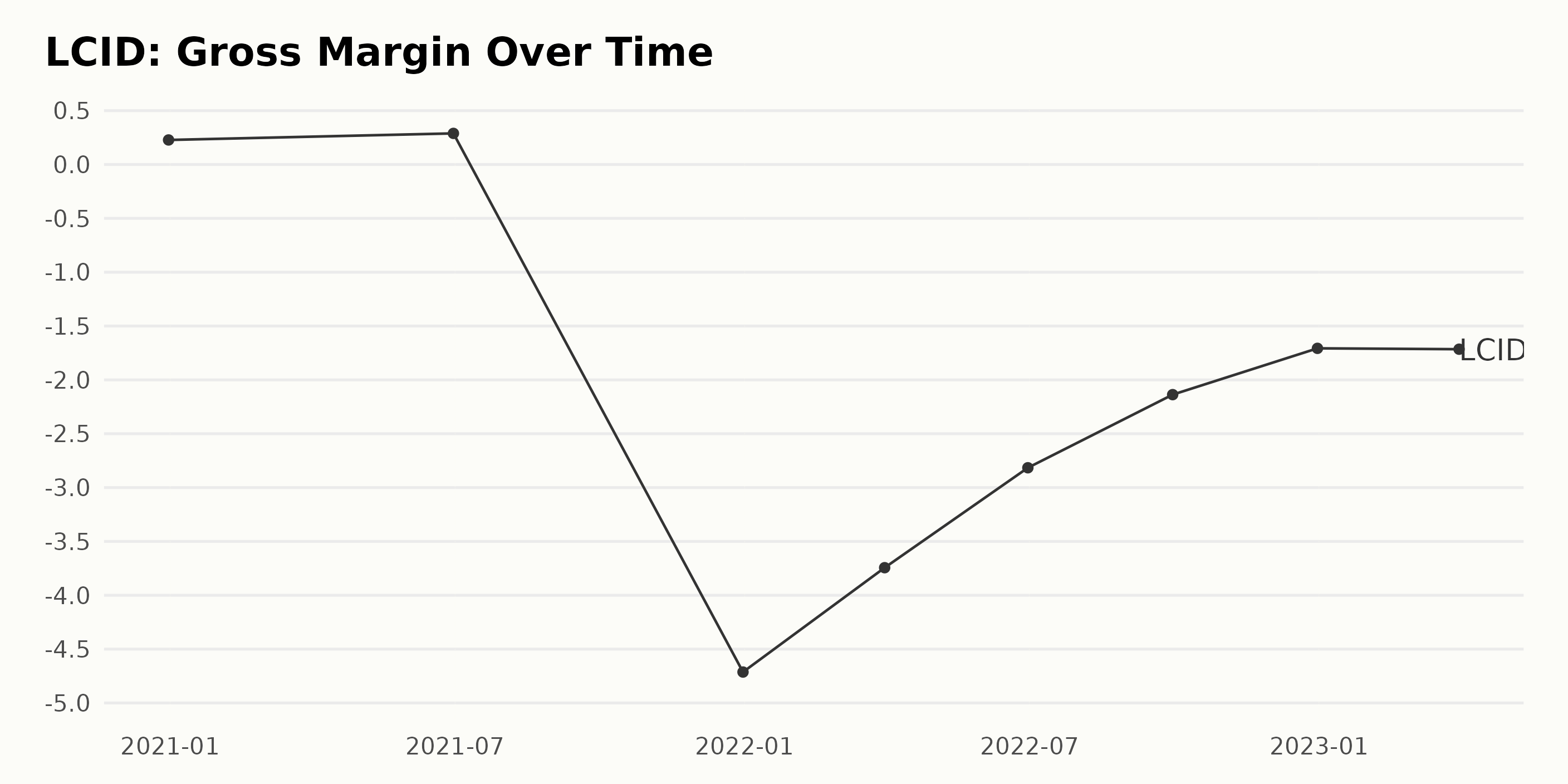 The ROIC for LCID has been fluctuating between -1.18 and -0.29 over the past three years, with a growth rate of -75.42%. The most recent value is -0.29, recorded in March 2023.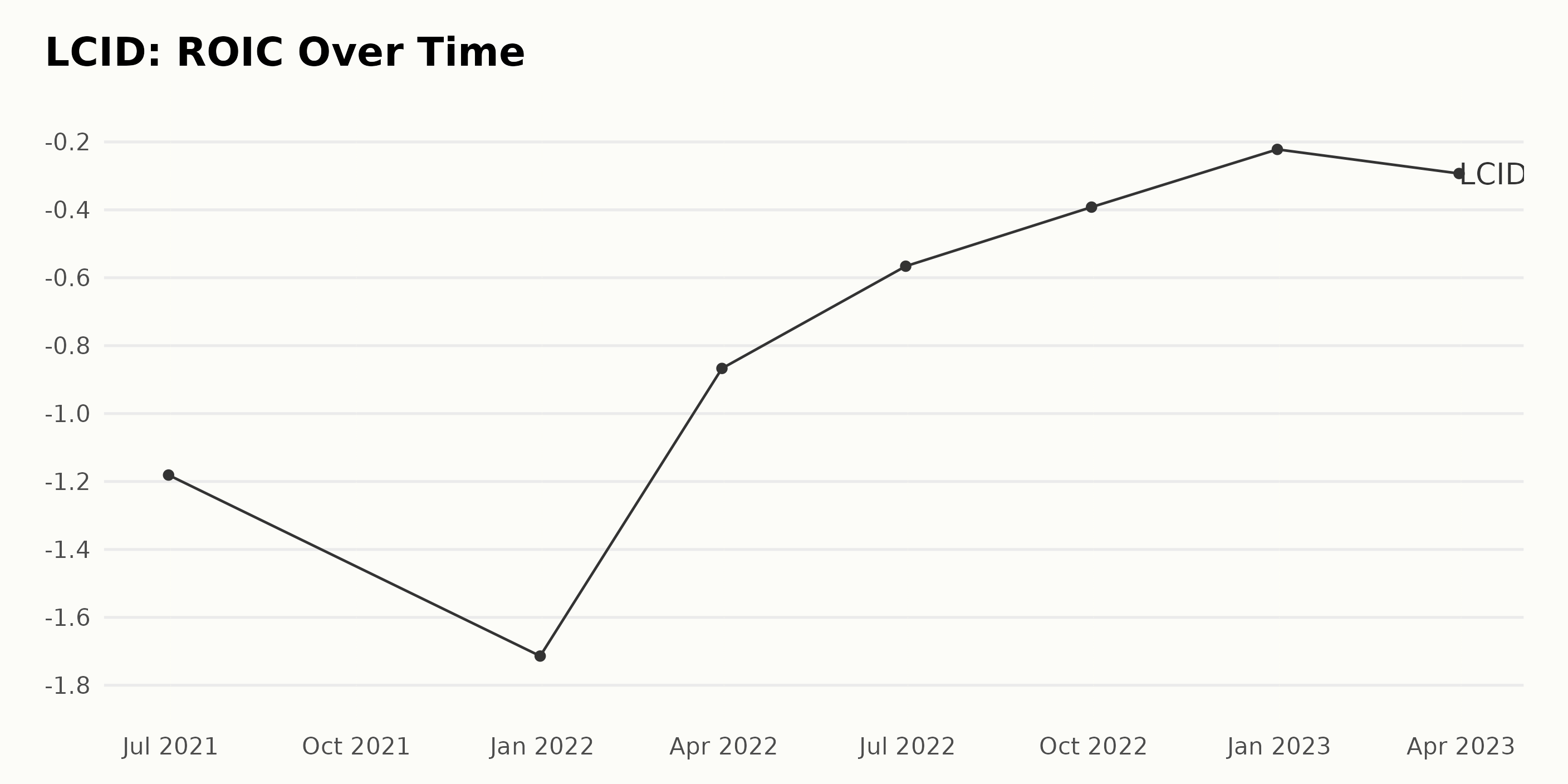 The analyst price target for LCID has fluctuated significantly over the past six months. The starting value was $29, and the ending value was $10, representing a 66% decrease overall.
The greatest dip was seen from March 2021 to April 2021, when prices declined from $50 to $25. However, the price target remains steady; the last recorded measurement is $10.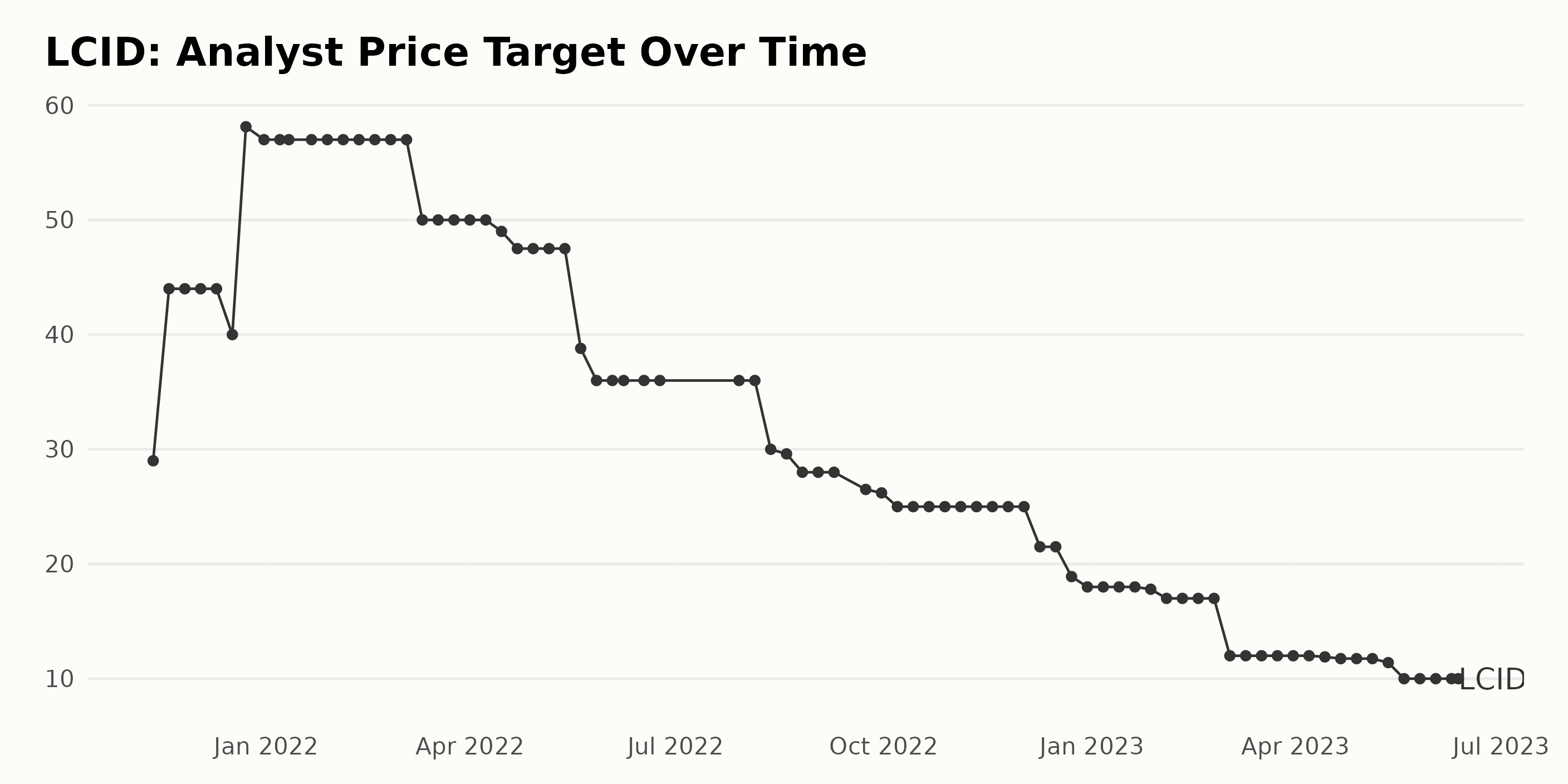 LCID Share Price Dramatically Drops in 6 Months
There appears to be a generally downward trending growth rate in the share price of LCID from December 2022 to June 2023. The share price started at $7.56 in December 2022 and dipped to its lowest point of $6.21 by June 11, 2023. Here is a chart of LCID's price over the past 180 days.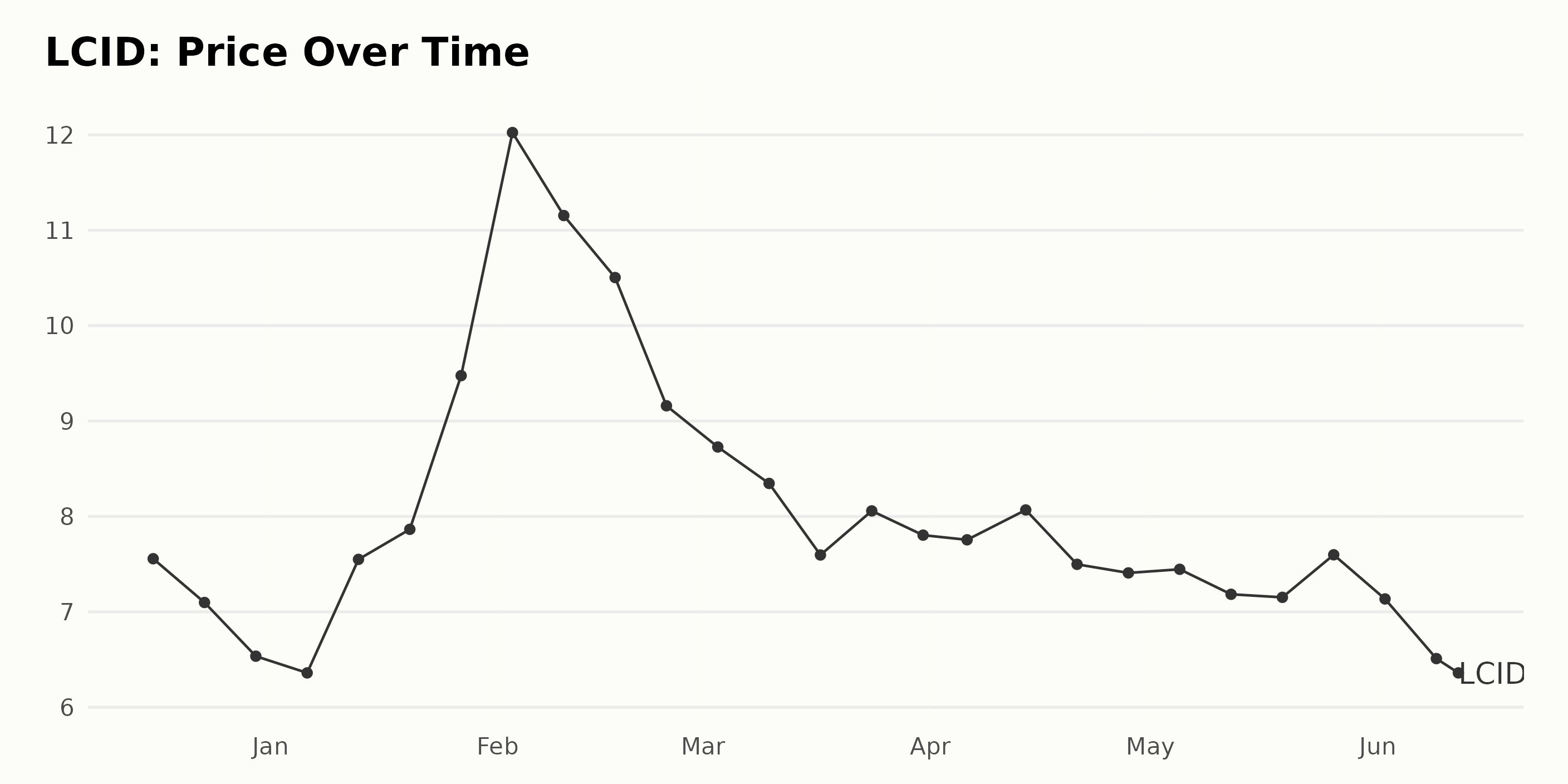 LCID POWR Ratings: Examining Growth, Momentum, and Sentiment
LCID has an overall POWR Ratings grade of F, which equates to a Strong Sell for all weeks listed. Its latest value is the last in the 58-stock Auto & Vehicle Manufacturers category as of June 10, 2023.
The POWR Ratings for LCID, along with six dimensions, provide very helpful metrics in evaluating the performance of this asset. Of these six dimensions, the most noteworthy ones are Growth, Momentum, and Sentiment.
From December 2022 to June 2023, Growth had the highest rating at 68, with no significant change. Momentum has seen the most fluctuation, ranging from 33 in December 2022 to 81 in April 2023. Sentiment has had a clear downward trend, dropping from 15 in December 2022 to 10 in May 2023.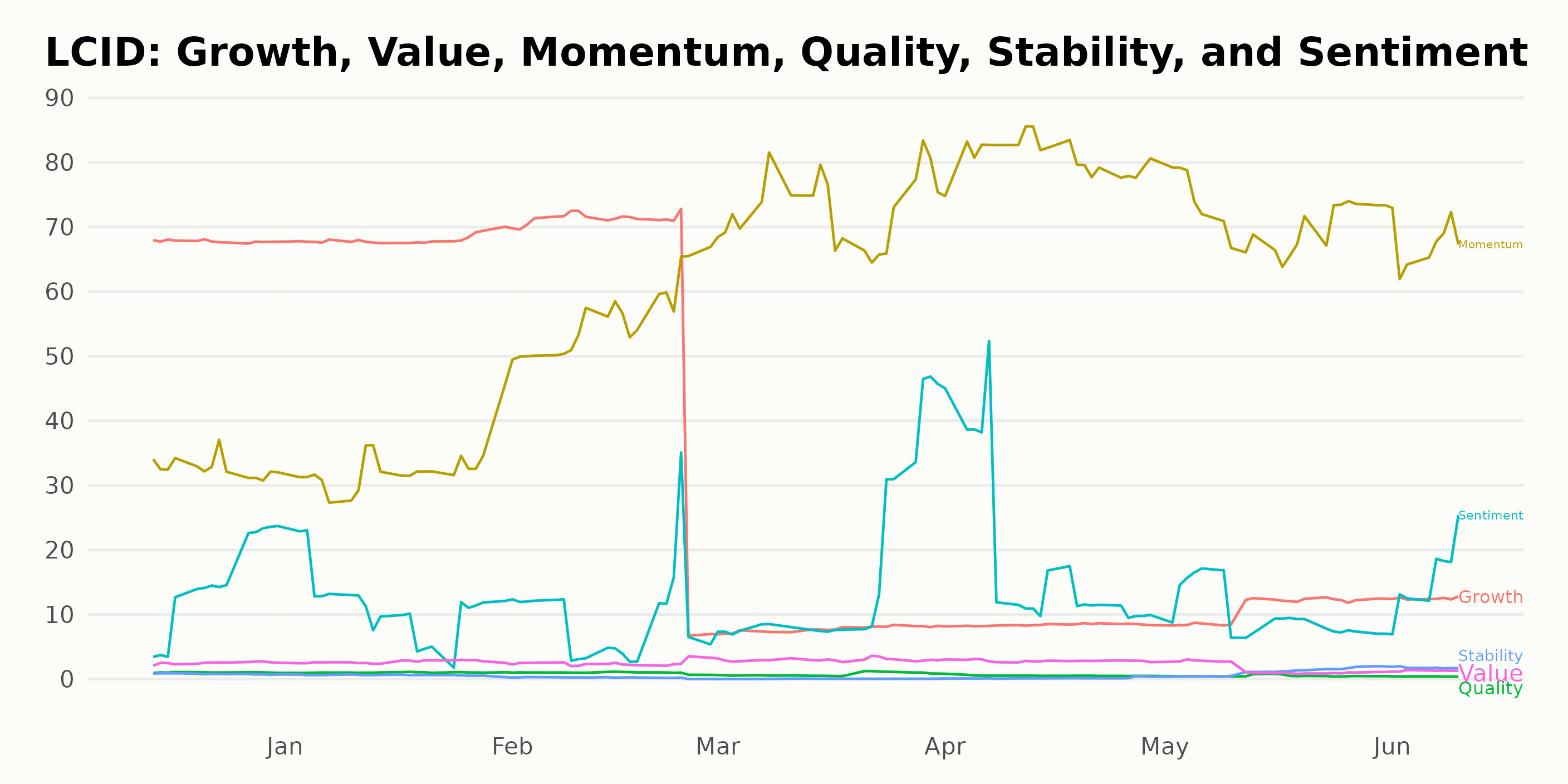 How does Lucid Group, Inc. (LCID) Stack Up Against its Peers?
Other stocks in the Auto & Vehicle Manufacturers sector that may be worth considering are Honda Motor Co., Ltd. (HMC), Mercedes-Benz Group AG (MBGAF), and Subaru Corporation (FUJHY) - they have better POWR Ratings.
What To Do Next?
Get your hands on this special report with 3 low priced companies with tremendous upside potential even in today's volatile markets:
3 Stocks to DOUBLE This Year >
---
LCID shares were trading at $6.42 per share on Monday morning, up $0.21 (+3.38%). Year-to-date, LCID has declined -6.00%, versus a 13.01% rise in the benchmark S&P 500 index during the same period.
---
About the Author: Anushka Dutta
Anushka is an analyst whose interest in understanding the impact of broader economic changes on financial markets motivated her to pursue a career in investment research.
Is Lucid Group (LCID) Worth the Investment this Week?
appeared first on
StockNews.com