The most talked-about candidate of the 2021 meme-stock frenzy, GameStop (GME), turned profitable in the last reported quarter. Considering this could be a sign of a turnaround for the company, would it be wise to scoop up GME shares? Let's look at some of its key financial metrics...
Video game retailer GameStop Corp. (GME) made headlines in 2021 due to the dramatic rise in its share price on speculative trading by retail investors. However, the stock could not sustain its sky-high valuation because the rally was not backed by its fundamentals.
While GME has been burdened with debt and dwindling cash, the company showed significant progress over the past year, pivoting to profitability in its fiscal fourth quarter ended January 28, 2023, after successive quarters of net loss. The company has initiated cost-cutting measures and headcount reductions to increase operational efficiency.
The surprise profit sparked off a rally. However, the improvement in its bottom line "looks to be the result of good cost control rather than top-line growth, which is not ideal," AJ Bell Investment Director Russ Mould said.
Moreover, its core business of selling new and pre-owned videogame disks is shrinking amid changing gamer preferences, with greater demand for cloud, digital mobile, and subscription. The company's net sales dipped slightly to $2.23 billion from $2.25 billion in the prior-year quarter.
Although the company seems to be moving toward achieving its short-term profitability goal, the sustainability of its financial performance remains to be seen. GME stock still looks risky amid potential liquidity challenges, changing gamer preferences, and an uncertain market environment.
Below are some of its key metrics that support the bearish case.
Tracking GME's Performance Over Time
GME's net income has generally been trending downward, coming in at negative $313.10 million in January 2023. The largest monthly decline occurred between July 2021 to October 2021, when there was a decrease of $136.8 million. During this period, the growth rate was negative 219%. The most recent change between January 2023 and October 2022 was a decrease of $195.7 million, representing a decline of 38.4%.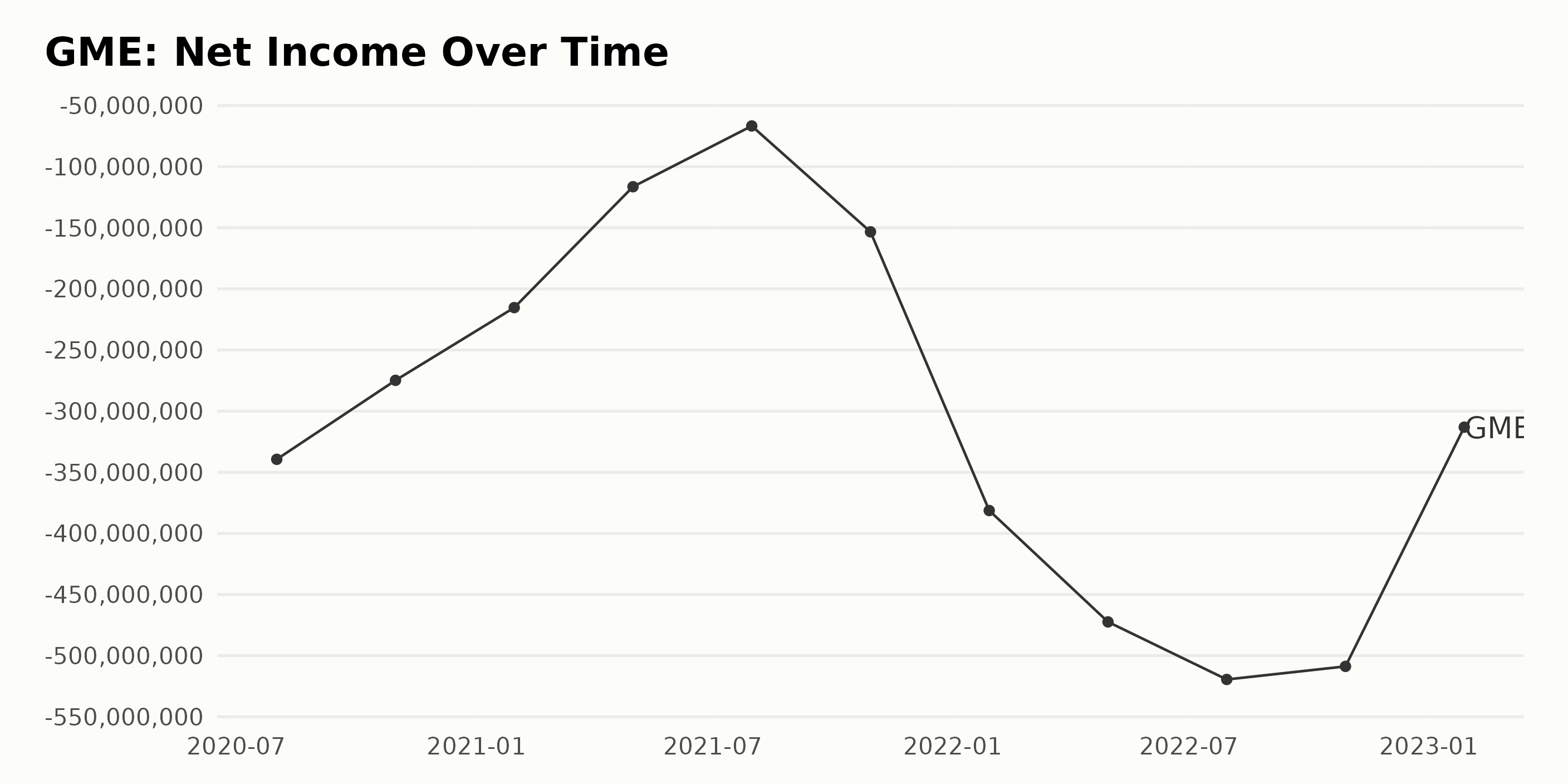 GME's revenue has been fluctuating significantly. Over the past few years, revenue has gone from a low of $51.6 billion in October 2020 to a high of $61.1 billion in April 2022. As of January 28, 2023, the most recent reported revenue was $59.3 billion, a 7.4% increase from its August 2020 value of $55.9 billion.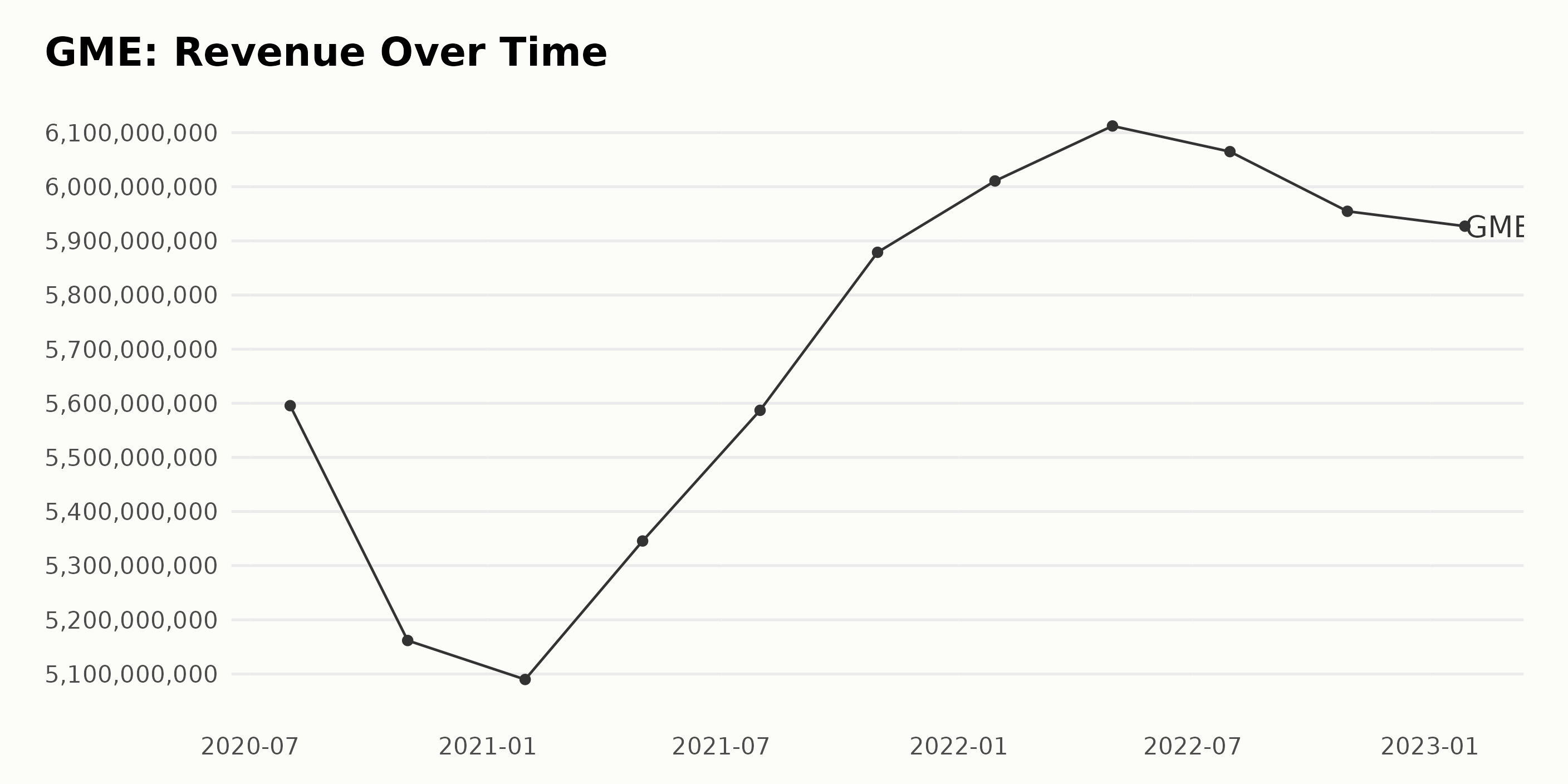 The company's gross margin has generally varied over the past few years, with a downward trend from 28.1% in August 2020 to 21% in October 2022, a 25.4% decrease. The most recent value as of January 28, 2023, was 23.1%, which is a 2.7% increase from October 2022.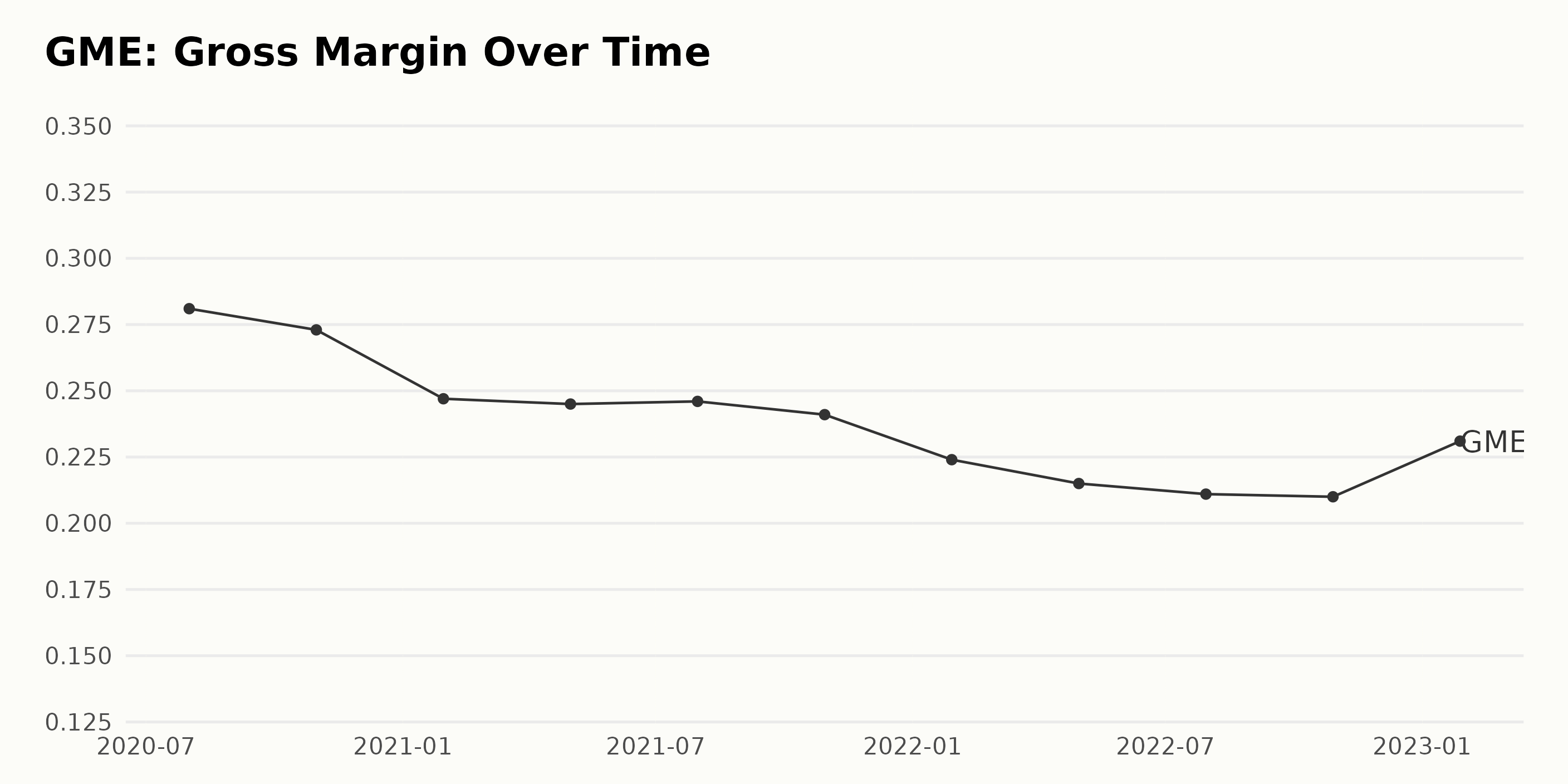 GME Share Price Decreases Over 180 Days
The share price of GME has been on a downward trend since December 2022, decreasing from $26.93 to $23.25 in the last trading session. The growth rate has been decelerating, with a larger decrease at the beginning of the period and a smaller decrease towards the end. Here is a chart of GME's price over the past 180 days.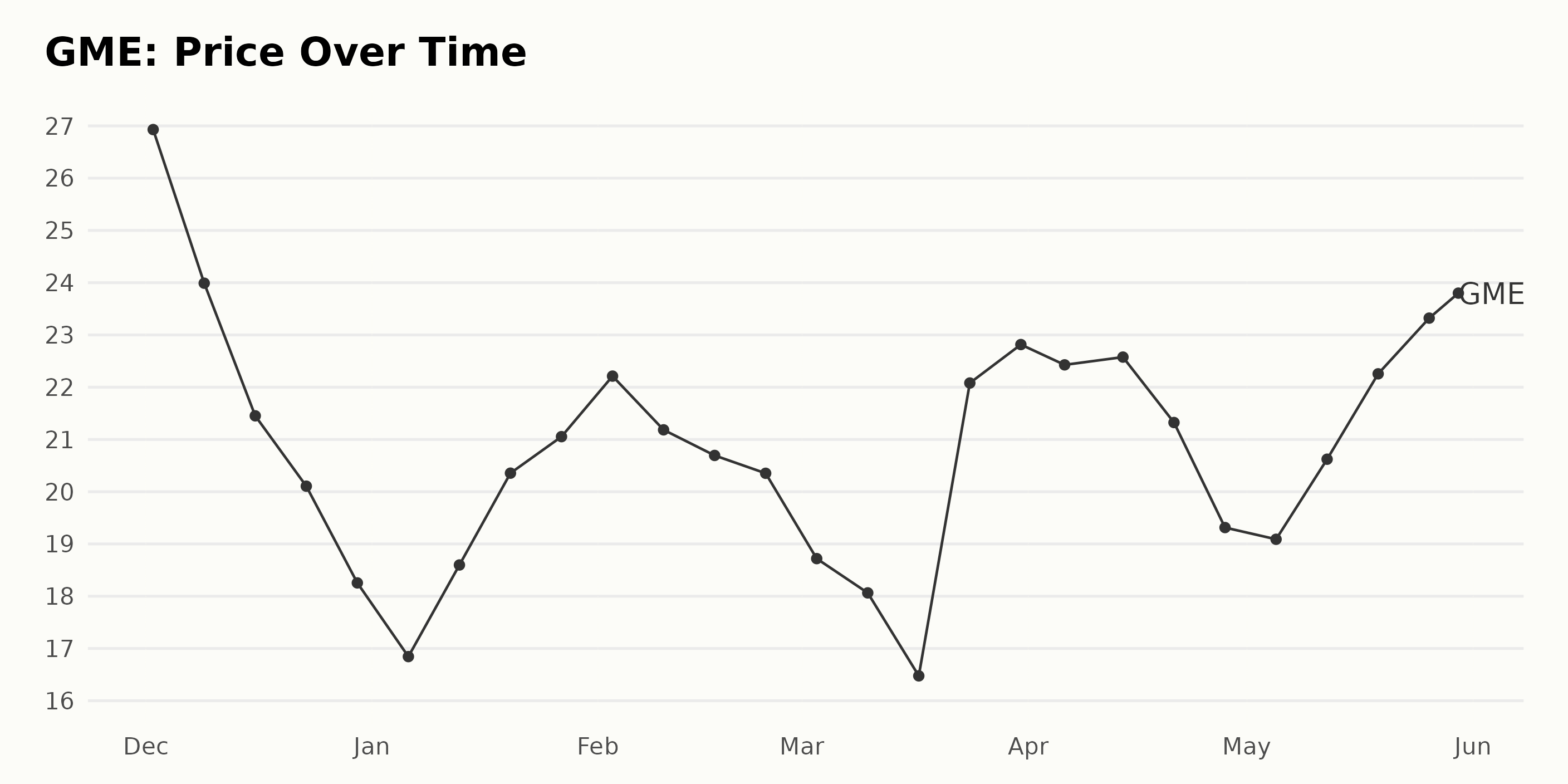 Assessing GME's POWR Ratings
GME has an overall D rating, translating to a Sell in our POWR Ratings system. It also has a D grade for Value, Momentum, Sentiment, and Stability. GME is ranked #34 out of the 44 stocks in the Specialty Retailers industry.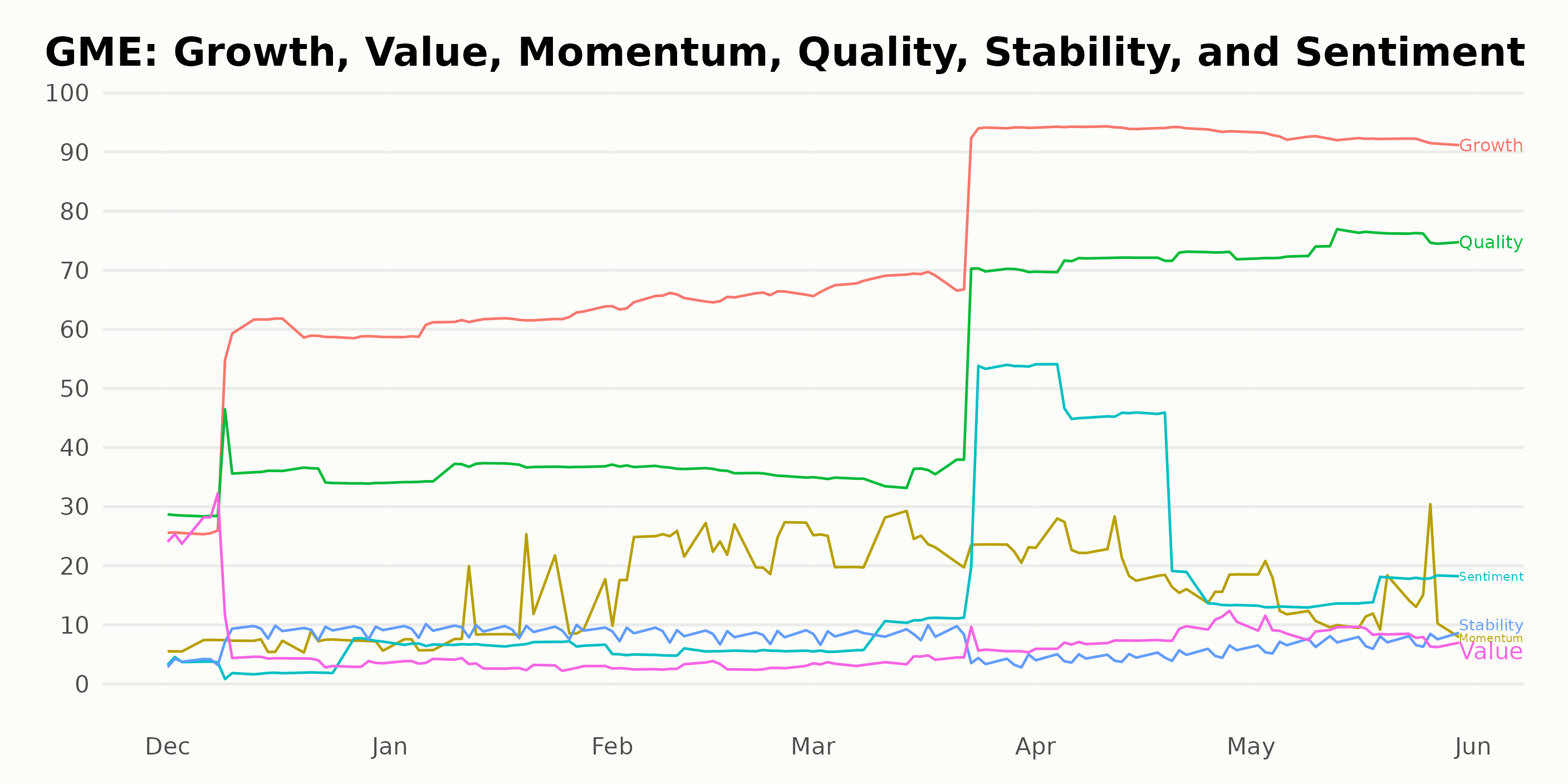 Stocks to Consider Instead of GameStop Corp. (GME)
Other stocks in the Specialty Retailers sector that may be worth considering are ODP Corp. (ODP), Betterware de Mexico, S.A.B. de C.V. (BWMX), and Pan Pacific International Holdings Corporation (DQJCY) -- they have better POWR Ratings.
What To Do Next?
Get your hands on this special report with 3 low priced companies with tremendous upside potential even in today's volatile markets:
3 Stocks to DOUBLE This Year >
---
GME shares were trading at $23.90 per share on Tuesday afternoon, up $0.65 (+2.80%). Year-to-date, GME has gained 29.47%, versus a 9.95% rise in the benchmark S&P 500 index during the same period.
---
About the Author: Subhasree Kar
Subhasree's keen interest in financial instruments led her to pursue a career as an investment analyst. After earning a Master's degree in Economics, she gained knowledge of equity research and portfolio management at Finlatics.
Is Now the Time to Buy GameStop (GME)?
appeared first on
StockNews.com