Leichhardt, NSW – Leichhardt Marketplace Dental focuses on its patients' dental health and overall well-being. At their modern dental office in Leichhardt, NSW the dental staff can cater to all of its patients' dental needs, including general, orthodontics, and dental implant services. Leichhardt Marketplace Dental is designed to provide all of the treatments required for the entire family in one convenient location. Patients will be looked after by a professional dental team that enjoys getting to know their customers. Also, the clinic has free, easy access, all-day parking at the center. Their business hours run from Monday through Sunday, opening at 9 am and closing at varying times depending on the day of the week.
Leichhardt Marketplace Dental is continually looking for new and innovative technology to make their patients' visits as pleasant as possible. The dentist Leichhardt NSW performs procedures that not only treat the patients' oral problems but also alleviate their dental phobias. Leichhardt Marketplace Dental only staffs high-quality equipment and materials from trustworthy manufacturers. They adhere to the Australian Dental Association's strict infection control rules, ensuring that their Leichhardt dental practice is a safe place to visit and work. 
Many dental abnormalities can indicate problems elsewhere in the body and vice versa. On the other hand, general dentists are well-trained to recognize these and other issues and provide treatment or referrals as needed. They can also offer lifestyle and diet recommendations, smoking cessation advice, and general health information. Leichhardt Marketplace Dental recommends visiting the dentist Leichhardt NSW at least twice a year for routine check-ups. General dentistry encompasses a wide range of treatments related to the diagnosis, prevention, and treatment of a patient's oral health. Scaling and cleaning, fluoride therapy, prophylaxis, fillings, fissure sealants, mouth guards, root canal treatments, dentures, inlays/onlays, bridges, and preventive education are some of the treatments available. In addition, preventative care, restorative therapies, cosmetic operations, and overall health problems are all provided by general dentists.
Restorative treatments are available for teeth that developmental or trauma-related factors have damaged. There are various solutions available based on the requirement, whether it's a dental implant, tooth filling, bridge, or crown. The diagnosis, prevention, and treatment of dental disorders and oral diseases emphasize restorative dental care. To restore/fix chipped, discolored, broken, or even missing tooth/teeth, a Leichhardt dentist might propose a tailored treatment plan. Dental Implants, Dental Crowns, Dental Bridges, and Tooth Fillings are among their Leichhardt Restorative Dentistry services. Also, the dental office offers same-day emergency appointments.
Enjoy the beauty of a healthy smile from Leichhardt Marketplace Dental. The dental office is located at Shop 48, Leichhardt Marketplace Shopping Centre, 122-138 Flood Street, Leichhardt, NSW 2040, AU. Contact the professional dentists via phone at (02) 9171 0840 to schedule an appointment. For more information, visit their website.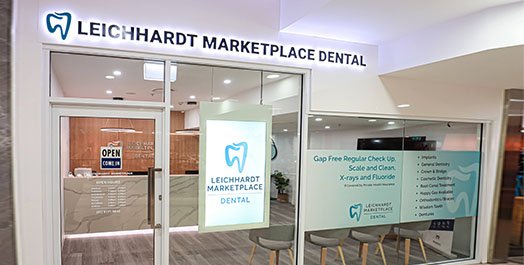 Media Contact
Company Name: Leichhardt Marketplace Dental
Contact Person: Dr. Thomas Choi
Email: Send Email
Phone: (02) 9171 0840
Address:Shop 48, Leichhardt Marketplace Shopping Centre, 122-138 Flood Street
City: Leichhardt
State: NSW
Country: Australia
Website: https://leichhardtmarketdental.com.au/