Lukewarm on Investing in Europe?
May 11, 2021 at 15:30 PM EDT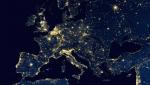 Amid an impressive earnings boom, these should be go-go days for European equities. Price action says otherwise, indicating investors mulling exposure across the Atlantic might want to do so in non-dedicated form. The FlexShares Developed Markets ex-US Quality Low Volatility Index Fund (NYSE: QLVD)...