If Robots Are the Future, Shouldn't You Be Investing in Them?
March 23, 2021 at 09:52 AM EDT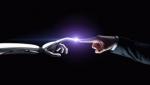 Artificial intelligence can already guess which ads consumers want to see on their mobile devices. It's just a sliver of what's in store with ETFs like the Global X Robotics & Artificial Intelligence Thematic ETF (BOTZ). BOTZ seeks to invest in companies that stand to benefit from...