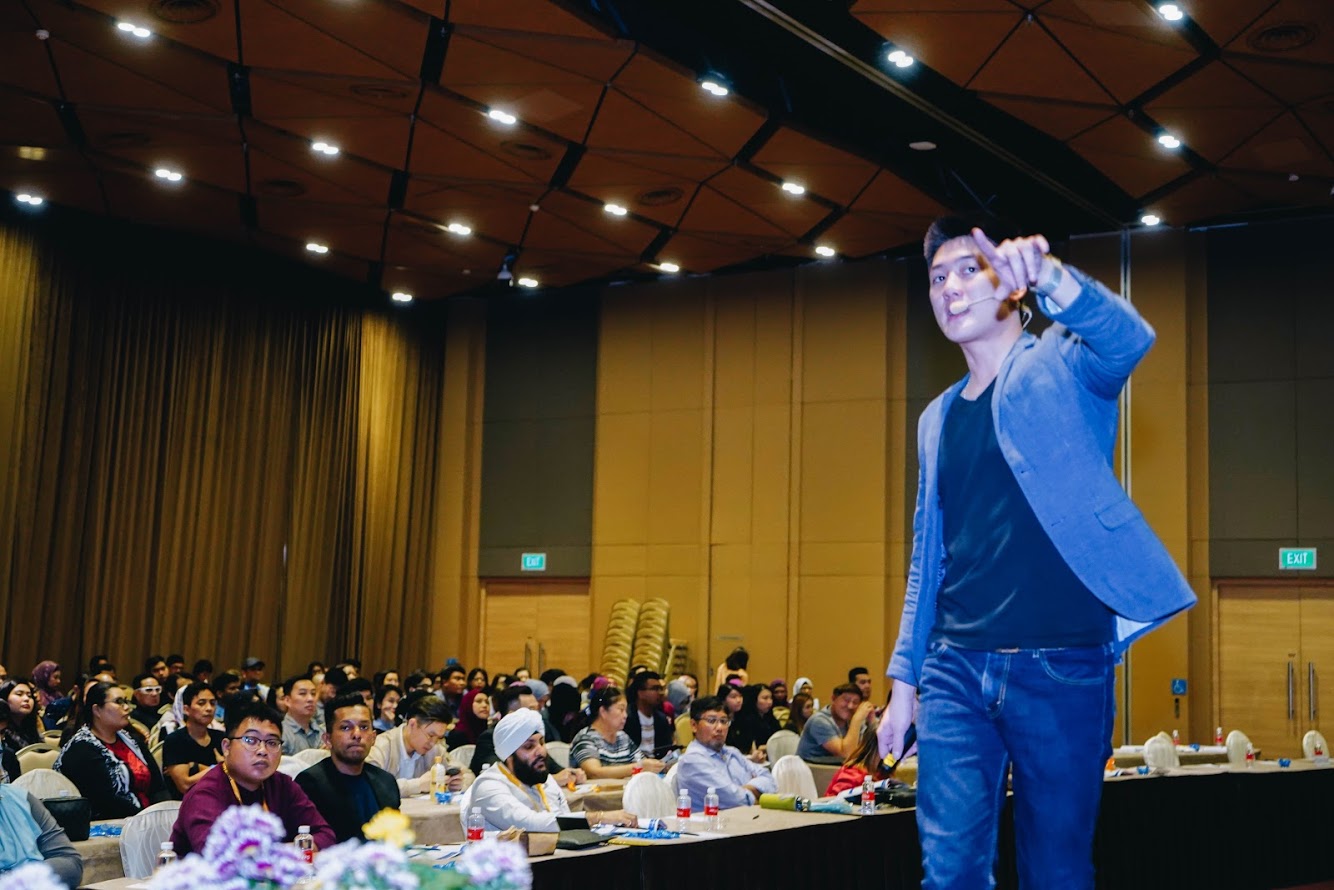 Success leaves clues. To learn something fast, model after 1 successful person or method. To master something, study multiple successful people and methods. Find out what the similarities are and model after that.
- Alaric Ong
When asked why he chose to publish these interviews for free, Alaric said that he hopes that it will inspire people to achieve more success in their lives.

So far, he has interviewed: Marcos Moura, George Ross, Grant Cardone, JT Foxx, Myron Golden, Danielle Haden, Cayden Chang, Magdalena Kalley, Dr Patrick Liew, Joshua B. Lee, Winston Yap, Kevin Chiak, Jim Jordan, Jeff Brewer, Sean Seah, @jayjaylive, Aengus James, Andrew Tan, Rob Moore, Katie Kay, Richard Tan, Heartlyn Rae
Success leaves clues. Alaric Ong believes that in order for people to find success in any area of life, the first thing they should do is to reverse engineer other people who have gotten success in that area.
The same applies for business. If they want to be good at business, they should look at someone who is really successful in business, and study them. Work backwards to find out what they did to achieve the milestones that they have achieved.
After working backwards, the next question they have to ask themselves is, "What did these successful people do 1, 2, 3, 4 and 5 years ago to achieve the success that they are achieving right now?"
They can then reverse engineer that and find out, if they want to achieve the same level of success 5 years from now, what they have to achieve 5, 4, 3, 2 and 1 year from now. From knowing the roadmap, they will be able to find out what they have to do in the present in order to achieve these milestones in the future.
To learn something fast, model after 1 successful person or method.
To master something, study multiple successful people and methods. Find out what the similarities are and model after that.
In order to learn from the most successful entrepreneurs from around the world, Alaric Ong started the "Alaric Ong Show" on YouTube in which he interviews many 6-, 7-, 8- and 9-figure entrepreneurs.
Some of the entrepreneurs he interviewed make as much as USD $100 million a year.
So far, he has interviewed top entrepreneurs like:

• Marcos Moura: $120MM/year business Amada Inc (Entrepreneur 500 and inc 5000 company. 2 Comma Club C award)
• George Ross: Donald Trump's former right hand man for 47 years
• Grant Cardone: Real Estate Tycoon, International Speaker, $300 Million Net Worth
• JT Foxx: 9-figure business coach, owner of 57 companies and brands 
• Myron Golden: Made $3.8 million in 27 minutes by selling from stage
• Anthony Ortiz: CEO of Smart Plate 
• Danielle Haden: 236,000 Followers on TikTok
• Cayden Chang: Speaker, Entrepreneur, Value Investor
• Dave Seymour: Private Equity Fund manager
• Magdalèna Kalley: Top Female Hypnotist in America
• Dr Patrick Liew: Real Estate investor
• Joshua B. Lee: Managed $500 million in Advertising spend and 35 trillion online impressions
• Winston Yap: Did 9 figures in sales in Jeunesse
• Jet Toh: Made 9 figures in sales in network marketing
• Kevin Chiak: Founder of Fitness Movement
• Jim Jordan: Celebrity Photographer to Gigi Hadid & Taylor Hill (Victoria's Secret Angel)
• Jeff Brewer: Multi 7-figure launch expert
• Tony Whatley: Side Hustle Millionaire
• Sean Seah: Value Investing Multi-Millionaire
• Joshua Jayaweera (@jayjaylive): 600k followers on Instagram and 50MM views on YouTube 
• Michelle Cunningham: Made 7 figures through videos. 
• Aengus James: Award Winning Producer of Undercover Billionaire. 
• Andrew Tan: 7-figure E-commerce Expert
• Rob Moore: AUM 850 units of property. 9 figures in revenue for training business. Interviewed 15 billionaires on his podcast
• Katie Kay: Self-made millionaire by 23. Built and sold 12 businesses
• Richard Tan: Founder of Success Resources ($100MM/year company)
• Tessabella Jelten: $33 million in Personal Residential Real Estate Sales in 2018 
• Heartlyn Rae (@heartlynrae): 5.7 million followers on TikTok
And a few other 6-, 7-, 8- & 9-Figure Entrepreneurs: https://www.alaricong.com/p/interviews.html
Search YouTube for "Alaric Ong and (their name)" in order to watch all these interviews for free!
When asked why he chose to publish these interviews for free, Alaric said that he hopes that it will inspire people to achieve more success in their lives.
His mission is, "To empower people to become the best versions of themselves".
This is why he constantly puts out content and conducts seminars to share his knowledge and add value to as many people as possible.

Video Link: https://www.youtube.com/embed/5bJlRPFisqY
By learning from other successful entrepreneurs, he was able to speed up his learning curve to build a coaching business to 7 figures in revenue within 18 months from $0 in capital. Right now, he constantly conducts coaching sessions for his community of 1400 clients.
Find out more about his story here: www.AlaricOng.com  
Visit his website: www.theapollomethod.com
Facebook: Alaric Ong
Instagram: @alaricongg 
YouTube: Alaric Ong
Media Contact
Company Name: News Media
Contact Person: Media Relations
Email: Send Email
Phone: +6587861319
Country: Singapore
Website: www.theapollomethod.com