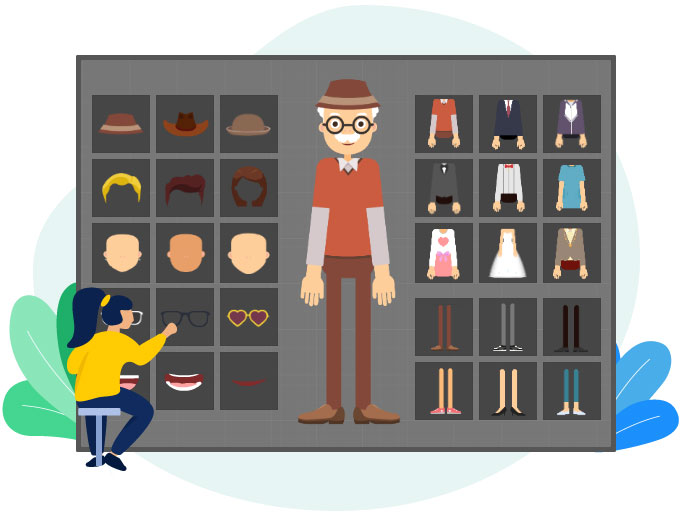 Every part of the character can be customized with a personal touch in Mango Animate Character Maker.
Users can build a beautiful cartoon character of themselves with Mango Animate's new 2D character animation software.
Mango Animate has just launched its brand new 2D character animation software, Mango Animate Character Maker in which users can build an animated cartoon of themselves. This user-friendly program includes a familiar drag-and-drop feature and a massive library of templates to get started. When completed, the 2D character animation software allows users to share their creations with friends and family across all social media platforms, including Facebook, Tik Tok, Instagram, Twitter, and more.
In order for someone to build a character of themselves, they have two options. Users can either upload a PNG or PSD image or customize one of the many character templates the 2D character animation software has available. By starting with an outside image, Mango Animate Character Maker allows users to add bones, edit poses, and apply dynamic animations to bring it to life. When starting with a template, users can choose one that resembles them and then update all of the features to build a more precise representation.
All of the 2D character animation software's ready-to-use characters come fully rigged. It is up to the user to change the skin, hair, clothing, shoes, accessories, facial features, and more to develop a more customized project. To allow the character to reflect its creator better, Mango Animate Character Maker enables users to import their own audio or video files. This way, a character can look and speak exactly like its creator. Having an avatar of oneself is excellent for gaming, social media, and other personal projects. It can even be a useful tool for a school project.
Once the character is built, it can be saved as an MP4, MOV, PNG, or GIF. The character can be saved for use in future projects or with any of Mango Animate's other software. With animation videos becoming one of the most promising ways to deliver messages and reach audiences online, almost anyone can benefit from having a cartoon character of themselves made.
"We are very excited to finally roll out our versatile 2D character animation software," says CMO of Mango Animate Ken Glenn. "Mango Animate Character Maker is equipped with state-of-the-art technology so users can create professional-quality animations that will instantly capture attention."
To learn more about Mango Animate Character Maker, please visit Mango Animate.
About Mango Animate
Mango Animate is an industry leader in animation software, providing customers with high-quality templates, media, and animation effects, all within the convenience of a one-time purchase and download. The company is always working to develop new software.
Media Contact
Company Name: Mango Animate Software Co., Ltd.
Contact Person: Paul
Email: Send Email
Phone: +86 020-61972665
Address:Room 1003, 10/F, Tower 1, Lippo Centre, 89 Queensway, Admiralty
City: Hong Kong
Country: HongKong
Website: https://mangoanimate.com/