Seeking an ETF Umbrella for Disruptive Tech?
December 04, 2020 at 10:12 AM EST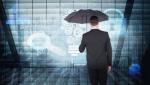 Disruptive technology is all the rage. Investors looking to get in on this pioneering strategy can consider ETFs like the ALPS Disruptive Technologies ETF (CBOE: DTEC). DTEC tracks the Indxx Disruptive Technologies Index, which identifies companies using disruptive technologies across ten thematic...