Is a Strong Rebound Ahead for Indonesia's Economy?
July 30, 2020 at 14:48 PM EDT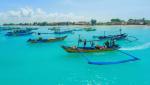 Looking for profitable opportunities within emerging markets (EM) could be like finding a needle in the haystack for the novice investor looking for diversification overseas. However, one area that could provide a potential winner is the country of Indonesia, which could be poised for a rebound...