Today is the day we announce the winner of the Kelley & Canterbury, LLC Alaska Curiosity Scholarship.
Anchorage, AK (PRUnderground) August 22nd, 2018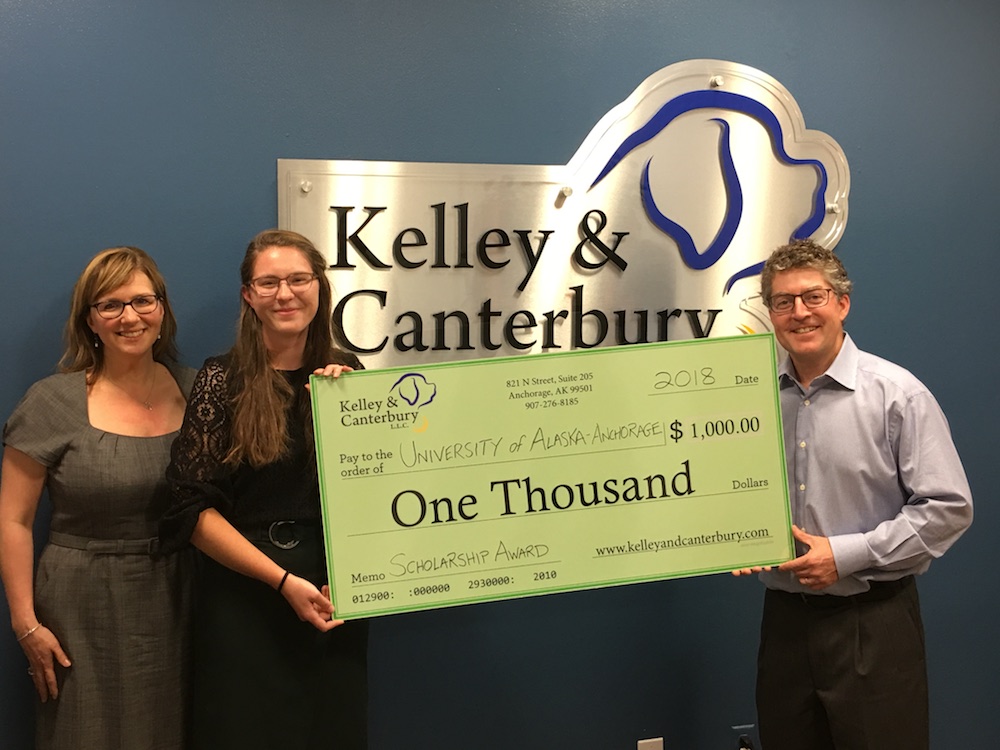 The team of lawyers at Kelley & Canterbury, LLC has been calling Alaska home for decades. They devote their lives to helping Alaskans who've been wrongfully injured, and they did not get here alone.
Along the way, Kelley & Canterbury, LLC had teachers and mentors to support them, family members to inspire them, clients who shared their unique experiences, and a community to believe in them. That is why they created their own Alaska Curiosity Scholarship.
This scholarship is awarded to one graduating Alaska high school student who demonstrates a courageous curiosity to solve problems and help make his or her Alaska community a better place for all.
Today, Kelley & Canterbury, LLC is happy to announce the winner of its second annual Alaska Curiosity Scholarship:  Izabella Block!
An excited Ms. Block writes: "Winning this scholarship means that I can study without worry about paying for college. This scholarship will influence my education by allowing me to spend my time studying, rather than working, which will allow me to reach my highest potential."
The team at Kelley & Canterbury, LLC could instantly recognize Izabella's passion for overcoming adversity. Izabella fervently wishes to improve rural healthcare in Alaska – to make healthcare available to those who need it. As an Alaskan native, she has a first-hand account of the types of difficulties that surface in Alaska's rural communities.
Weather conditions can strand patients in the middle of an already complicated Alaskan landscape. The state's lack of roads isolate patients from the hospitals or specialists they need. Health care costs continue to skyrocket as funding dwindles. Local clinics have limited staff and resources, and some only keep doors open one or two days a week. Izabella wants to help overcome this never-ending list of obstacles.
"My education and career goals center around helping others… I enjoy the idea of being able to help people become healthy after injury, illness, or trauma… I hope that by pursuing my education and career goals I will be able to find ways to make healthcare more available to those who need it."
Izabella's passion to improve her community is truly admirable and Kelley & Canterbury, LLC is honored to support such a motivated young woman in her pursuit of higher education. The Kelley & Canterbury, LLC team wish Izabella all the best as she continues to chase her dreams studying Biological Sciences and Anthropology at the University of Alaska Anchorage.
About Kelley & Canterbury, LLC
Kelley & Canterbury LLC is a family-owned law firm focused exclusively on helping Alaskans who have been injured in car accidents, motorcycle accidents, and other incidents. For more than 30 years, the firm's team of attorneys has been providing peace of mind to injured individuals and their families.
Press Contact
Name: Chris Canterbury

Phone: (907) 276-8185

Website: http://kelleyandcanterbury.com/
Original Press Release.