New publication Industry-Sponsored Research Management helps universities offset cuts to federal funding by building corporate partnerships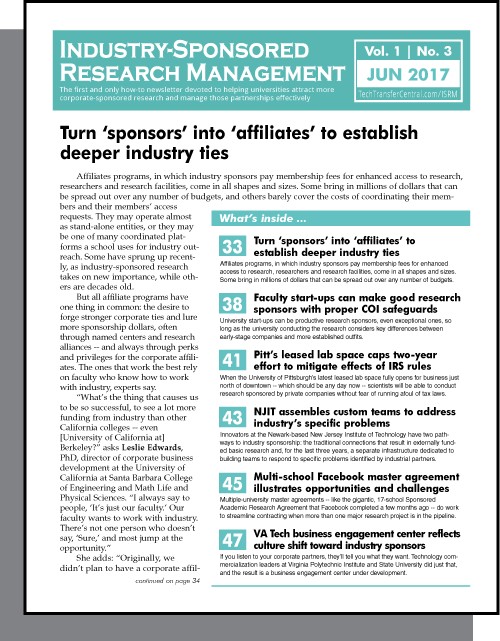 Atlanta, GA - June 8, 2017 - (
Newswire.com
)
As the likelihood of deep cuts to federal funding from NIH and other key agencies continues to rise, forward-looking research universities aren't simply wringing their hands and waiting for the axe to fall.
A growing number of schools have been working diligently to increase their research funding from industry partnerships, and that effort has taken on new urgency given the news out of Washington.
That's where Industry-Sponsored Research Management comes in. Launched in March by Atlanta-based 2Market Information Inc., it's the first and only publication devoted to helping universities build and manage their portfolios of corporate-sponsored research agreements.
Each monthly issue of Industry-Sponsored Research Management contains high-level strategies and best practices designed to help research managers bring in more industry research contracts, negotiate deals effectively, build lasting relationships with corporate sponsors, protect valuable intellectual property, and ensure airtight compliance practices.
The just-released June issue of this practical publication offers a good illustration, featuring these articles filled with expert guidance:
                * Turn 'sponsors' into 'affiliates' to establish deeper industry ties                 
                * Faculty start-ups can make good research sponsors with proper COI safeguards               
                * Pitt's leased lab space caps two-year effort to mitigate effects of IRS rules               
                * NJIT assembles custom teams to address industry's specific problems               
                * Multi-school Facebook master agreement illustrates opportunities and challenges               
                * VA Tech business engagement center reflects culture shift toward industry sponsors
"Expanding research partnerships with industry has become a critical imperative for universities facing already-tight budgets and the prospect of further cuts in the coming years," says David Schwartz, 2Market Information's CEO and publisher. "The unique, how-to information we're providing in Industry-Sponsored Research Management fills a critical void, addressing what in many cases is unfamiliar ground filled with new and complex challenges."
The company is offering a free sample issue — to request it and get more details, click here or call 239-263-0605. For a limited time, the new publication is offering a charter subscription rate of just $297 (a $100 discount), plus a free three-program distance learning collection, Best Practices in Forming and Managing Industry-University Partnerships.
Atlanta-based 2Market Information Inc., publisher of Technology Transfer Tactics, is the world's leader in providing practical guidance and professional development for technology transfer and research commercialization professionals. To learn more about its products and services, go to www.techtransfercentral.com.   
Contact: David Schwartz
CEO and Publisher
2Market Information Inc.
www.techtransfercentral.com
404-626-8191
E-mail: dschwartz@techtransfercentral.com
Press Release Service by
Newswire.com
Original Source:
New Publication Industry-Sponsored Research Management Helps Universities Offset Cuts to Federal Funding by Building Corporate Partnerships