Article One Partners (AOP), the world's largest patent research community, and Intralink, a leader in developing and implementing strategies in Asian markets, today announced a new strategic partnership.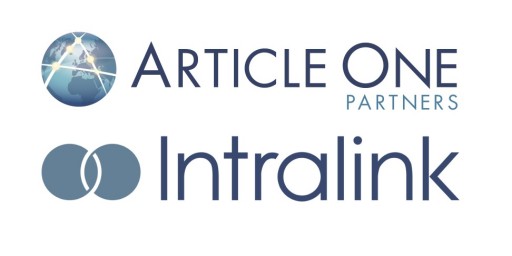 Williston, VT - May 22, 2017 - (
Newswire.com
)
With intellectual property (IP) at the forefront of all companies' strategies, the partnership between Article One Partners and Intralink will help AOP expand its business reach in Asian markets and specifically in Japan.
"I'm enthusiastic about our new relationship with Intralink and the powerful combination it will have in conjunction with the proven quality and market leading services that we offer," said AOP CEO Peter Vanderheyden. "We believe the Japanese clients are particularly well suited for a focus on developing quality in their Patent portfolios and practice as well as innovative solutions to intellectual property research and deriving value from their IP portfolio. Intralink will be critical to getting the right message in front of the right clients so they can start experiencing what AOP can do for their IP business."
Will Jasprizza, Head of IPR and Managing Director of Intralink Japan, said: "We are delighted that Article One has selected Intralink as their partner in Asia. Intralink has a 20-year track record of managing licensing programmes in the region, with a network that extends into the IP groups of major manufacturers and operators in Japan, Korea, China and Taiwan. I am confident we will be able to deliver tangible results for AOP and their clients."
AOP and Intralink will be at the IPBC Global Conference – Ottawa (http://www.ipbc.com/2017) in June with key clients and welcome the opportunity to meet with practitioners who are interested in improving the quality of their IP portfolios, or monetizing their patents.
About Article One Partners
Since its founding in 2008, Article One Partners (AOP) has revolutionized the transparency of patent data. Today, AOP is the world's largest patent research community, broadcasting its studies to over 40,000 people and distributing more than $7.8 million in rewards to researchers for their work on over 5,600 client patent studies. AOP is exceptionally successful in identifying non-textual and non-patent literature. The company is a partner to 17 Fortune 100 companies, 74 Forbes Global 2000 and 7 of the top 10 US patent filers. AOP's client satisfaction rate exceeds 90%.
About Intralink
Intralink helps companies grow their businesses by managing sales, licensing and investment programs in Asia. We identify opportunities, engage potential customers and partners, and develop and execute go-to-market strategies. Through our team of over 70 full-time people, we offer a low-risk, cost-effective and practical means to enter new markets, generate new and incremental revenues, and establish an in-country presence.
http://www.intralinkgroup.com/
Contact
English
press@articleonepartners.com
+1 347-901-4820
Japanese
andrew.wilson@intralinkgroup.com
+81 3-5579-9273
Press Release Service by
Newswire.com
Original Source:
Article One Partners and Intralink Engage in Partnership to Expand AOP Presence in Japan