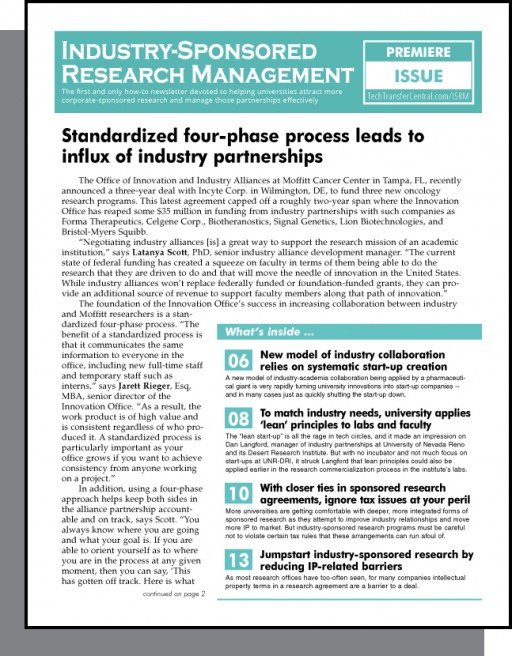 Atlanta, GA - April 6, 2017 - (
Newswire.com
)
​​It has become frighteningly clear that the Trump Administration will be wielding a large axe when it comes to federal research funding, with more than $1 billion in cuts targeted at the NIH budget alone in 2017, and more than $30 billion – 18% of the NIH budget – in 2018. The White House is particularly targeting "indirect" or overhead costs, which comprise just under 30% of federal grant payments to university research labs.
University research leaders are protesting the proposed cuts as shortsighted and damaging to the future of U.S. competitiveness on the world's innovation stage. So far those protests are falling on deaf ears, however, and many schools are bracing for the worst and preparing their campuses for an increasingly bleak future when it comes to federal funding.  A growing number of universities have already been working hard to increase their research funding from industry partnerships, and that effort is taking on new urgency given the news out of Washington.
 That's where Industry-Sponsored Research Management comes in.  Launched last month by Atlanta-based 2Market Information Inc., it's the first and only publication devoted to helping universities build and manage their portfolios of corporate-sponsored research agreements.
Each monthly issue of Industry-Sponsored Research Management contains high-level strategies and best practices designed to help research managers bring in more industry research contracts, negotiate deals effectively, build lasting relationships with corporate sponsors, protect valuable intellectual property, and ensure airtight compliance practices.
"When we launched the publication we had no idea the Trump budget would include these draconian cuts to federal research funding," says David Schwartz, 2Market Information's CEO and publisher. "We had already identified a strong need for information on attracting and managing industry sponsorships, but now that need has become more urgent as more universities realize that funding alternatives will be required to keep their labs open and their promising innovations moving forward."
Industry-Sponsored Research Management fills a critical information void, providing how-to guidance and expert strategies focused on the many challenges associated with corporate-sponsored research.  "Working with industry in sponsored research partnerships is imperative to supplement the reduced level of federal grant funding, but it's unfamiliar ground for many research managers. These partnerships involve new intellectual property issues, contracting and negotiation issues, conflict of interest challenges and regulatory concerns. We're helping our readers navigate these issues while bringing in critical new sources of funding," Schwartz comments. 
For a free copy of the premiere issue, CLICK HERE or call 239-263-0605. For further information on the publication or to become a charter subscriber for just $297 (a $100 discount), plus receive the three-program distance learning collection Best Practices in Forming and Managing Industry-University Partnerships,  CLICK HERE.
Atlanta-based 2Market Information Inc., publisher of Technology Transfer Tactics, is the world's leader in providing practical guidance and professional development for technology transfer and research commercialization professionals. To learn more about its products and services, go to www.techtransfercentral.com.   
Press Release Service by
Newswire.com
Original Source:
With Massive Cuts in Federal Research Grants on the Horizon, Industry-Sponsored Research Management Offers Guidance in Building Funding From Corporate Partnerships