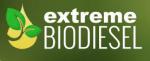 TEMECULA, CA--(Marketwired - July 23, 2014) - Extreme Biodiesel, Inc. (OTC: XTRM) today announced a corporate update.
Land Development Project Progress
XTRM is pleased to announce the delivery of the first 40 foot container on the property as part of its container park portion of the project. The first container will be used for research and development purposes related to the project including feasibility testing, and gathering data pertaining to different uses for the containers. XTRM has revamped its initial plans for the container park to include traditional storage along with RV Storage. The company is still waiting for the complete installation of a well on the property by hired contractor Daugherty Pump and Drilling.
About Extreme Biodiesel
Extreme Biodiesel is an alternative fuel and recycling company with several wholly owned subsidiaries such as XTRM Cannabis Ventures, and Extreme Biodegradable Products that work together to compliment Extreme Biodiesel. Our mission is to provide a cost-effective, high-quality alternative diesel fuel comprised of natural plants and food waste, create "green" jobs, reduce the environmental impact of fossil fuels and diminish US reliance on foreign oil.
Disclaimer
Forward-Looking Statements are included within the meaning of Section 27A of the Securities Act of 1933, and Section 21E of the Securities Exchange Act of 1934, as amended. All statements regarding our expected future financial position, results of operations, cash flows, financing plans, business strategy, products and services, competitive positions, growth opportunities, plans and objectives of management for future operations, including words such as "anticipate," "if," "believe," "plan," "estimate," "expect," "intend," "may," "could," "should," "will," and other similar expressions are forward-looking statements and involve risks, uncertainties and contingencies, many of which are beyond our control, which may cause actual results, performance, or achievements to differ materially from anticipated results, performance, or achievements. XTRM is under no obligation to (and expressly disclaim any such obligation to) update or alter our forward-looking statements, whether as a result of new information, future events or otherwise.