Optimism surrounded the release of the June U.S. Labor Department Jobs Report, but although the numbers were better than expected, we still have plenty to worry about.
Employers added 288,000 jobs in June, the Labor Department reported Thursday. The unemployment rate dipped to 6.1% from 6.3%, the lowest level since September 2008.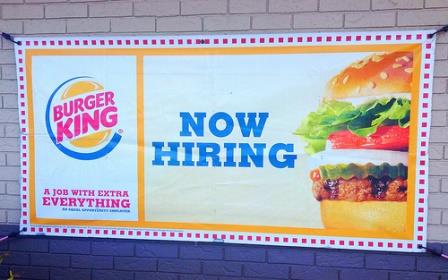 Economists had projected nonfarm payrolls to have risen by 215,000 last month. That was the second-highest forecast in the five-year economic recovery. The only time a consensus forecast was higher was in May 2010, when figures were substantially inflated by the temporary hiring of census workers.
The unemployment rate, meanwhile, was expected to have held steady at 6.3%.
Despite some encouraging figures in the jobs report (released Thursday instead of Friday because of the 4th of July holiday), it is still peppered with troubling data.
Better Numbers, but Still Soft
"For the second month in a row, the jobs report contained both good and bad news," Steven Pressman, professor of economics and finance at Monmouth University in West Long Branch, N.J., told Money Morning.
"While not a reason to set off fireworks and celebrate the end of a bad jobs market, this is a big step after many years of bad jobs data," Pressman continued. "As the unemployment rate fell over the past several years, this decline was mainly due to fewer people looking for work. We now have two months of data showing some real improvements in the labor market. There are actual job gains rather than falling unemployment rates as a result of people no longer seeking work."
Yet worrisome signs persist.
"There are still many people who want a job but are not counted as unemployed because they have not been looking for work," Pressman added.
The labor force participation rate remained stuck at 62.8% (a 36-year low) in June for the third consecutive month. Before the Great Recession, which officially began in December 2007, the labor force participation rate was 66%.
Another major problem is the kind of jobs added, and here's why...
The bulk of job creation last month came from low-paying sectors. High-paying industry job growth, meanwhile, lagged - a trend that has endured since 2008.
Also, a good chunk of the jobs created in June were part-time jobs, although workers wanted full-time employment. According to The Wall Street Journal, only one in five of the long-term unemployed has returned to lasting, full-time work since 2008.
As Money Morning Chief Investment Strategist Keith Fitz-Gerald said Thursday, "I fear we are becoming a nation of burger flippers rather than a nation building careers. Job quality stinks. Millions of Americans are still hurting and, I fear, falling worse behind."
With the June report, the economy has now added 200,000 jobs a month for the past five months. That's the first such stretch since September 1999 - January 2000. The surprisingly resilient year-to-date job market is in stark contrast to the limping U.S. economy that contracted 2.9% in the first quarter of 2014 - the worst performance in five years.
Plus, it's been a slow and painful jobs recovery.
It's taken a full 76 months for the number of people working to get back to the previous peak. During the same period, however, the U.S. working-age population increased by more than 15 million. Economists at the Economic Policy Institute estimate that 7 million more jobs would have been needed to keep up with population growth.
Following are 11 key takeaways from the June employment report.
June U.S. Labor Department Jobs Report Highlights
The low-wage sector of retail added 40,200 new jobs, while leisure and hospitality added 39,000 jobs.
The higher-paying sectors of manufacturing and construction boosted headcount by 16,000 and 6,000 respectively. The construction industry has only recouped 25% of the jobs lost since the recession. And instead of hiring, manufacturers are relying on improved productivity to meet demand. In other words, they're getting by with fewer workers thanks to automation.
Financial and insurance firms increased their employee total by 17,000.
Federal, state, and local governments added 26,000 jobs.
Job gains for April and May were revised up by a total of 29,000 jobs. April's increase was revised upward to 304,000 from 282,000. May's tally was boosted to 224,000 from 217,000.
The length of the workweek held steady at 34.5 hours.
Hourly wages eked up 0.2%, or $0.06, to $24.45 in June. Wage gains are now up a modest 2% over the last 12 months, below the long-run average annual growth of about 3.5%. "Wages are not increasing much more than the inflation rate, and the average work week remains stagnant," Pressman said. "In a robust labor market and a booming economy, greater demand for workers should push up wages, and higher wages should increase spending and economic growth. This doesn't seem to be happening."
The employment-to-population ratio, at 59% in June, barely budged from the prior month.
The tally of people working part-time, even though they want full-time work, increased by more than 250,000. Economists say it is those factors that make the unemployment rate a less reliable reading of the economic recovery's state than it once was.
The U-6 number, a broader measure of employment, which includes people who want a job but have given up searching as well as those working part-time because they cannot find full-time work, was an unhealthy 12.1% in June, a hair lower than the 12.2% in May.
The long-term unemployed accounted for 32.8% of the 9.5 million American still looking for work in June.
The numbers included in the U.S. Labor Department Jobs Report released Thursday also raise another important issue.
Despite a still-cloudy employment picture, the improving tone of the labor market is sure to spur debate regarding the timing of the first interest rate increase by the U.S. Federal Reserve.
Don't Miss Today's Top Story: A new best-selling book by a French "economist" poses a new threat to your hard-earned income. Stop this threat in its tracks by making these moves now to protect yourself.
Related Articles:
Tags:
economy
,
Economy 2014
,
jobs report
,
June jobs report
,
labor department jobs report
,
U.S. Economic News
,
U.S. Economy
,
U.S. Economy 2014
,
u.s. economy today
,
U.S. GDP
,
U.S. jobs report
,
U.S. Stocks
,
us economic news
,
US Economy
,
US Economy 2014
,
us economy today
,
US GDP
,
US Stocks
The post U.S. Labor Department Jobs Report: Big Gains in June, but Still Lagging Behind appeared first on Money Morning - Only the News You Can Profit From.