SPONSORED CONTENT -- (StatePoint) Curb appeal is important, but it's not the be-all and end-all of house hunting. By factoring in other priorities, such as great schools, a community feel, along with nearby amenities that improve your quality of life, you can feel right at home in your new neighborhood from the moment you arrive.
"Many families want it all -- the connection that comes with a small town feel, and the bustle and energy of shopping, dining and culture," says Blake Gable, CEO Barron Collier Companies, the real estate development firm behind Ave Maria, a 5,000-acre community in Southwest Florida.
With the understanding that many families desire to work, live, learn and recreate all in one place, master-planned communities such as Ave Maria have grown in popularity in Florida, and often include residential neighborhoods, schools, town centers with shopping and dining, office space, business parks and recreational amenities.
Keyed into what neighborhood features foster community and enhance quality of life, Gable is sharing five quality-of-life amenities to look for while house hunting:
1. A community feel:
If you'd like your neighbors to be more than just strangers who happen to live close by, a master-planned community may be the right style of living for you. In many such communities, there are more golf carts and bikes than there are cars, creating a friendly atmosphere where it's easy to stop, chat and catch up with neighbors-turned-friends. Such self-sustained communities often have their own sports fields, dog parks, nature paths, active events calendars and even social clubs. Whether it's photography, bird watching or pickleball, you can nurture your interests while meeting new people.
2. Healthy living:
The right neighborhood for your family is one that's built for a healthy lifestyle. Find out whether your prospective new neighborhood has achieved Blue Zones Project certification. This pioneering health initiative is helping communities commit to improving the well-being of residents by offering them opportunities to move naturally, eat better, develop social circles, and live with purpose. As one of the first places to earn the designation in Florida and the Southeast United States, Ave Maria is a good example of a town designed to help residents live their healthiest, happiest life.
3. A town center:
A neighborhood with its own town center blends big town convenience with small town connection. Merchants are not just businesses, they are neighbors, too, so that you don't have to leave the neighborhood to find all the shopping and services you need, from supermarkets, restaurants and boutiques to spas, salons and doctors.
4. Great value:
The lifestyle you want should come at the right price. Fortunately, you don't have to overspend to find a new home in one of the country's most desirable locations, Southwest Florida. Named the fastest growing new home community in Southwest Florida since 2015 by MetroStudy, and Community of the Year by Collier Building Industry Association since 2015, Ave Maria offers the same type of lifestyle amenities, albeit at a much greater value, than similar options in nearby, more expensive Naples.
5. Top-notch schools: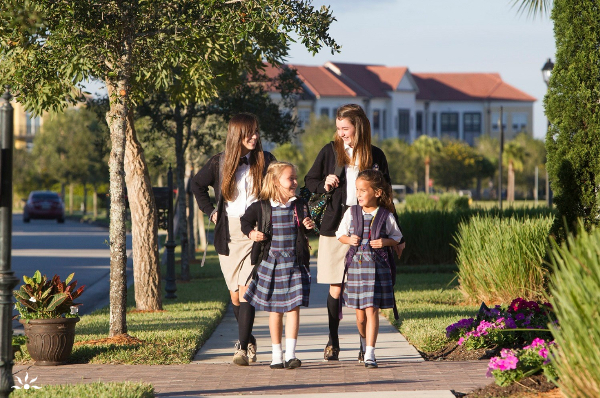 Check out local, state and national rankings, visit school websites, and connect with parents to learn their perspectives. Ave Maria is in the Collier County School District, which is ranked sixth in the state of Florida. Boasting highly-regarded pre-K to post-grad schools that are A-rated by the Florida Department of Education, its private schools are on-site and nationally recognized for excellence. It's also home to Ave Maria University, which lends the local scene a college-town energy, complete with continuing education, cultural activities and athletic events. This accredited liberal arts university offers 33 majors and 31 minors.
To learn more about the quality-of-life amenities found in affordable master-planned communities, visit avemaria.com.
As you search for a home, consider narrowing your search to neighborhoods that offer a community atmosphere and a healthy, friendly lifestyle.