--News Direct--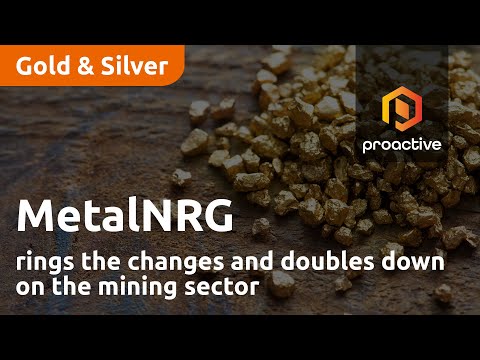 MetalNRG PLC (LSE:MNRG) Executive Directors Rolf Gerritsen and Chris Chadwick speak to Thomas Warner from Proactive after the company announced what it called a "strategic business review" and changes to the composition of the board. Gerritsen gives a brief overview of the announcement and expresses enthusiasm for the new team, led by mining industry veteran Chris Chadwick.
Chadwick is currently the co-founder and CEO of African Gold Acquisition (NYSE: AGAC), a New York Stock Exchange-listed special purpose acquisition company or SPAC, and he was also formerly a chief executive of Gold One International and director of Sibanye-Stillwater. Chadwick will work alongside existing executive director Rolf Gerritsen to complete the strategic review.
When asked about the announcement that "the initial focus [of the strategic business review] will include gold and copper projects, alongside other precious and strategic metals", Chadwick explains that the MetalNRG leadership believes in the strong fundamentals of both copper and gold, making them ideal for their long-term strategy. Looking ahead, Gerritsen says that MetalNRG plans to complete the review in the best interests of existing shareholders and highlights news from Tuscany, where partner EQTEC Italia has agreed a loan facility of €2.9 million to refinance its Italian waste to energy plant. Towards the end of September, the company plans to release further announcements, shedding light on their strategic direction.
Contact Details
Proactive UK Ltd
+44 20 7989 0813
View source version on newsdirect.com: https://newsdirect.com/news/metalnrg-rings-the-changes-and-doubles-down-on-the-mining-sector-323510458