HomeSteady Assisted Living opens on October 18th, 2023 at 4:30pm, ushering in a new era in senior living. This unique facility offers a fresh approach to assisted living by blending 24/7 personal care with the fulfilling homesteading lifestyle.
Spring, Texas, United States - September 30, 2023 —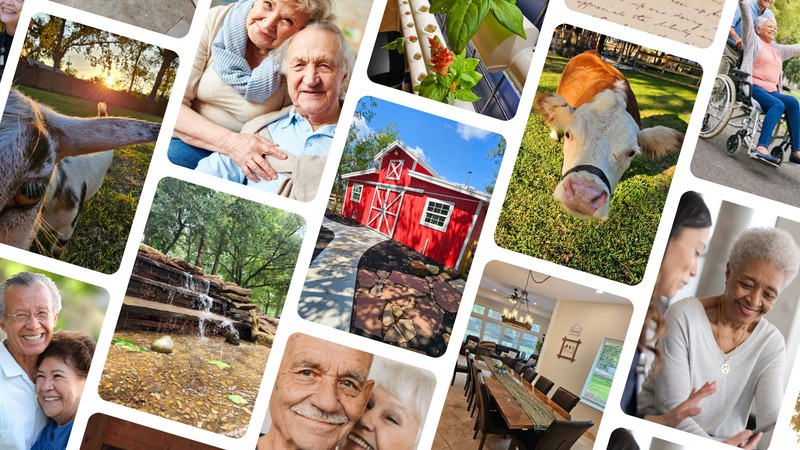 A new dawn in senior living is about to break with the grand opening of HomeSteady Assisted Living in Spring, TX on October 18th, 2023 at 4:30pm. This innovative facility invites the community to imagine a different kind of assisted living - one that combines round-the-clock personal care with the enriching lifestyle of homesteading.

HomeSteady is not your typical Assisted Living Facility. It's situated within the serene surroundings of a mini-farm, complete with a delightful storybook barn that houses a charming mini-cow, frolicking goats, and farm-fresh egg-laying chickens. This immersive experience allows residents to begin their day watching animals graze peacefully while sipping on their morning coffee amidst the gentle hum of nature.

But the excitement doesn't stop at observation. HomeSteady encourages its residents to embrace an active lifestyle through hands-on experiences and making memories with their loved ones. Seniors and their families can participate in the day-to-day farm activities, harvesting fresh ingredients that are then used by our skilled chefs to prepare nutritious, farm-to-table meals. This unique approach not only provides an enriching lifestyle but also fosters a sense of fulfillment and connection to nature.
Join us at our grand opening and get a taste of this innovative concept of senior living. Explore our facilities, interact with our warm community, and learn how we've seamlessly blended the convenience of 24/7 personal care with the invigorating lifestyle of homesteading.

HomeSteady is more than just an assisted living facility - it's a whole new lifestyle that combines care, comfort, and engagement in a unique way that has never been seen before in the industry.

About HomeSteady Assisted Living: HomeSteady Assisted Living is pioneering a new approach to senior care by marrying the homesteading lifestyle with assisted living. By offering 24/7 personal care within a mini-farm setting, we allow seniors to enjoy an enriching and active lifestyle that nurtures their well-being and happiness.
For a closer look at what HomeSteady has to offer, visit our website.
Website: HomeSteady Assisted Living
Address: 1103 Spring Meadow Dr Spring, TX 77373
Customer Service: +18326174414
About Us: HomeSteady Assisted Living About Us: HomeSteady Assisted Living offers an unparalleled blend of a homesteading lifestyle, a beautiful home, dedicated staff, and personalized care for seniors, all on a precious mini-farm the whole family will enjoy. Our assisted living facility offers a perfect living environment for seniors to truly thrive, as life happens all around them. Our Services: Experience a personalized and flexible care journey at HomeSteady Assisted Living. Our dedicated team provides assistance with personal care, social activities, medication management, housekeeping, laundry, meals, and 24/7 supervision. Expect top-notch care and professionalism every step of the way. Our Team: Our owner also owns the premier healthcare staffing agency in Texas, meaning he has sifted through thousands of applicants to curate a team that are highly trained and love caring for seniors. Our team aims to create a sense of community, promote independence, and improve the well-being of our residents through personalized care and meaningful connections. Our Commitment: We pledge to deliver compassionate care in an extraordinary home, with a focus on improving our residents' physical, emotional, and social well-being, while defining our approach by the priorities of safety, comfort, and a strong sense of community in all we do. Contact Information: For more information about HomeSteady Assisted Living and our services, please visit our website at homesteadyal.com, email us at homesteadyal@gmail.com, or call and text us at (832) 447-6655. Social Media: Stay connected with us on social media for updates and insights on senior care: Facebook: https://www.facebook.com/homesteadyal Instagram: https://www.instagram.com/homesteady_al/ Youtube: https://www.youtube.com/channel/UCFgBFS0dPGS9tLyo6ahLvvw LinkedIn: https://www.linkedin.com/company/homesteady-assisted-living/ Twitter: https://twitter.com/HomesteadyAL Location: 1103 Spring Meadow Lane, Spring, TX 77373
Contact Info:
Name: Jarrett Cameron
Email: Send Email
Organization: https://homesteadyal.com/
Address: 1103 Spring Meadow Ln, Spring, TX 77373
Phone: 832-447-6655
Website: https://homesteadyal.com/

Release ID: 89108930
In case of identifying any problems, concerns, or inaccuracies in the content shared in this press release, or if a press release needs to be taken down, we urge you to notify us immediately by contacting error@releasecontact.com. Our dedicated team will be readily accessible to address your concerns and take swift action within 8 hours to rectify any issues identified or assist with the removal process. We are committed to delivering high-quality content and ensuring accuracy for our valued readers.