Haute Living spotlighted a 12.1-acre luxury property in Park City, UT, noting its blend of luxury and natural beauty, proximity to premier amenities, and potential as a customizable family or corporate retreat.
Park City, Utah, United States - September 29, 2023 —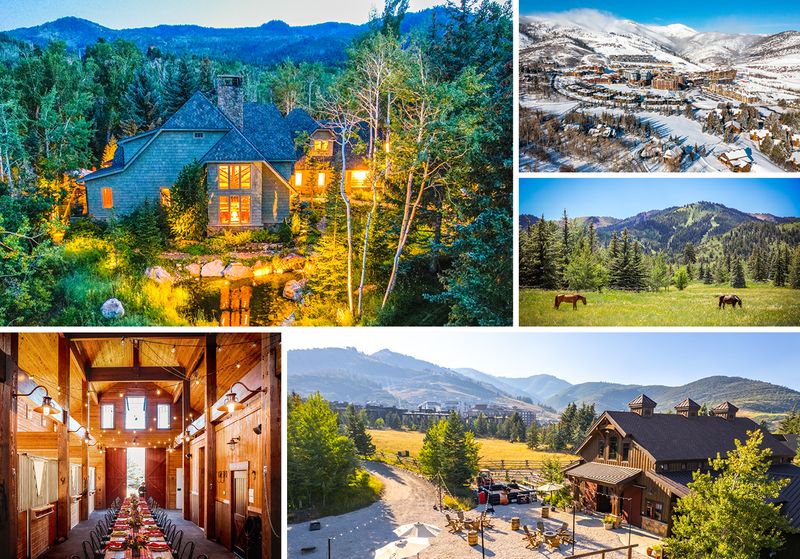 In a recent feature that has taken the luxury real estate world by storm, Haute Living has turned its discerning lens towards Onie Bolduc's newest listing - the spectacular Canyons Village Ranch. This property, with its perfect blend of luxury and nature, underscores why Bolduc Mountain Luxury remains a tour de force in the world of upscale estates. Join us as we delve into what makes this property the epitome of luxury living, and why it deserved a spotlight from one of the industry's leading voices.
Spanning a vast 12.1 acres across two separate parcels, the Canyons Village Ranch is situated in the heart of Park City. This breathtaking property, now available for purchase, is designed for those who want nothing short of the best. Its location, just steps from the base of the Canyons Village at Park City Mountain, allows owners and their guests a seamless blend of luxurious living with nature's untouched beauty.
As visitors step onto the grounds of the Canyons Village Ranch, they are greeted by a gated entrance from both White Pine Canyon Road and Red Pine Road. The landscape stands as a testament to nature's artistry with a harmonious blend of lush grassy hills, towering pines, delicate aspens, and mesmerizing water features.
At the heart of this vast estate stands the main house, shielded by a scenic cluster of trees. Its large deck overlooks a picturesque creek, promising an oasis of relaxation and contemplation. Not too far from this tranquil setting, a guest house of impeccable design awaits its visitors. With its expansive views and vaulted ceilings, this space is the epitome of exquisite mountain living.  If the guest house was not enough, this perfect family compound offers a third tranquil condo with views of the slopes and every comfort of home. The versatility of the property doesn't stop there.  The property, perfect for a family compound of corporate retreat, also boasts a second building envelope for those who wish to design a custom main-house, aligning with their unique vision and aspirations.
But the Canyons Village Ranch isn't merely a home; it's an experience. One of the many charms of this urban mountain ranch is its ability to offer seclusion without isolation. Despite its tranquil ambiance, the estate is just a stone's throw away from world-class skiing adventures, exquisite dining experiences, and premier retail destinations. The Canyons Village Ranch ensures that entertainment and adventure are always within reach. With notable brands like Hilton, Hyatt, Pendry, and Yotel marking their presence, Canyons Village is swiftly becoming an international destination of repute.
Equestrian enthusiasts will be delighted by the modern barn, the stables, and a training corral. Moreover, the property offers two dedicated fenced-in pastures, making it a dream destination for horse lovers. 
The address, 1892 W White Pine Canyon Rd, Park City, Utah, is bound to become iconic, standing for unmatched luxury and serenity. 
For those aspiring to own a piece of paradise, Canyons Village Ranch awaits.
About Bolduc Mountain Luxury
Behind this masterpiece is Onie Bolduc of Bolduc Mountain Luxury, a stalwart in luxury real estate. With over two decades of experience, Onie's commitment to excellence is evident in every corner of the Canyons Village Ranch. Recognized in the prestigious RealTrends + Tom Ferry 'America's Best Real Estate Professionals' rankings in 2022, Onie's accolades are a testament to his unparalleled expertise in the sector.
Specializing in luxury real estate for over two decades, Onie Bolduc and his dedicated team have been at the forefront, serving the vibrant markets of Park City and Deer Valley. From crafting groundbreaking marketing campaigns to ensuring seamless transactions, Bolduc Mountain Luxury redefines luxury real estate.
Contact Info:
Name: Onie Bolduc
Email: Send Email
Organization: Bolduc Mountain Luxury
Address: 625 Main St. Park City, UT 84060
Phone: 435-631-1615
Website: https://bolducmountainluxury.com/

Release ID: 89108975
If there are any problems, discrepancies, or queries related to the content presented in this press release, we kindly ask that you notify us immediately at error@releasecontact.com. Our responsive team will be available round-the-clock to address your concerns within 8 hours and take necessary actions to rectify any identified issues or support you with press release takedowns. Ensuring accurate and trustworthy information is our unwavering commitment.