"Silent Rape" is a medical thriller following a new physician's quest to expose hidden crimes perpetrated by her devious colleague.
Portsmouth, New Hampshire, United States - September 29, 2023 —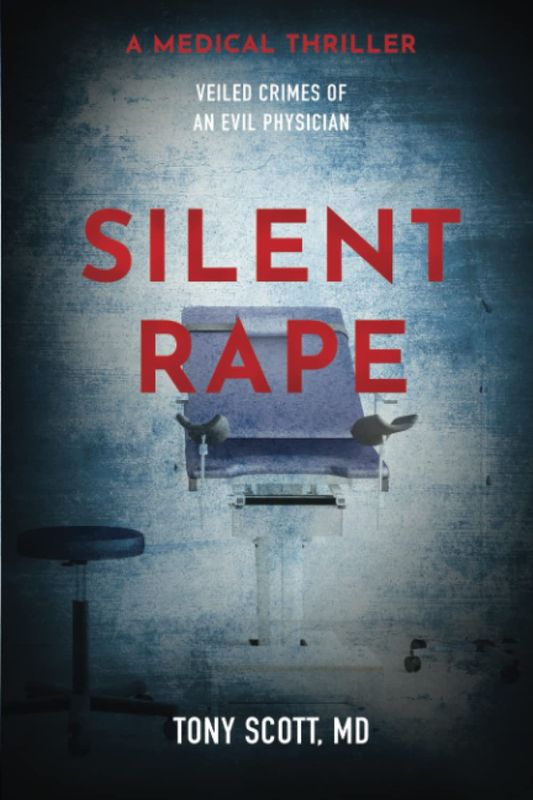 "Silent Rape: Veiled Crimes of an Evil Physician" by Tony Scott MD has been released worldwide. This 293-page thriller follows Dr. Faith Pernitelli, a recent obstetrics residency graduate who discovers disturbing allegations about a fellow physician – and unexpected pushback when she tries to pursue justice for the abused patients. As the story unfolds, Dr. Pernitelli learns more shocking truths about what can happen behind closed doors, and faces threats to her job, her reputation, and even her safety in the face of vicious retaliation.
This fast-paced tale of power dynamics, secrets, and perseverance is rooted in the author's personal experience, gained over more than forty years as an obstetrician and anesthesiologist, including real-world cases of abuse and efforts to keep them hidden. Dr. Scott's professional experience adds a layer of realism to the novel through the fine details of working in the medical field and the frustrating complexities of the legal system.
The vivid, riveting story is strengthened by the depth of its protagonist. Dr. Pernitelli contends with Asperger's, a diagnosis on the autism spectrum, and finds that it may be a hindrance to her pursuit of justice. With roadblocks and obstacles at every turn, her determination and commitment to doing the right thing propel her through greater and greater challenges, inspiring readers to do the same in their own lives.
This realistic, sometimes brutal thriller is an intense portrayal of what it means to challenge the establishment and defy those in power, and shows the turmoil of a woman fighting for truth in a male-dominated field.  
Silent Rape (ISBN: 9798807852489) can be purchased through Amazon. The paperback retails for $17.99, and the ebook retails for $7.99. Review copies and interviews are available upon request.  
From the back cover:

It's hard to imagine that a physician we think we know well could have an obscure dark side. We have the affirmation of our family and friends that our physician is trustworthy, competent, and our advocate. This riveting novel dares to ask: What evil can a physician inflict behind the exam room door?

New obstetric residency graduate Dr. Faith Pernitelli is settling into her career when a fellow provider is accused of taking advantage of his position. After she divulges her patients' stories, Pernitelli discovers that doing the right thing for victims isn't as straightforward or well received as she expects. Moreover, her Asperger's diagnosis, which once served as a gift to her profession, is now a curse that threatens everything—including her reputation.

As relationships change during stormy efforts to do the right thing, Pernitelli must decide if fighting for the truth is worth the lies with which her adversaries retaliate. Who will stick with her when their lives are threatened in the crossfires of justice? The consequences of fighting for justice in a quiet New Mexico community are unfathomable in this intense medical thriller where powerful enemies hide the truth—no matter the human cost. The truth may not set you free after all in this riveting medical thriller from a seasoned physician author.
About the author:

Dr. Scott is a retired obstetrician and anesthesiologist who practiced for forty years, delivered thousands of children, and managed countless complicated pregnancies. Along the way, a collection of disturbing issues arose that touch medical practice without being the central topic. From this, he has crafted thriller novels daring to examine daunting aspects of substance abuse, new and threatening diseases and drugs, human trafficking, and threatening behavior of patients and colleagues. His unique perspective adds a dimension to thriller fiction not possible without a lifetime of experiences now exploding on the pages.
About Us: MindStir Media is an award-winning book marketing and PR agency, ranked as one of Inc. 5000's fastest-growing private companies in America.
Contact Info:
Name: Jen McNabney
Email: Send Email
Organization: MindStir Media
Website: https://mindstirmedia.com

Release ID: 89108979
Should any problems, inaccuracies, or doubts arise from the content contained within this press release, we kindly request that you inform us immediately by contacting error@releasecontact.com. Our dedicated team will promptly address your concerns within 8 hours, taking necessary steps to rectify identified issues or assist with the removal process. Providing accurate and dependable information is at the core of our commitment to our readers.