On track to inspire the future of money one drink at a time, DEFI Spirits makes industry headway by creating a platform that will deliver blockchain technology in a user-friendly way and give the alcohol industry a new business concept with real value.
United States - September 29, 2023 —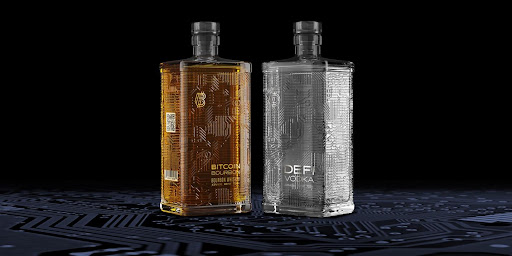 DEFI Spirits continues to spark innovations in the crypto community after announcing the launch of Bitcoin Bourbon and DEFI Vodka – an impressive showcase of how blockchain technology can be integrated into new industries.
Jenna Woods, company co-founder, said DEFI Spirits will be attaching NFTs to bottle sales in the future, which will give the customer a unique experience to interact with the blockchain in a few easy steps. "Our mission is to connect the crypto community and a broader audience, simplifying blockchain technology and making it more accessible for those curious to explore new possibilities. We believe that by bridging the gap, we can empower more people to unlock the full potential of DeFi, creating a digital future that is more inclusive and informed," noted Jenna.
 Founded in 2020 by Ryan and Jenna Woods, DEFI Spirits is a family-owned business based in Austin, Texas. Bitcoin Bourbon, in fact, already cemented its name in the spirits community by winning a double gold medal at the 2022 John Barleycorn Awards, an international competition developed by spirits writers to acknowledge the preeminent distillers, marketers, and designers of the spirits industry.
We are proud that our bourbon is crafted just outside of Austin. Our vodka is distilled in Bulgaria from hand-harvested winter wheat. We worked tirelessly to ensure that our spirits were just as impressive as our distinctive bottles," shared Ryan, who also expressed hope that DEFI Spirits will help people understand how cryptocurrency can make the industry safer, more transparent, and more engaging. 
Ryan said the company is releasing 21 exclusive Founders Series single barrels. These bourbon barrels symbolize the scarcity of Bitcoin, with a supply reaching only 21 million. Each bottle will include a custom box and a serialized NFT, allowing both physical and digital ownership.
DEFI Spirits has already sealed partnerships with a few companies from leading industries wanting to leverage its technology for seamless integration of NFTs into their brands. According to Ryan, this ultimately gives customers "a new kind of engaging experience."
Exclusive wine collection
In the same announcement, DEFI Spirits also bared the much-anticipated upcoming launch of its exclusive wine collection, which will be available through an NFT wine membership. The company's unique black square bottles were designed to be a bold departure from conventional and elevate the experience for discerning customers. 
The bottom of the bottle includes a special inscription: "If not now, when? Have courage. Do better." This message, according to Ryan, became a company mantra. 
"We hope to empower other people to take purposeful action in their lives to make their dreams a reality. Sometimes all it takes to spark new ideas and needed change is just sharing a meaningful conversation with friends over a drink," said Ryan. They are currently on sale now at https://buy.defispirits.com.
 Those who want to explore more about their journey of innovation or celebrate the spirit of DeFi may visit www.defispirits.com for more information.

Contact Info:
Name: Ryan Woods
Email: Send Email
Organization: Bitcoin Bourbon
Phone: 2096145351
Website: https://www.defispirits.com/

Release ID: 89108851
Should you identify any discrepancies, concerns, or inaccuracies in the content provided in this press release or require assistance with a press release takedown, we strongly urge you to notify us promptly by contacting error@releasecontact.com. Our responsive team is committed to addressing your concerns within 8 hours by taking necessary actions to resolve identified issues diligently or guiding you through the necessary steps for removal. Our dedication lies in providing accurate and reliable information.