The Learning Success Academy (LSA) and Learning Success Coaches (LSC) by SuccessCodes are transforming education one student, parent, and teacher at a time.
West Vancouver, BC - September 29, 2023 —
In a rapidly changing educational landscape, passionate educators and concerned parents are seeking ways to empower themselves and their students. Kohila Sivas, the visionary behind the MathCodes Method and Meta-Learning DeStress Method, introduces a groundbreaking approach through NeuroGrowth Learning Success Coaching. With a mission to impact the lives of 1.5 million students by 2035, Kohila Sivas, along with her certified NeruoGrowth Learning Success Coaches, is making waves in the field of education and learning.
Education is a cornerstone of society, shaping the future of generations. At the heart of this process are teachers, the dedicated individuals who guide students on their educational journey. Yet, the education system is failing to provide teachers with the support and freedom they need to truly deliver teaching that meets the needs of their students. SuccessCodes provides transformative opportunities to teachers considering leaving the classroom or those seeking additional income while making a meaningful impact on their students' lives. This holistic approach empowers teachers to break free from traditional constraints and fully embrace their passion for delivering to their students' needs.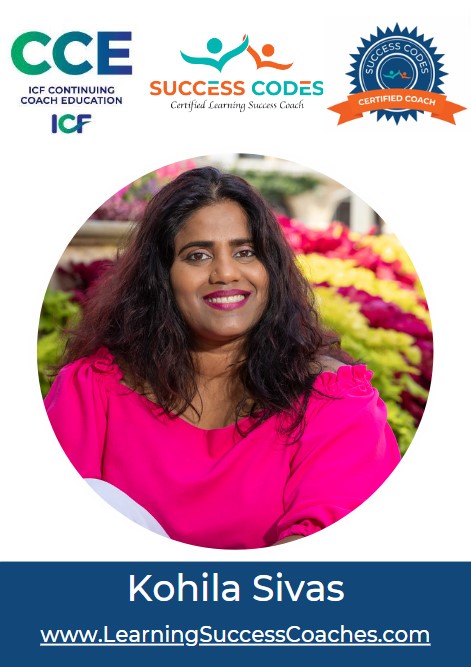 "Everything is solvable," says Kohila Sivas, founder of the LSA and LSC. "Our proven holistic coaching methodology is a unique and superior alternative to tutoring and teaching in all subjects. We are not tutors; we are more than teachers; we are 'Wholistic' NeuroGrowth Learning Success Coaches." 
Teachers are grappling with a multitude of challenges, including overcrowded classrooms, behavioral problems, and exacerbated learning disparities due to the impact of COVID-19. These challenges leave many teachers feeling overwhelmed and stretched thin as they strive to provide quality education. 
Learning Success Coaching training offers these educators a fresh perspective by providing an innovative solution. The 8-week certification program empowers educators, even those who may lack business experience in the field, to establish successful independent coaching practices. This comprehensive program includes full training on the Meta-Learning Destress Method, a unique methodology designed to unlock the full potential of any type of learner.
Joining the Learning Success Coaching Community 
Becoming part of the LSC community grants access to a network of like-minded educators and parents who share a common commitment to holistic learning. Participate in meaningful discussions, draw motivation, and find inspiration in the numerous success stories.

With over 100 success stories in just a year and a half, the neuroscience-based approach ensures that each step taken leads to measurable impact. "Come be a part of our movement, where we wholeheartedly invite you to join our mission to positively impact the lives of millions of students and make a significant contribution to the field of education," says Kohila Sivas. Their mission at SuccessCodes is to prevent passionate teachers from leaving the profession. For teachers interested in the program, watch "How to Transfer Your Skills, Work Fewer Hours (from Home or from Anywhere), Profit More and Make a Bigger Impact with Students, in 90 Days or Less Guaranteed." at www.LearningSuccessCoaches.com/opt-in
Why Learning Success Coaching Matters
As educational institutions grapple with a shortage of teachers and projections indicating that 30-50% may leave the profession in the coming years, the demand for innovative educational approaches has never been more urgent. The online learning industry continues to grow, and parents actively seek ways to support their children's education beyond traditional classroom settings.
LSA and LSC offer a solution that transcends conventional tutoring and teaching methods. The unique, neuroscience-based coaching methodology addresses the individual needs of each student, empowering educators and parents to help students thrive in their learning journey and meet every child where they are.
Kohila Sivas and her team are dedicated to shaping a brighter future for educators and students alike. Educators interested in joining this revolution can apply to become part of this movement and their growing community.
The International Coaching Federation (ICF) recently approved and accredited the LSC training program. Anyone who completes the training program can now earn 40 credits. This certification underscores the commitment to delivering high-quality coaching services. To explore the program, please visit the website at www.LearningSuccessCoaches.com
About SuccessCodes:
SuccessCodes mission is to empower students, parents, and educators with tailored guidance and holistic support, fostering academic excellence and personal growth. They are dedicated to training educators to launch their own businesses and become certified to provide customized learning support to all types of learners worldwide. SuccessCodes envisions a future where 1.5 million or more students are positively impacted by their transformative approach to learning. They strive to reshape the educational landscape, ensuring every learner, guided by a dedicated Learning Success Coach, attains the knowledge and skills needed for success in academics, life, and beyond.
About Learning Success Coaches:
Led by visionary educator Kohila Sivas, it stands as a beacon of transformative learning. With an unwavering commitment to empowering teachers and students, this innovative academy is redefining the learning landscape. Through a holistic approach rooted in neuroscience and personal growth, LSC offers a diverse range of online classes, coaching programs, and live events that inspire teachers to serve for impact while making the income they deserve. 
About the Founder:
Kohila Sivas is a visionary educator and the creator of the MathCodes Method and Meta-Learning DeStress Method. She embodies a profound commitment to revolutionizing education. With over two decades of experience working directly with struggling students, Kohila's holistic coaching methodologies have touched the lives of thousands, propelling them toward academic and personal success. As a Holistic Mind Catalyst, international bestselling author, and Certified Hypnotherapist, Kohila's dedication to empowering learners and educators knows no bounds. Her relentless pursuit of a brighter future for students and teachers alike, combined with her unshakable passion for lifelong learning, positions Kohila Sivas as a true luminary in the world of education and personal growth.
Contact Info:
Name: Kohila Sivas
Email: Send Email
Organization: SuccessCodes
Phone: 778-378-2640
Website: https://www.LearningSuccessCoaches.com

Video URL: https://www.youtube.com/watch?v=0KoK59Q7WpE&list=PLIbBFkAwjRSUhIWudaRiHPdDep9zEW3Pp&index=7
Release ID: 89108854
Should you come across any errors, concerns, or inconsistencies within this press release's content, we urge you to reach out without delay by contacting error@releasecontact.com. Our committed team will promptly address your feedback within 8 hours and take appropriate measures to resolve any identified issues or guide you through the removal process. Providing accurate and dependable information remains our utmost priority.