Debt-buying firms looking to save money on their legal expenses can learn how professional legal process outsourcing (LPO) offers a cost-effective solution in a new report from BeeSeen Legal (631-777-8811).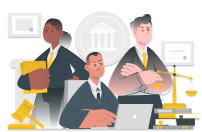 Huntington, United States - September 27, 2023 —
The recently released report from BeeSeen Legal provides insight into the various ways that LPO can assist debt-buying firms in streamlining their legal processes, as well as allow them to expand their services.
More information is available at https://www.beeseenlegal.com/blogs/how-legal-process-outsourcing-is-assisting-debt-buyers-to-increase-efficiency-and-help-scale.html
Furthermore, readers can also learn why LPO services offer a more affordable alternative to hiring, training, and managing an internal legal team.
While debt-buying is a fundamental part of the financial market, its requirements can range from simple purchases to complex legal procedures, including navigating consumer compliance issues, lawsuits, and federal and state regulations. Due to this diverse range of legal problems, owners of debt-buying firms require legal advisors with extensive experience and knowledge. BeeSeen Legal's LPO report explains how the use of Legal Process Outsourcing can provide cost-effective access to this wealth of expertise.
As the report explains, LPO services can be used on an ad hoc basis, with legal experts in specific areas such as debt collection and litigation being on hand whenever they are required. Additionally, this access includes a vast network of advisors, meaning clients can get the legal support they need as soon as they need it, resulting in faster turnaround times.
BeeSeen Legal also highlights the cost-effective benefits of LPO services, such as that debt-buying firms do not need to invest in the continuous expenses of training their own legal teams. Instead, LPO can provide top-tier legal advisors who are up-to-date with the current legislation, regulations, and compliance laws.
Having been working in the LPO industry for over 25 years, BeeSeen Legal helps clients throughout the New York area and beyond get the expert legal support they need. This includes outsourcing time-consuming file preparation, ensuring compliance with laws and regulation requirements, research services, and attorney support.
A spokesperson for BeeSeen Legal said, "By outsourcing legal processes, debt-buying firms can concentrate on strategic decision-making, debt analysis, negotiations, and customer engagement. This increased focus on core competencies allows them to stay ahead of the competition and drive business growth."
Interested parties can find more information by visiting https://www.beeseenlegal.com/
Contact Info:
Name: Peter
Email: Send Email
Organization: BeeSeen
Address: 50 Stewart Avenue Suite L-3, Huntington, NY 11743, United States
Website: https://beeseenlegal.com/

Source: PressCable
Release ID: 89108760
Should you identify any discrepancies, concerns, or inaccuracies in the content provided in this press release or require assistance with a press release takedown, we strongly urge you to notify us promptly by contacting error@releasecontact.com. Our responsive team is committed to addressing your concerns within 8 hours by taking necessary actions to resolve identified issues diligently or guiding you through the necessary steps for removal. Our dedication lies in providing accurate and reliable information.