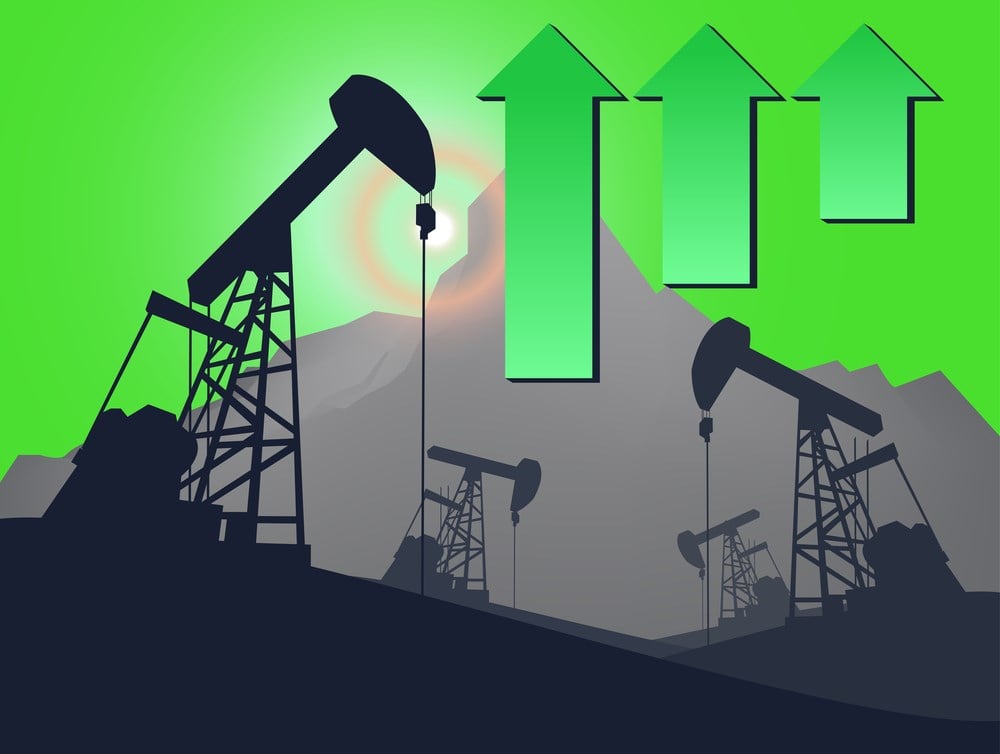 Bond yields are rising, which could make fixed-income attractive, but many investors prefer to hold dividend-paying equities as they have higher growth potential. 
Those higher bond yields mean it's tougher for stocks to prove their worth as income-generating alternatives, but investors still have plenty of choices. 
With crude oil prices rising, energy stocks fit the bill. EQT Corp. (NYSE: EQT), Schlumberger Ltd. (NYSE: SLB) and Noble Corp. Plc (NYSE: NE) are three dividend payers forming bullish chart consolidations. 
When oil prices rise, the resulting increased revenue and profitability allow energy companies to distribute larger dividend payouts to shareholders, resulting in higher yields for investors. 
Energy stocks are often considered income-oriented investments, making them attractive to dividend-seekers when oil prices are high. 
Here's a look at how those dynamics are working for those three stocks.
EQT Corp: Recent Dividend Hike
EQT is a natural gas production company with operations focused on the Marcellus and Utica Shales of the Appalachian Basin. According to the company, based on average daily sales volume, it's the largest producer of natural gas in the U.S. 
MarketBeat's EQT dividend data shows a yield of 1.51%. The company recently increased its dividend to 60 cents a share from 55 cents a share.
As energy prices have been rallying, the dollar has also been on the rise. Commodities like oil typically have a negative correlation to the dollar, which could point to a longer energy rally after years of underinvestment and environmental regulations putting a lid on potential gains. 
When the company reported second-quarter in July, it topped Wall Street views, as you can see using MarketBeat's EQT earnings data. The company reported a loss, chiefly due to a decline in natural gas revenue.
The company told analysts that it expects liquid natural gas capacity increases that will drive healthy revenue increases for several years. 
The EQT chart shows a cup-with-handle base with a buy point above $44.88. Shares closed at $39.61 on September 27. 
SLB Outperforming Energy Sector
Schlumberger, which goes by the moniker SLB now, boasts a one-month gain of 5.17%. That's outpacing the Energy Select Sector SPDR Fund (NYSEARCA: XLE). The oil-and-gas services company is the fourth most heavily weighted stock in the energy sector, but at 4.47%, it trails behemoths Exxon Mobil Corp. (NYSE: XOM) and Chevron Corp. (NYSE: CVX) by wide margins. 
SLB's dividend yield is 1.64%. The company increased its shareholder payout in each of the past two years. 
Both earnings and revenue have been growing at double-digit rates in the past eight quarters. Wall Street expects earnings to grow by 37% this year to $2.99 a share. Next year, that's seen rising by another 23% to $3.69 a share.
Those earnings gains bode well for continued dividend increases.
The SLB chart shows the stock pulling back and finding support at its 50-day moving average. That's a sign that the retreat was due to a combination of algorithms that dragged down the S&P as a whole, along with some profit-taking in this stock after it rallied to a multi-year high in mid-September.  
Noble: Mid-Cap Dividend Payer
Noble, specializes in offshore drilling for the oil and gas industry, providing contract drilling services internationally.
The company focuses on a high-specification fleet of floating rigs.  
The company's official headquarters is in the Cayman Islands, but its offices are based in Sugar Land, Texas, in the oil-and-gas metropolitan area of Houston.
U.K.-based company is something of a unicorn, at least by U.S. standards, as it's a mid-cap that pays a dividend. Its market capitalization is $6.941 billion. 
MarketBeat's Noble dividend data shows a yield of 2.33%, and an annual dividend of 1.20%. 
Noble stock is consolidating below an early September high of $55.34. 
Wall Street has high expectations for the company, as a glance at Noble's analyst ratings shows you. Analysts' price target is $58.25, an upside of 13.16%. 
The stock went public in June 2021, just in time to participate in the great 2022 energy rally. As a new and relatively small company, Noble shares can show some wide price swings, but those trading patterns generally settle down the longer a company is public.