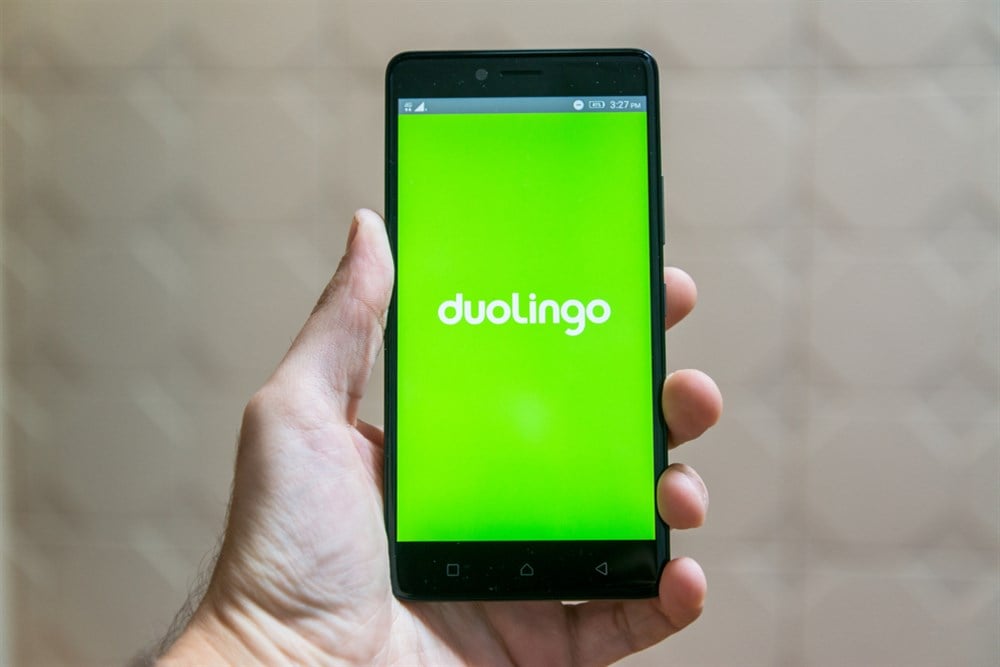 When it comes to AI, language-learning app Duolingo Inc. (NYSE: DUOL) is articulating the idea, "If you can't beat 'em, join 'em." The approach seems to be working.
The company embraced AI early as a way to grow its business, while rival language-learning platform Chegg Inc. (NYSE: CHGG), was late to the party. Chegg stock has crumbled under the threat of generative language model Chat GPT, which counts Microsoft Corp. (NYSE: MSFT) as a key investor.
In filings, Duolingo says, "Our products are powered by sophisticated data analytics and artificial intelligence and delivered with world-class art, animation, and design to make it easier for learners to stay motivated, master new material, and achieve their learning goals."
While Chegg shares are down 64.62%, with the selloff showing no signs of slowing, Duolingo stock has been holding up better, and has been showing bullish price action recently.
Investors Fretted About AI's Effect On Duolingo
Not long ago, investors feared that Duolingo would suffer the same fate as Chegg. 
As you can see on the Duolingo chart, on May 2, Duolingo shares tumbled 10.20% in more than double the average turnover after Chegg said ChatGPT was having an effect on its business.
Duolingo shares quickly recovered. As you can see on MarketBeat's Duolingo earnings page, the company reported better-than-expected earnings and revenue on May 9, easing investor concerns and sending the stock to an 18-month high. 
The company also raised full-year guidance, but Wall Street was reassured by a couple of sentences in the earnings release: "We continue to operate with discipline and, as a result, exceeded our expectations on profitability. We are also excited about our new AI-driven product, Duolingo Max, and are improving its features to teach better, drive engagement, and grow monetization," said CEO Luis von Ahn. 
Chegg Growth Slowed on Competition From AI
Chegg, however, blamed AI for disappointing growth, as it missed earnings views.  
"Since March we saw a significant spike in student interest in ChatGPT. We now believe it's having an impact on our new customer growth rate," said Chegg CEO Rosensweig at the time of the company's first-quarter earnings report. 
In other words, prospective customers are turning to ChatGPT rather than Chegg's tools. 
Chegg stock gapped down 48% in monster volume after that report.
More recently, the selling hasn't been as dramatic, but the stock also has not been able to stage a rally, even as the company rushed to jump on the AI train.
"We launched the beta version of our initial generative AI experience in May and feedback has been very positive," Rosensweig said in the company's second-quarter earnings release on August 7.
Chegg Still Selling Off, But More Slowly
Investors may be somewhat reassured, but definitely not excited. The pace of selling has slowed, but not completely stopped. Chegg stock is down 8.21% in the past months.   
Chegg had a strong run as a growth stock between 2016 and early 2021. 
The company's revenue has been declining since the quarter ended in June 2022, as you can see using MarketBeat's Chegg earnings page, which shows you the actual revenue reported. 
Not all the news has been bad. In the quarter ended in June of this year, which Chegg reported on May 2, the company reported subscription revenue of $165.9 million, topping its own revenue forecast.
However, Chegg is hoping to stop the bleeding. The company, like Duolingo, is revamping its software to include generative AI applications, but analysts agree that the company took too long to understand the threat of AI.
Duolingo Price More Than Doubles
Duolingo, though, is a very different stock, and the two companies look quite different in terms of revenue and earnings performance.
Whereas Chegg shares have plummeted this year, Duolingo is up a whopping 114.64% year-to-date, advancing 17.45% in the past month. 
So what explains the difference in performance? 
The companies' business models are not identical. 
Although Chegg offers language lessons through its Busuu subscription service, it also offers math, writing and study services via subscription. Another service, Chegg Skills, is designed to boost workers' career development. 
Duolingo's focus is on language lessons. Its mobile platform offers instruction in 40 different languages, including Spanish, Chinese, Japanese, German, Portuguese, Italian, French and English. 
Duolingo Earnings Seen Growing at Double-Digit Rate
Given the disparity between the companies' stock performance, you might assume that Duolingo has been more profitable, but that would be incorrect. Duolingo posted a profit for the first time in the quarter ended in June. Analysts expect the company to earn $1.97 a share for the full year, with profitability increasing by 18% to $2.23 a share next year. 
Chegg has a track record of profitability, but Wall Street expects earnings to decline by 17% this year. 
Duolingo offers various subscription programs without ads, as well as upsells to more features for a premium.
Its biggest seller is Super Duolingo, with pricing starting at $6.99 a month. 
Duolingo broke out of a double bottom base on September 11, and rallied to a high of $167.35 a week later. It's been under some selling pressure in the past week, along with the broader market. It's a bullish sign that Duolingo stock found support at its 21-day moving average.