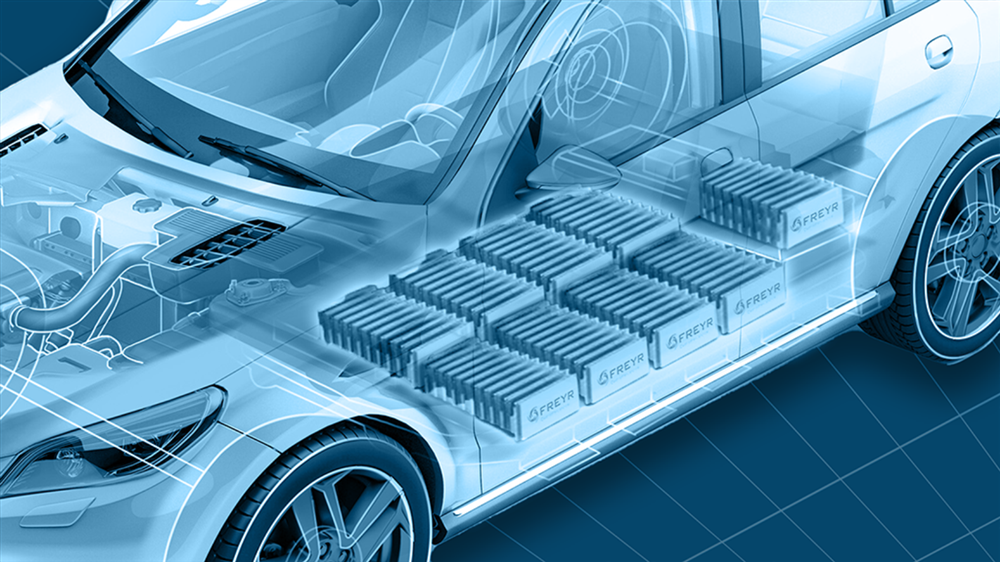 Investors dream of getting into a promising stock early before it goes on a rocket ride. In hindsight, plenty of investors are kicking themselves for not seeing the potential of Apple Inc. (NASDAQ: AAPL) in 1984, or Amazon.com Inc. (NASDAQ: AMZN) in 1997.  
The problem with that kind of rear-view mirror thinking is that a company's potential isn't always obvious in the early days, after an IPO. But these days, there is a theme of growing electrification as the world moves toward cleaner energy, and Freyr Battery SA (NYSE: FREY) could be in a good position as an early-stage company to benefit from that conversion. 
Norway-based Freyr charged 33.19% higher the week ended June 30, as the company said that it had assembled and successfully charged its first semi-automated lithium-ion battery unit cells at a Norwegian facility.
Handing Out Samples Later This Year
In a statement, Freyr CEO Tom Einar Jensen said the successful tests pave the way for the company to ramp up process automation, battery cell production, and testing of cells it produced. Jensen said the company anticipates supplying customers with samples in the second half of this year. 
He also noted an "increasingly robust pipeline of customer opportunities and use cases for our products."
Shares gapped up and closed 20.26% higher following that announcement. The next day, Freyr presented its first "capital markets" day at the New York Stock Exchange, in what was a pitch to attract further investment. As more analysts and investors heard what the company had to say, the stock bolted another 3% higher on June 30. 
Weekly trading volume was triple the average.
Increasing Production Speed & Yield
Among items in the NYSE presentation was Jensen's statement that the company is moving toward a totally automated process, which will increase production speed and yields. 
That's important because as Jensen also showed in his presentation, batteries are literally everywhere in the process of electrification, or transitioning to clean-energy alternatives. 
Applications include transportation, heating, and industrial processes, which are in the process of moving from fossil fuel-based systems to electric-powered systems.
The company has yet to show any revenue, as its operations are financed through post-IPO offerings, additional rounds of private equity, and grants from Norwegian governmental entities. Analysts don't expect the company to be profitable either this year or next, but the upside trade for the week ending June 30 is a pretty good indication that investors view Freyr as an early opportunity. 
U.S. Factory In The Works
In his NYSE presentation, Jenner mentioned the company's planned U.S. gigafactory that will be built in Coweta County, Georgia. The company is also exploring a potential gigafactory site in Vaasa, Finland, but batteries produced at the U.S. site will qualify for subsidies under the Inflation Reduction Act. 
A gigafactory is a large-scale facility that produces batteries, typically for electric vehicles and energy storage.
The NYSE presentation revealed other companies that Freyr has partnered with as it produces the batteries and brings them to market. Investor and miner Glencore plc (OTCMKTS: GLNCY), which is a financial backer of Freyr, is part of the consortium, as are Nidec Corp. (OTCMKTS: NJDCY), Siemens AG (OTCMKTS: SIEGY) and Caterpillar Inc. (NYSE: CAT).
Capital Spending Focused On 3 Projects
In its pitch to investors, the company, which went public in February 2021 via a SPAC merger, emphasized that it ended the first quarter with $475 million in cash. 
Its 2023 capital expenditures are focused on three main projects: Its customer qualification plant in Norway, where it verifies product suitability; the Georgia Giga America plant, and maintaining progress at its Giga Arctic facility in Norway. This will be the company's first full-scale battery manufacturing facility.
With no earnings and no revenue, and losses forecast into the foreseeable future, Freyr is a poster child for a speculative stock. In general, it's wise to focus on companies that already have a robust revenue stream, and steady profitability is even better.
However, investors frequently like the idea of getting in early on a stock whose future appears lucrative. A company like Freyr could easily become an acquisition target of any number of companies needing batteries. The list of eventual suitors could include global automakers, utilities, or big industrial companies.