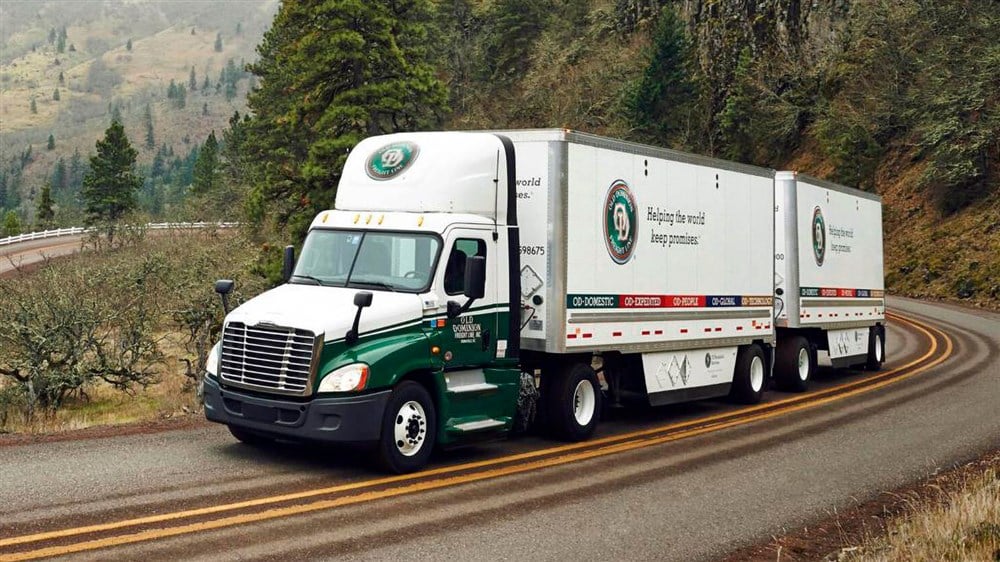 Shares of Old Dominion Freight Line inc. (NASDAQ: ODFL) just keep on truckin' higher. As of June 28, stock of the less-than-truckload (LTL) specialist is up 13.49% for the week,  
A catalyst for the move came in the form of two analyst upgrades on June 77.  MarketBeat's Old Dominion Freight Line analyst ratings show that Evercore ISI boosted its price target to $363 from $350. Bank of America lifted its view to "buy" from "neutral," and increased its price target to $391 from $331. 
In a June 8 note in its "Transport Tracker" report, Bank of America hinted that it had a bullish view of ODFL, albeit couched in somewhat cautious language. 
Volumes Under Pressure 
B of A analysts said industry-wide LTL volumes were under pressure from a softer macroeconomic environment. However, the team of analysts said, "Leading carriers ODFL and SAIA Inc. (NASDAQ: SAIA) are focused on price through service and mix," while other operators, including ArcBest Corp. (NASDAQ: ARCB) and XPO Inc. (NYSE: XPO) "are adding transactional/less lucrative loads, or national account business to fill capacity."
ODFL issued a mid-quarter update on June 5, saying that yield levels were improving, something the B of A analysts also noted. 
In the trucking industry, yield refers to the revenue generated per unit of work or transportation service provided. It can be calculated in various ways. 
Bank of America and Evercore also upgraded SAIA and XPO on June 27. SAIA is up 10.70% for the week, while XPO shares advanced 13.94%. 
Institutions Getting Onboard For The Ride
Those upgrades and strong buying in all three stocks suggest that transportation-focused funds may be adding shares.  
ODFL is the largest of the three and is a component of the S&P 500 industrials sector, which is tracked by the Industrial Select Sector SPDR Fund (NYSEARCA: XLI). On June 28, midway through the session, ODFL was the sector's second-biggest price mover, advancing 3.21%. 
A look at the Old Dominion Freight Line chart reveals a couple of ways to view the stock's price action; it's easiest to get a more detailed look using either a bar or candlestick view. 
The stock pulled back into a consolidation in early February, then attempted a rally, hitting resistance at $356.70 after retreating sharply, following a disappointing earnings report. 
Stock Is Currently Actionable 
The stock bottomed out at $295.80 in late May, then began slowly climbing higher. With the strong price action on June 27, ODFL passed the previous level of resistance at $356.70, and is now in buy range, having risen 3.78% above its double-bottom buy point. 
On May 18, the company declared a dividend of $0.40 per share. This dividend represents a 33.3% increase over the payout in the year-ago quarter. MarketBeat's Old Dominion Freight Line dividend data show a yield of 0.43%, and a three-year history of boosting the shareholder payout. 
One potential catalyst for further gains: A new CEO. Kevin M. Freeman is set to succeed Glenn Gantt in the executive office effective June 30, as Gannt retires. The company issued several press releases updating investors and analysts on the CEO transition, to offer reassurance that the move was not sudden, and was being meticulously planned.  
Fresh Energy To CEO Suite
Although Freeman has been with the company for 30 years, it's likely he will bring a fresh perspective and energy to the job, as often happens with a new management team. That could, over the coming year or two, result in revenue and earnings growth. 
When it comes to earnings expectations for the current year, The company has been upfront in preparing investors for weakness due to macroeconomic conditions. 
Wall Street expects earnings to decline by 12% this year, to $10.77 a share, but anticipates a resumption of growth in 2024, to $12.35 per share, an increase of 15%.