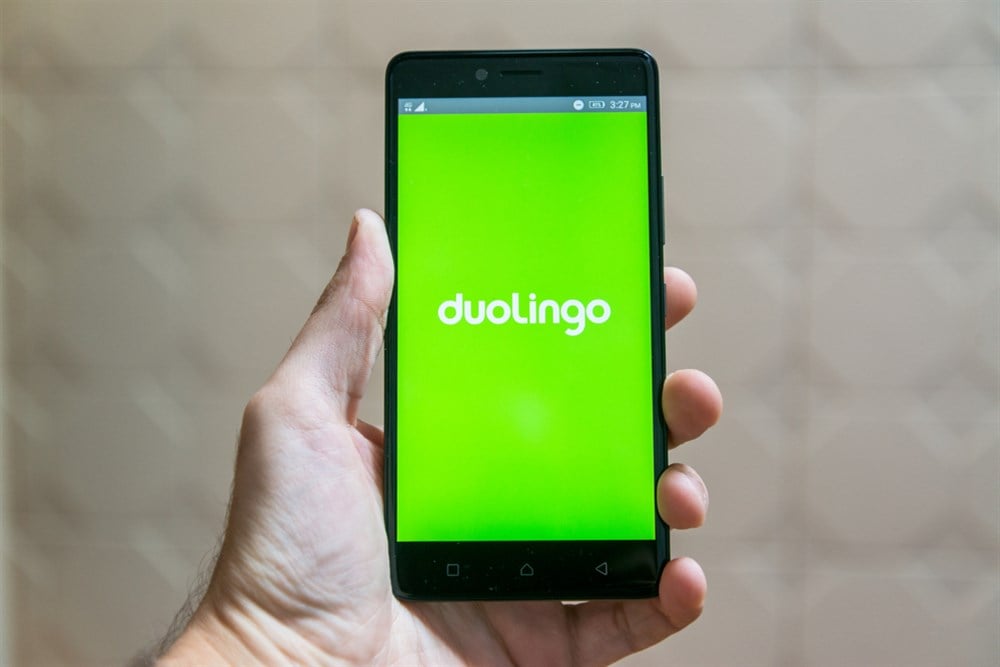 Language learning platform Duolingo Inc. (NYSE: DUOL) has been eloquent lately, forging a bullish chart pattern ahead of earnings and increasing revenue at robust double-digit rates. The company's price performance in the past several months is leading the online education sub-industry.
Pittsburgh-based Duolingo reports first-quarter results on May 9 after the market's close. Analysts expect a loss of $0.24 a share on revenue of $112.30 million. That would mark a narrower loss than the year-ago quarter and a revenue increase of 38%. 
This is one of those under-the-radar stocks that isn't a large-cap household name, but is worth researching as a possible portfolio addition. 
Duolingo earnings data show the company beating sales and net income views in each of the past five quarters.  
Pivoting To Profit?
Notably, Wall Street anticipates Duolongo to post a profit this year for the first time, notching full-year earnings of $1.22 per share. 
Duolingo stock advanced 44.79% in the past three months and 89.37% year-to-date. The Duolingo chart shows the stock gapping up 22% on March 1 on the heels of a better-than-expected fourth-quarter report. You can most clearly see that price action using a candlestick or bar view.
In recent weeks, Duolingo stock has been consolidating below a March 31 high of $146.40. On April 28, shares were trading 8.4% above their 50-day average, an excellent sign that institutional investors were holding shares ahead of earnings. That indicates optimism. 
A core tenet of the company is technological innovation, even more so than marketing. In the most recent quarter, the company's research and development spending was more than double sales and marketing. 
In regulatory filings, Duolingo emphasizes that it's a technology company, founded by two engineers and that it utilizes "the latest in artificial intelligence, machine learning and data analytics, along with a relentless focus on A/B testing." 
With almost a billion exercises completed every day (a staggering number, if you think about it), the platform has an immense collection of language-learning data. Duolingo uses advanced data analytics and machine learning capabilities to adaptively construct lessons based on any given learner's ability, and external AI models are integrated into the platform. 
New AI-Supported Product
In March, the company launched Duolingo Max, a subscription service driven by OpenAI's new GPT-4 technology. It includes two new features, Explain My Answer and Roleplay.
The company operates on a "freemium" basis, with free access supported by advertising. Subscriptions account for the largest percentage of revenue, followed by advertising, English proficiency assessment product Duolingo English Test, and other. The latter includes small, one-off in-app purchases and revenue from a restaurant the company operates near its headquarters. The Duolingo English Test is used by more than 3,800 higher education programs around the world as proof of English proficiency for international student admissions. 
Duolingo's main competitors include Rosetta Stone, Babbel, Busuu and Memrise, all of which are privately held. Two publicly traded online education companies, Udemy Inc. (NASDAQ: UDMY) and Nerdy Inc. (NASDAQ: NRDY) offer language courses, but without the same scope, scale or focus as Duolingo. 
Analysts Boost Price Targets
Duolingo analyst ratings show a consensus of "moderate buy." The stock is a mid-cap, with a market capitalization of $5.54 billion. It's also a fairly recent IPO,  having made its debut in July 2021. For both those reasons, the stock doesn't yet have wide analyst coverage. However, in April, JMP Securities, Barclays and Bank of America all boosted their price targets.  
Duolingo has a higher beta than the broader market, but that's not surprising for a stock of this size. Mid-caps tend to have larger price volatility than larger companies. That can be an advantage, as mid-caps can outperform during certain time frames, but they can also have greater downside risk. 
Duolingo and other small- and mid-caps from niche industries are often overlooked by investors who focus on the big names that get more news coverage. Frequently, smaller, newer companies serving a very specific customer need are well-positioned to post better gains over time than their celebrity peers.