The United States healthcare system includes two sectors: public endeavors like Medicare and Medicaid and private health insurance companies. Healthcare stocks represent a significant section of the U.S. economy, with many medical companies included in indexes like the S&P 500. But which medical stocks are worth the investment?
There are multiple types of healthcare stocks, and the best addition to your portfolio may vary depending on your risk tolerance and current exposure. Read on to learn more about six of the top healthcare companies dominating the market in 2023. 
Types of Healthcare Stocks
Many types of stock make up the United States healthcare industry. Investing in multiple types of healthcare stock can limit your risk as an investor. Some of the most common types of healthcare stocks you can invest in include the following. 
Health Insurance Companies 
Health insurance companies are an important part of the healthcare industry, as healthcare costs in the United States are some of the highest in the world. Health insurance companies generate revenue primarily from premiums paid by their policyholders. When the policyholder needs medical care, the insurer will cover a portion of the cost, less any deductible or cost-sharing agreement with the customer. Health insurance is a highly regulated industry, and companies must comply with various laws and regulations depending on the product they're offering and the state. 
Pharmaceutical Companies
Pharmaceutical health stocks research, develop and manufacture medications. Pharmaceutical companies are constantly developing new treatments and drug therapies. When companies find a viable treatment, a pharmaceutical company can apply for permission from the FDA to distribute and sell the treatment. Many pharmaceutical drugs have patent protection, which can provide the company with a period of exclusivity during which it can earn high profits. 
Biotech Companies 
Biotech companies typically use biological and molecular techniques to develop new drugs, therapies and medical technologies. These companies may focus on various areas, including genetic engineering and biometric-based personalized care. Biotech companies came into the spotlight during the COVID-19 pandemic when RNA processes largely contributed to vaccination efforts. 
Medical Device Companies 
Medical device companies develop and manufacture devices used to diagnose, treat or prevent medical conditions. The definition of a "medical device" is all-encompassing and includes everything from simple tools like tongue depressors to complex devices like MRI machines. The United States makes up more than 40% of the world's medical device market.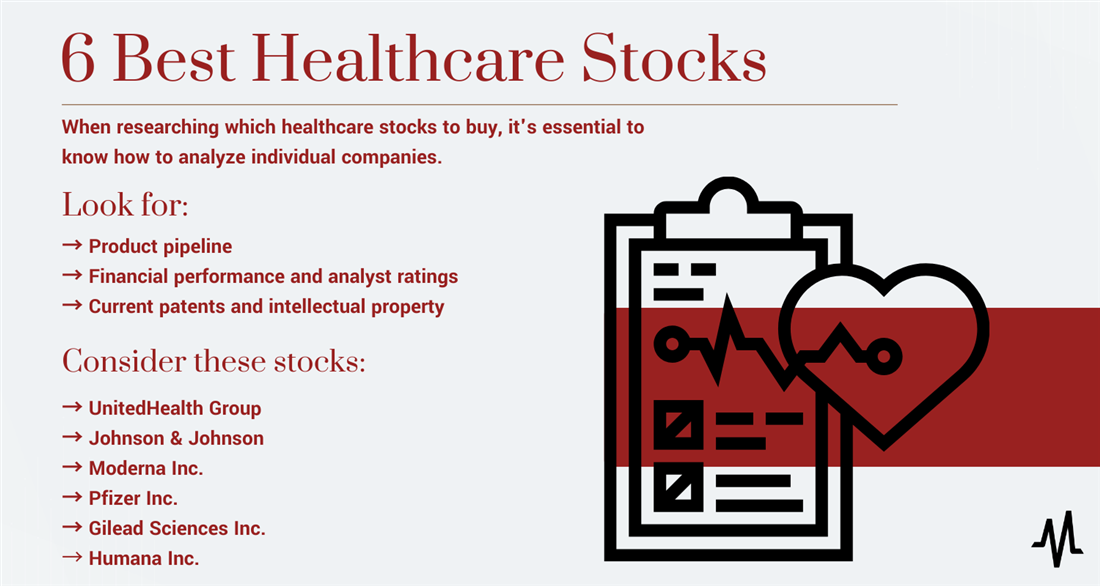 What to Look for in Healthcare Stocks
When researching which healthcare stocks to buy, it's essential to know how to analyze individual companies. The following are some significant features healthcare investors should consider before selecting the best healthcare stocks for their portfolio.
Product Pipeline
One of the most important factors to consider when evaluating a pharmaceutical or biotech company is its pipeline of drug and treatment candidates. A strong pipeline with potential blockbuster treatments can drive revenue growth and boost the company's stock price.
Financial Performance and Analyst Ratings
As with any investment, evaluating a healthcare company's financial performance is vital before purchasing. Key metrics include revenue growth, profitability and past return on equity rates. Investors should also evaluate a company's balance sheet, cash flow and debt levels to be sure they're making an informed decision. Reviewing stock price targets and analyst ratings on MarketBeat can help cultivate investment decisions.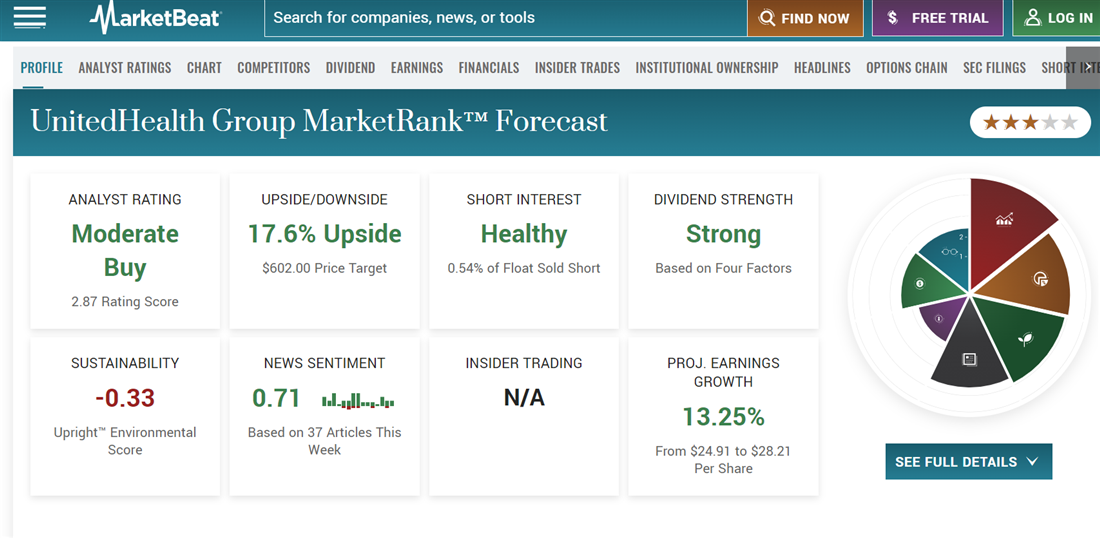 Image: MarketBeat's MarketRank feature can help new investors create an investment strategy and make informed buying decisions. 
Current Patents and Intellectual Property
Intellectual property is an important asset for healthcare companies, especially those developing drugs, medical devices and biotech products. Assess a company's patent portfolio and the strength of its intellectual property position. Compare stocks on MarketBeat and keep up with how each company's patents affect its performance.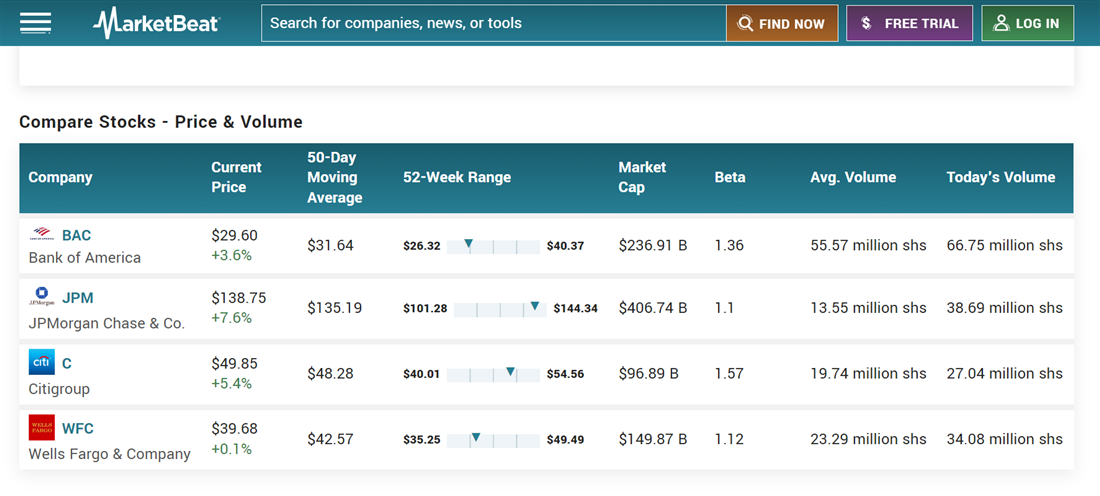 Image: MarketBeat's stock comparison tool can help you look at a variety of healthcare share options directly against one another. 
Researching medical stocks on MarketBeat is a fantastic place to begin your investigative journey. 
6 Best Healthcare Stocks to Buy Now
With that overview of the healthcare stock sector, you now have enough information to compare medical stock options. Consider the following popular healthcare stocks for 2023 and beyond. 
UnitedHealth Group
UnitedHealth Group (NYSE: UNH) is a well-managed and diversified healthcare company positioned to benefit from long-term trends in the healthcare industry. Its international company portfolio includes health insurance providers UnitedHealthcare and Optum, its medical technology division. With over $440 billion in total market capitalization, UnitedHealth Group is a blue-chip healthcare investment with a dividend yield of around 1.25%. 
Johnson & Johnson
Another major player in the healthcare sphere, Johnson & Johnson (NYSE: JNJ) operates a series of pharmaceutical, medical device and consumer health companies. Johnson & Johnson's strong brand name recognition has contributed to its success, with a total market capitalization of over $430 billion. JNJ also features a more robust 2.48% dividend yield, which may make it a better choice for income investors. 
Moderna 
Moderna Inc. (NASDAQ: MRNA) is a biotech company with a total market capitalization of $60 billion. Moderna develops several cancer vaccines using its mRNA technology, which came into the spotlight during its approval of the Moderna COVID-19 pandemic. These vaccines stimulate the immune system to target and destroy cancer cells, and they are currently in clinical trials for various types of cancer. Moderna is also currently developing a series of additional RNA-based treatments for respiratory illnesses. 
Pfizer Inc. 
Pfizer Inc. (NYSE: PFE) is a multinational pharmaceutical company that develops and produces a wide range of prescription drugs and vaccines. The innovative company maintains a total market capitalization of over $230 billion, with most of its revenue from proprietary research projects. Pfizer is also involved in several initiatives to improve global health, including donating billions of doses of its COVID-19 vaccine to low- and middle-income countries over the next several years.
Gilead Sciences Inc.
Gilead Sciences Inc (NASDAQ: GILD), a biopharmaceutical company, focuses on developing treatments for viral diseases. Its primary area of investigation is human immunodeficiency virus (HIV), with several treatments in the pipeline aimed at helping patients manage their symptoms. Gilead Sciences is also involved in researching and developing treatments for other viral diseases, including hepatitis B and C.
Humana Inc. 
Humana Inc. (NYSE: HUM) offers a range of health insurance products and related services. Most of Humana's products center around Medicare Advantage offerings, private alternatives to Medicare Part A and Part B. In April of 2023, Humana had a total market capitalization of $65 billion. 
Pros and Cons of Investing in Healthcare Stocks
Be sure to consider both the pros and cons of investing in healthcare assets before deciding which stocks to buy. 
Pros
Some of the benefits of investing in medical stocks include the following: 
Healthcare services are consistently in demand, and an aging population should increase further demand for these services. 

Healthcare companies often invest heavily in research and development, which can lead to the development of new treatments and medical technologies. These improvements can drive growth for investors if trials are successful. 

Most healthcare stocks also pay dividends, which provides you with an instant return on your investment as soon as you begin holding the asset. 
Cons
While healthcare services are in-demand, there are also a few industry drawbacks:
Healthcare companies are subject to extensive regulatory oversight, creating uncertainty and risk for investors. Changes in regulations, such as drug pricing or insurance coverage policies, can significantly impact your return as an investor and the viability of your investments. 

Biotechnology and pharmaceutical companies often have to conduct extensive clinical trials to bring new drugs to market. If these trials fail, investors can see sharp and sudden losses. 
Investing in Healthcare
Investors searching for diversification within their healthcare investment portfolio may want to consider a healthcare exchange-traded fund (ETF). Healthcare ETFs include a "basket" of industry investments, providing investors instant diversification within their portfolios. Examples of popular healthcare ETFs include the Health Care Select Sector SPDR Fund (NYSE: XLV) and the Vanguard Health Care ETF (NYSE: VHT).
FAQs
The following are a few final common questions investors may have about healthcare stocks. 
What are the best healthcare stocks to invest in?
The best healthcare stocks to invest in vary depending on your risk tolerance and what you want from your investments. For example, UnitedHealth Group could be a strong choice if you're looking for blue-chip healthcare investments. Johnson & Johnson could be a better buy if you're looking for consistent dividends. 
Are healthcare stocks a good investment right now?
Healthcare stocks can be a good investment. There is a consistent need for healthcare globally, and an aging population should further increase demand. However, these stocks may not provide the highest dividends, and they also showcase unique regulatory risks. 
Why should you not invest in healthcare?
Healthcare stocks showcase exceptional regulatory risk. If pipeline or drug testing trials fail, investors could see sharp losses. Healthcare stocks also feature political risks, as companies often must adjust policies to fit state and federal law changes.