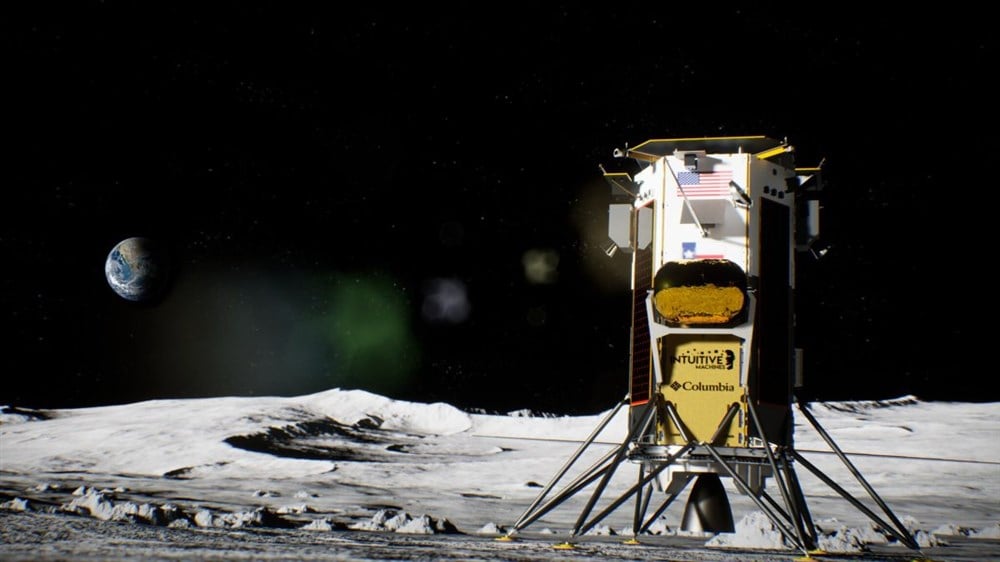 Space exploration infrastructure services and machines manufacturer Intuitive Machines Inc. (NASDAQ: LUNR) already has two strikes against it right out of the gate. The stock went public through a special purpose acquisition company (SPAC) reverse merger on Feb. 14, 2023. The mere notion of a SPAC sounds alarm bells with good reason. Countless SPACs collapsed into oblivion as the hype vaporized in the past two years. Caution should always be warranted when it comes to SPAC companies.
Furthermore, the implosion of the much-hyped Virgin Galactic Holdings Inc. (NASDAQ: SPCE) stock and the bankruptcy of Virgin Orbit Holdings after its launch failure on April 14, 2023, fueled more negative sentiment on the industry casting an even larger dark shadow. Intuitive Machines already has two strikes against it. With that said, this space exploration company deserves a look.
The Divisions
Intuitive Machines has four primary divisions. The Lunar Access Services division designs lunar lander vehicles for transporting commercial cargo and NASA equipment to the moon. Its Orbital Services develops technology for satellite and space station servicing. Its Lunar Data Services provides secure lunar communications and services from its six ground stations.
It's Space Products and Infrastructure divisions develop propulsion, human habitation and power infrastructure systems. The company claimed to have the most commercial lunar payload services (CLPS) awards in 2022.
194% Revenue Growth Estimate
Intuitive Machines has revenues unlike the virtually non-revenue generating much hyped Virgin Galactic. In fact, its revenues grew from $8 million in 2018 to $73 million in 2021 solely from its Lunar Access Services division. Its primary division secured three contracts valued at $317 million utilizing its Nova-C lander for landing missions on the moon.
It expects 2022 revenues to come in at $88 million but has identified over $4 billion in opportunities through 2025. The company has $369 million in bookings and $188 million in backlog. The company estimates revenues to climb to $759 million in fiscal 2024 indicating a compound annual growth rate (CAGR) of 194%.
$719 Million ID/IQ NASA Contract
On April 19, 2023, it announced being awarded a NASA contract worth up to $719 million. Its joint venture with KBR was awarded a cost-plus-fixed-fee indefinite delivery and indefinite quantity (ID/IQ) contract to support work on the Joint Polar Satellite System. The maximum value of the contract is $719 million over five years. Remember that ID/IQ contracts don't guarantee money; they're awarded to contractors enabling them to compete with other awardees for jobs.
Management Team
Intuitive Machines has an impressive management team with over 250 years of experience in the aerospace and defense industry. The management team comprises five former NASA employees and former employees of The Boeing Company Inc. (NYSE: BA) and Lockheed Martin Corp. (NYSE: LMT). The company is trying to get more action from the Artemis program.
NASA's $95 Billion Bet on the Artemis Program
The Artemis program is a bipartisan initiative to send humans to the moon and human exploration of Mars. Unlike the Apollo program, Artemis is partnering with the private sector. NASA hopes to send humans to the moon and establish a sustainable human presence starting in 2025. The CLPS programs deliver critical scientific equipment and cargo to the moon to gather data for human landing. NASA is expected to spend up to $93 billion by 2025 on the program.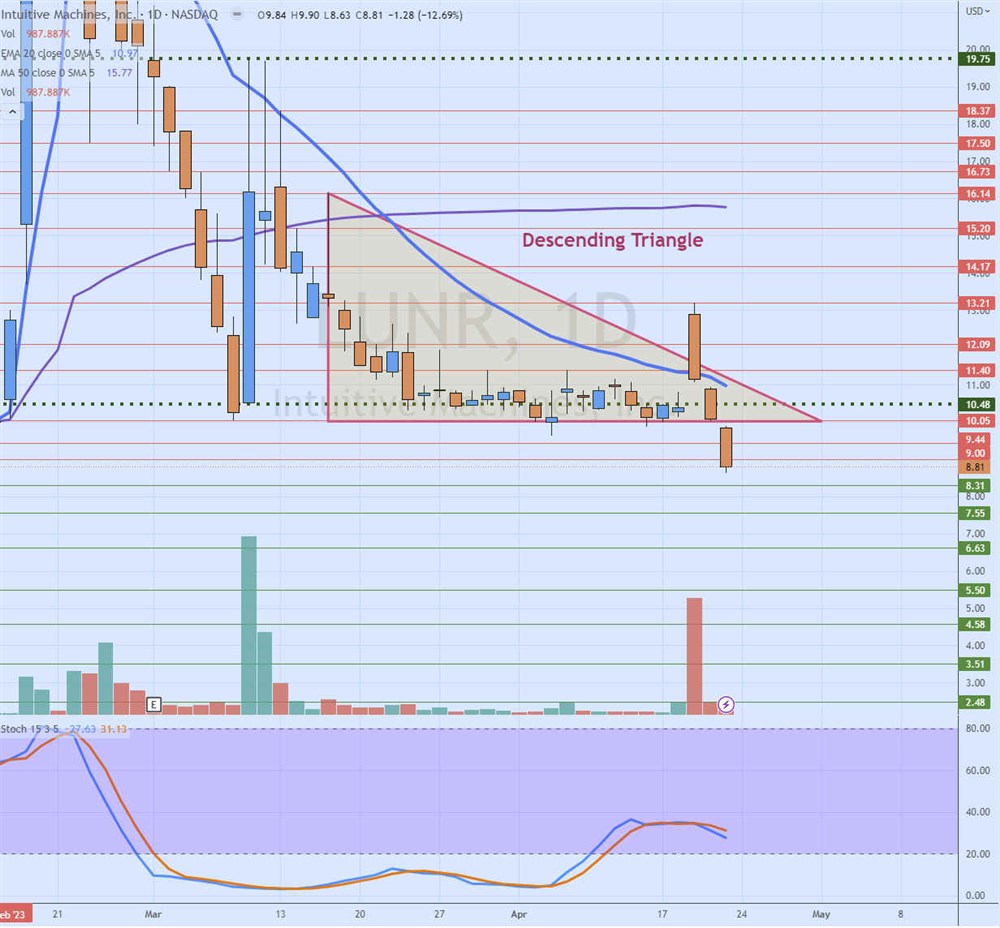 Galactic Gap and Crap  to Descending Triangle
Intuitive Machines stock started trading on February 14, 2023, under the symbol LUNR after the SPAC business combination. Shares blasted off to a high of $136 on Feb. 22, 2023, before crash landing to $10.05 by March 8, 2023. Shares rallied temporarily to $19.75 the next day to form a daily market structure low (MSL) trigger, but it never recovered long enough to trigger it. Instead, it formed a daily descending triangle with lower highs but a flat-bottom trendline around $9.44.
The descending triangle breakdown occurred after speculators rushed into April 19, 2023, NASA ID/IQ $719 million contract news, probably unaware that the contract doesn't guarantee the money. Shares sold off the following three days as they broke down through the $9.44 flat-bottom trendline as the daily stochastic crossed back down. Pullback support levels are at $7.55, $5.50, $4.58, and $2.48.