Forney, TX - Titan Waste, LLC, headquartered in Forney, Texas, is making waves in the waste management industry by setting the gold standard for responsible and efficient waste disposal. As a dedicated solid waste solutions company, the team is on a mission to revolutionize waste management services in the DFW area.
The continuous dedication of Titan Waste, LLC to fulfilling each client's requirements makes it one of the leading waste management & trash companies across Forney, Talty, Crandall, Kaufman, Terrell, Wills Point, Rockwall, Royse City and other surrounding DFW areas. The company customizes its services to exactly match the requirements of each project. Be it domestic garbage collection, apartment, and commercial waste management, bulk trash collections, customized pickups, or building demolition site waste removal, its team treats every project as unique, providing personalized solutions.  
For homeowners, Titan Waste, LLC, offers dependable weekly residential trash pickup services. The company's polite drivers and committed office employees go out of their way to make every encounter with clients pleasant and stress-free. They ensure that trash is collected efficiently and on schedule, giving homeowners peace of mind and adding to the cleanliness and visual attractiveness of the area's residential communities.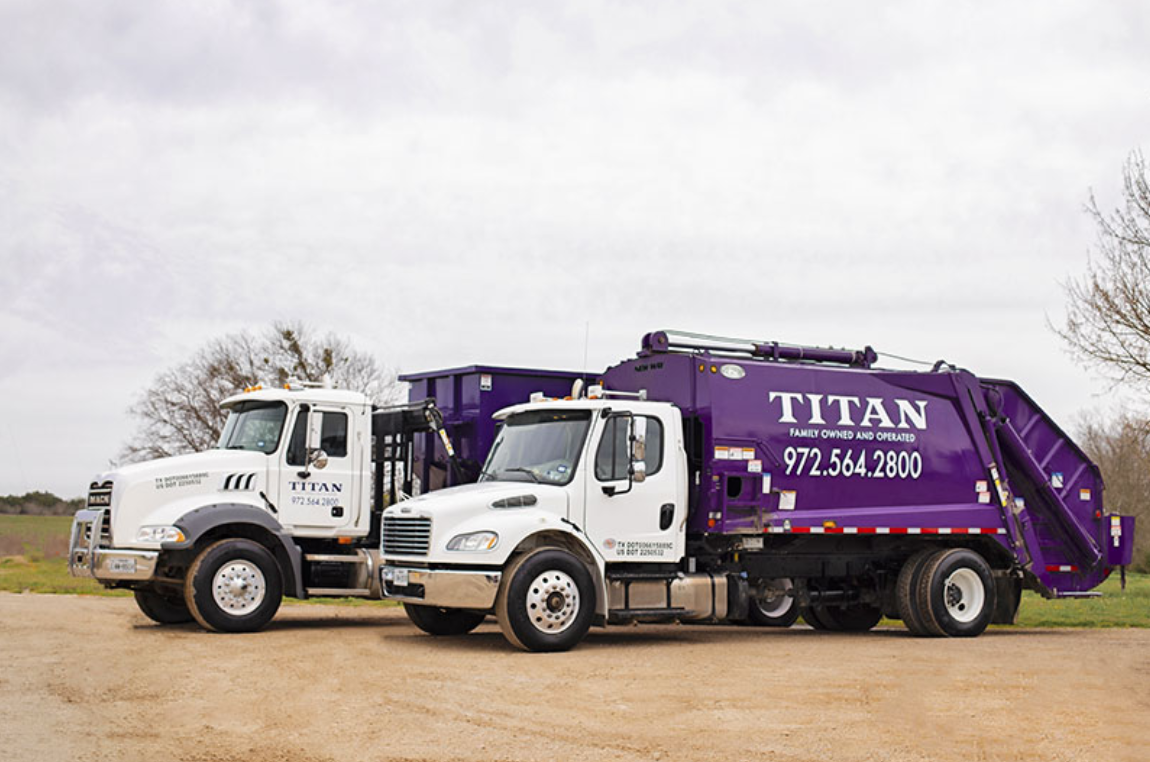 When it comes to handling commercial garbage, Titan Waste, LLC makes sure companies can focus on what they do best while feeling secure in knowing that their waste requirements are being met by true professionals. These experienced professionals offer timely collections, friendly and courteous service, and possess a comprehensive understanding of various types of waste, including papers and widgets, along with the correct procedures for their proper disposal.
Moreover, Titan Waste, LLC offers an extensive array of DFW rear load and roll-off dumpster rental services tailored to meet diverse waste disposal needs. Its rear load dumpsters, featuring a swing-away lid system and robust 12-gauge body panels, guarantee durability while handling heavy loads. This makes them ideal for construction sites, home remodeling projects, and warehouses. For larger-scale waste removal, the company's open-top rectangle roll-offs, available in sizes ranging from 10 to 30 yards, set industry standards for cost-effectiveness and exceptional value.
One of the key features that sets Titan Waste, LLC apart is its state-of-the-art waste collection trucks. These trucks are equipped with an advanced arm system controlled by the driver from inside the vehicle. This technology allows the driver to efficiently pick up and empty trash carts without ever leaving the truck, enhancing the overall efficiency of waste collection.
The company's dedication to responsible waste management extends to the types of waste it accepts. While Titan Waste, LLC welcomes residential and commercial compactable waste, it is committed to avoiding the acceptance of construction, remodeling, or hazardous waste in certain dumpsters. This conscientious approach helps maintain the integrity of its waste disposal process and ensures that waste is handled in an environmentally responsible manner.
Forney, Texas, and its surrounding communities have found a true partner in Titan Waste, LLC. As it continues to lead the way in waste management services, the company remains committed to its core values of community involvement, environmental stewardship, and personalized customer service. 
Titan Waste, LLC is located at 100 W Broad St, Forney, TX, 75126, US. To schedule a consultation, contact their team at 972-564-2800. For more information regarding the services offered, visit their website.
Media Contact

Company Name
Titan Waste, LLC
Contact Name
Office Manager
Phone
972-564-2800
Address
100 W Broad St
City
Forney
State
TX
Postal Code
75126
Country
United States
Website
https://titanwaste.net/