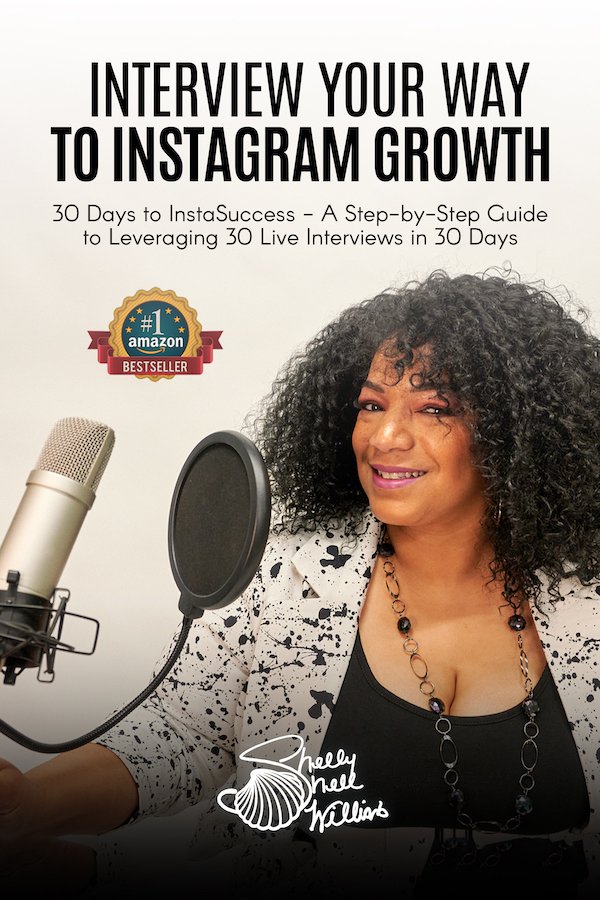 Shelly Shell Williams, renowned MediaPreneur, invites entrepreneurs, Entrepreneurial Podcasters, Live Streamers with a Brand Focus, Authors, Radio Show Hosts Seeking Digital Expansion, Startup Founders in the Entertainment Industry,  and aspiring Influencer Entrepreneurs to embark on a transformative journey with her groundbreaking book, "Interview Your Way to Instagram Growth: 30 Days to InstaSuccess – a Step-by-Step Guide To Leveraging 30 Live Interviews in 30 Days."
With over 20 years of experience and a vast network of celebrities and influential leaders, Shelly Shell Williams has mastered the art of interviewing and discovered the untapped potential of interviews in propelling Instagram growth. This comprehensive guide is designed to equip readers with the strategies, techniques, and insider knowledge needed to leverage the power of interviews and achieve unparalleled success on Instagram.
"Interview Your Way to Instagram Growth: 30 Days to InstaSuccess" combines the science of organic Instagram growth with the art of interviewing influential people and celebrities, offering a unique approach to building a thriving online presence. Shelly Shell Williams shares her expertise and reveals her proven roadmap, enabling readers to unlock the secrets of Instagram success.
Key Highlights To Explore
The book provides invaluable Instagram tactics, expert tips, and insider knowledge to empower readers to unlock their full potential and achieve InstaSuccess.
30 Interviews in 30 Days:

Immerse yourself in an intensive journey of conducting 30 live interviews with influential people and celebrities. Gain unprecedented insights, inspiration, and exposure that will revolutionize your Instagram presence.

Amplify Your Reach:

Harness the popularity of influential individuals to expand your online presence and organically grow your Instagram following. Borrow their audience to elevate your own brand and increase visibility.

Master the Art of Interviewing:

Unlock the secrets of conducting engaging interviews through a comprehensive, step-by-step roadmap. Learn the art of captivating storytelling and craft content that deeply resonates with your audience, fostering authentic connections.

Cultivate a Genuine Following:

Embrace ethical and sustainable strategies for cultivating a true Instagram following. Say goodbye to artificial tactics and embrace meaningful audience engagement that drives real growth and fosters loyal relationships.
Whether you are an established influencer or an aspiring content creator, this guide will propel your Instagram growth to unprecedented heights.
To embark on your journey to Instagram success, purchase "Interview Your Way to Instagram Growth" today. Secure your copy on Amazon.
About Shelly Shell Williams:
Shelly Shell Williams is a highly respected MediaPreneur with over 20 years of experience in the industry. Known as Philly's Oprah, she has interviewed thousands of celebrities and influential leaders throughout her illustrious career. Shelly Shell Williams is passionate about sharing her expertise to help individuals achieve their goals and excel in the realm of social media, personal branding, and online visibility.