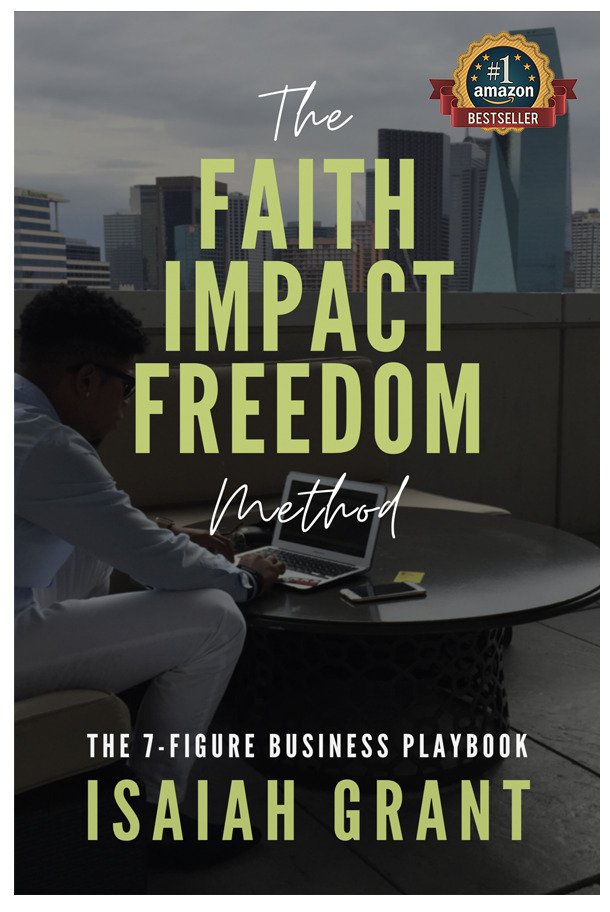 Designed for service providers such as ambitious coaches, consultants, digital course creators, ecommerce business owners, and brick and mortar this comprehensive guide presents a clear path to business success, providing actionable strategies to achieve exponential growth and establish freedom.
"The Faith Impact Freedom Method" is a game-changer for entrepreneurs seeking to scale their businesses and transform lives. Grant's step-by-step approach eliminates guesswork and empowers you to double your sales and profits for half the effort, all while building a workplace ministry centered around faith and values.
Unlike other books in the market, "The Faith Impact Freedom Method" goes beyond theories and offers practical insights and techniques that Grant has personally applied to his own ventures. Backed by his extensive experience as the CEO of Kingdom Impact and a 7-figure real estate empire, Grant has been featured on esteemed platforms such as Yahoo Finance, ABC, Starter Story, and Disrupt Magazine.
Within the pages of this book, you will learn how to become a world-class leader, implement a clear growth strategy, establish key growth systems, and manage success through data-driven decision-making. Grant's teachings will guide you toward building a world-class team that drives impactful results and scales your influence.
To celebrate the release of "The Faith Impact Freedom Method," Isaiah Grant is offering a limited opportunity to book a FREE 20-minute Business Roadmap and Action Plan Call with one of Kingdom Impact's expert growth advisors. These exclusive spots are available on a first-come, first-served basis. Don't miss out on this chance to map out your plan for exponential growth and success.
"The Faith Impact Freedom Method: The 7-Figure Business Playbook" is a must-read for individuals looking to start a side hustle or business and break free from the constraints of a traditional nine-to-five job. Whether you're an established entrepreneur or still learning how to start a business, this book will equip you with the clarity, knowledge, and strategies needed to achieve massive impact while attaining personal freedom.
For more information about the book and to claim your free Business Roadmap and Action Plan call, visit https://www.kingdomimpact.co/faith-impact-freedom-book-a-call.