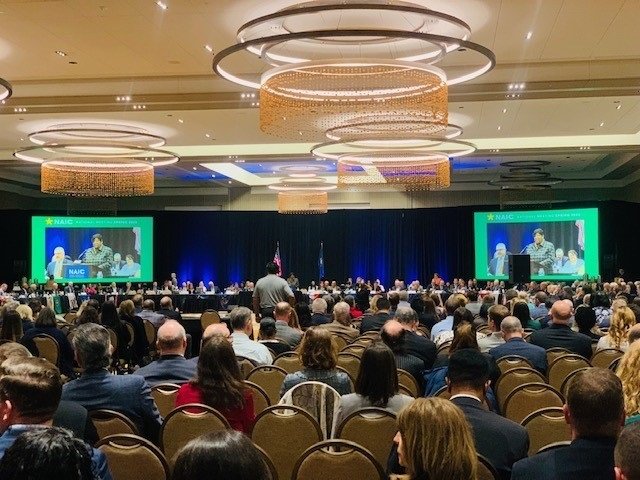 MELBOURNE, Fl. —  Christian Care Ministry (CCM) along with members of the Alliance of Healthcare Sharing Ministries, attended the Spring meeting of the National Association of Insurance Commissioners. Even though Medi-Share is not insurance, CCM attends NAIC meetings to be a resource and support to Insurance Commissioners and their staff in regards to non-insurance options such as Health Care Sharing.  
One of the main topics of discussion at this and previous NAIC meetings has been the establishment of an independent Healthcare Sharing Accreditation Board (HCSAB). With the creation of this accreditation process it provides third-party validation and additional reassurance about the integrity and credibility of the Medi-Share program as a viable option for families looking to manage healthcare costs in a way that is consistent with their beliefs. 
"Over the past few years, we have built relationships with insurance departments across the United States and have appreciated their feedback and industry advice," said Evelio Silvera, VP Communications & Government Affairs. "We are proud to say that an independent Health Care Sharing Accreditation process has been established and Medi-Share has gone through the process and are HCSAB accredited." 
The HCSAB is an independent, non-profit entity. Neither it nor its voting board members are affiliated with or have an interest in any healthcare sharing ministries. Insurance Departments from across the U.S. are familiar with accreditation entities and processes. While, Healthcare Sharing Ministries are not insurance and do not operate as such, the HCSAB set standards and identified best practices for Health Care Sharing organizations.  
Medi-Share's accreditation reflects the HCSAB's evaluation of the program across a number of categories that focused on the governance and management of the program, the clarity of communication of the sharing guidelines and other key communications with members, the efficiency and reliability of the sharing of medical bills, and the overall financial health of the program. 
About Christian Care Ministry/Medi-Share 
Christian Care Ministry (CCM), a not-for-profit 501(c)(3) organization, based in Melbourne, FL, operates the Medi-Share program, a Christian healthcare sharing organization that provides an affordable alternative to health insurance for faith-based consumers. Entering its 30th year of sharing, Medi-Share, serves nearly 400,000 members across America and has earned accreditation from the Independent Healthcare Sharing Accreditation Board. For more information about Christian Care Ministry, visit: https://mychristiancare.org/press.    
About HCSAB (Healthcare Sharing Accreditation Board) 
The Healthcare Sharing Accreditation Board is an independent, non-profit entity. Neither the Board nor its voting board members are affiliated with or have an interest in any Healthcare Sharing Ministries. The board members have a broad range of experience in government, law, financial management, healthcare, and sharing ministry governance. For more information about the Healthcare Sharing Accreditation Board, visit: https://hcsab.org/