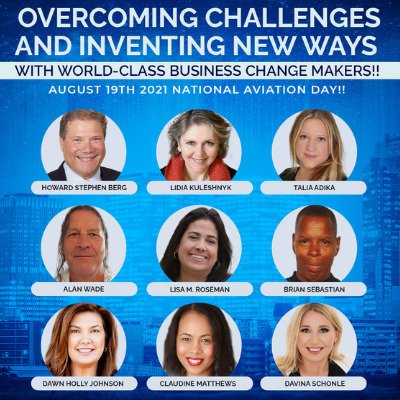 National Aviation Day on August 19 is a day that commemorates the development of aviation and its revolutionary impact on scientific and technological progress. Within just a few generations, aviation went from just a dream to a remarkable form of transport that literally has changed the world allowing billions to travel anywhere their heart desires.
After a long, harrowing journey through a global pandemic, Mark Stephen Pooler, CEO and Founder of TMSP Agency, Premium Media and PR Agency, recognized that this National Day of Recognition, which celebrates incredible discovery, would be the perfect time to discuss Inventing New Ways for Overcoming Challenges. Being able to tackle challenges when they arise and developing new ways to move past them, such as what humankind currently faces, is a way to make progress and move forward despite current complications. Mark has a gift for inspiring others to tap into their most hidden talents and he has compiled an extraordinary list of World Class Business Change-Makers who share their stories of overcoming challenges through innovation. 
Brian Sebastian, a high-profile celebrity interviewer, was at one time homeless and had to seek out incredibly creative ways to pursue and showcase sponsors over the traditional methods. His expert tip is to pay attention to trends and keep a close eye on climate change and be ready to pivot and adapt quickly to stay ahead of the competition, remain relevant, and stand out in the crowd. By doing this, Brian was able to show others what they said couldn't be done.
Talia Adika, Global Health Insurance and Employer Health Advocate, is a loyal supporter of those who need healthcare guidance. Talia stays in tune with the latest news and technology which has helped her overcome challenges and meet demands throughout the global pandemic. She shares that turning a failure into a success, finding comfort in being a problem solver, and thinking creatively show others one's true sense of professionalism and expertise within their space.
Dawn Holly Johnson, Creator of Wildly Successful Enterprises Program advises others to design an organization with a structure of delivering on its value proposition. According to Dawn, structure determines activity, so the organization should be designed to where everyone is held accountable and on a parallel path to deliver that value as well as continuous improvement.
Claudine Matthews, The Leadership Empowerment Expander, helps women locate their inner leader. Her tips for overcoming challenges by inventing new ways are to 1) Strengthen one's mindset. 2) Think carefully about words that are chosen and spoken. It is just as easy to speak about what one would like to happen rather than what is currently happening. 3) Be aware of actions and choose ones that deliver the desired outcome. Know and believe there is always a choice!
Guinness Book of World Records setter for being the faster reader at over 80 pages per minute, Howard Stephen Berg, was told in college he was not smart enough to complete a 4-year psychology program in a single year, simultaneously with a biology program while working 18 hours a week. By studying the human brain and teaching himself HOW to learn, Howard accomplished this feat and today coaches others on harnessing the power of the brain and the mind.
Lidia Kuleshnyk is a Chronic Health Specialist and Health and Energy Coach who helps overwhelmed individuals reclaim health and refine strengths. Lidia's tips are to avoid limiting oneself to the conventional approaches and open up to entirely new modalities. She also recommends taking heed of intuition and spiritual guidance as well as releasing any fears of how the business will survive. By letting go of the doubt, it opens up the mind to the power of possibility! 
Alan Wade, Co-Founder, and Coach at The Magic Within Coaching and Consulting Co., has decades of experience working in the addiction and mental health field. To help clients, Alan sought out new ways of healing and learned the power of neuro-linguistic programming, hypnosis, and MER®, Mental Emotional Release. These techniques free people from negative emotions attached to traumatic events within the first session. His advice…keep learning and never give up!
Davina Schonle, Founder of S2C (Selling into Corporates) and Co-Founder of UK-based B2B Chicks, left her corporate job and quickly recognized that individuals could benefit from her knowledge of corporate sales. What she had not prepared for was to be a known personal brand and during this pivot realized her discomfort with being on camera and visible on social media. To overcome this fear, Davina threw herself in the deep end and learned to be a public speaker to enable herself to show up online as the confident woman she'd always been in the boardroom.  
International best-selling author, pastor, mentor, and coach Lisa M. Roseman endured a heartbreaking loss after taking time away from her career to care for her dying mother. As Lisa shares in her book, The Highest of Care: A Journey Through Cancer, it is important to lean into self-care, embrace whatever support system is available, rely on others, and activate faith in God to navigate through life's twists and turns. 
As we move through the year step by step we are moving towards a more positive future. I hope you have found value and power in these stories of overcoming challenges and inventing new ways to support yourself while journeying towards better times. Please share, like and comment in the comments section below and share how you have overcome challenges and invented new ways in business. And tag a friend who you feel needs to see this inspiring message. 
As the Wright brothers have shown, anything is possible and because of their vision of flight, the world will forever be connected in a magical way. Keep shining bright and moving forward in positivity for the good of all.
###
ABOUT THE GLOBAL PROFILE BUILDER
Mark Stephen Pooler is the Founder, Editor in Chief, Media & News Publisher of MSP News Global. Mark oversees the company's media business, as well as its intersection with global business leaders. Prior to forming MSP News Global in 2020, Mark spent his time as a Professional Speaker, International Bestselling Author, Radio Host, and PR & Media Specialist. Mark is also the Founder of TMSP Agency, a Premium Media and PR Agency. Here Mark helps high-profile entrepreneurs share their stories through the use of PR and digital media to become known globally. When not working with his valued clients, Mark enjoys spending time with Lilly, his four-legged bestie. www.contactmark.me | www.mspnewsglobal.com