Should Bond Investors Be Worried About Inflation?
February 25, 2021 at 14:38 PM EST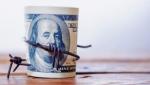 Inflation is a bond investor's worst enemy. Higher costs erode the purchasing power of a bond's future cash flows, which pushes bond yields higher as investors demand more yield to compensate for inflation risk. The following chart illustrates how inflation growth and bond yields move together....