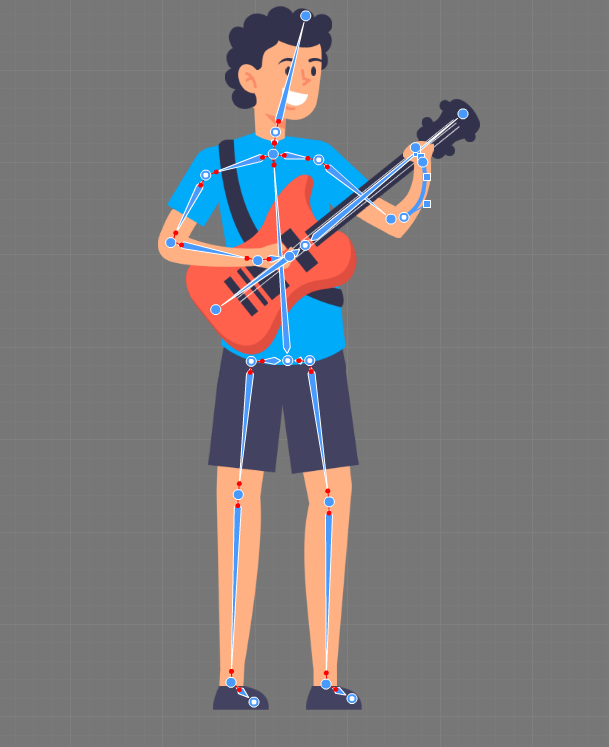 Users will be able to add bones and nodes to their characters and animate the skeletons to make movements with Mango Animate CM.
Mango Animate's most recent software launch includes animate skeleton technology to bring static images to life.
Mango Animate incorporates animate skeleton technology into its new software, Mango Animate Character Maker. This powerful bone-based animation technique ensures characters move naturally on screen. Although the process may seem complex, Mango Animate CM breaks it down into simple steps that even beginner animators can grasp in minutes. By providing users access to fully-rigged character templates, the software promotes a quick and effective creation process.
Although templates help users get started with animate skeleton, there are plenty of further customization options. Users can replace any body parts or decorative items on the character, even refining facial features and swapping out hair. By offering an easy drag-and-drop tool, users can tailor their character to suit their style. There is also the option to import PNG or PSD files if users already have an image they wish to apply animate skeleton to.  
This animate skeleton technique delivers characters with sophisticated movements. By implementing a dynamic IK (Inverse Kinematic) feature, characters can logically move in a precise and intuitive manner. This way, users can gain credibility with their audience when they share their flawless Mango Animate CM creation. Thanks to animate skeleton, characters can perform actions like running, playing, dancing, conducting an experiment, teaching, and much more. Plus, users can animate multiple characters at a time and have their actions correspond with one another.
Upon completion of a project, users can share their animate skeleton character with a range of audiences. Viewers will see the cartoon character and become eager to learn more about the product, service, or announcement it may be sharing. Characters can be distributed through social media channels, email, or on a landing page. Mango Animate CM makes it easy for creators to reach their target audience. Supported formats include MP4, MOV, PNG, and GIF.
Animate skeleton has two main components: a surface representation that includes things like skin and hair, and a set of interconnected bones that act as the character's skeleton. The result is a seamless animation that will leave audiences intrigued. With Mango Animate CM, there is no limit to personalization options on characters, so making an eye-catching figure is easy.
"Our character animation technology is simple to use and will benefit users in virtually any industry," says Selena Lee, chief designer of Mango Animate. "An animated character is an excellent teaching or marketing tool, which is why we want to make it easily accessible to everyone."
To learn more about Mango Animate Character Maker, please visit Mango Animate.
About Mango Animate
Mango Animate is designed to assist people in doing their jobs at an affordable price and with a user-friendly platform. The company's various software allows customers to create one-of-a-kind animation videos, whiteboard videos, character videos, and business videos.
Media Contact
Company Name: Mango Animate Software Co., Ltd.
Contact Person: Paul
Email: Send Email
Phone: +86 020-61972665
Address:Room 1003, 10/F, Tower 1, Lippo Centre, 89 Queensway, Admiralty
City: Hong Kong
Country: HongKong
Website: https://mangoanimate.com/