Will Tesla Miss Out on Inclusion in the S&P 500 ESG Index?
January 28, 2021 at 17:30 PM EST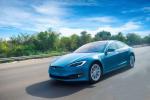 Tesla (NasdaqGS: TSLA) is already in the S&P 500, but the electric carmaker may not make the cut for exchange traded funds tracking the S&P 500 ESG Index. Tesla has been at the forefront of the electric vehicles industry and broadly associated with clean energy technology, but that does not...