Is Canada Inadvertently Excluded from Your International Equity Allocation?
November 08, 2020 at 10:00 AM EST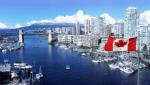 By Michael Orzano, Senior Director, Global Equity Indices, S&P Dow Jones Indices For a U.S. investor, developed market exposure outside of the U.S. is a core building block in forming a comprehensive global portfolio. In part because of its status as the world's first international equity...