Is the S&P 500 Doing Its Job?
October 06, 2020 at 15:57 PM EDT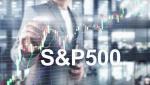 By Raymond McConville, Communications, Americas, S&P Dow Jones Indices On Sept. 4, 2020, S&P DJI's U.S. Index Committee announced that Etsy, Teradyne, and Catalent were being added to the S&P 500®, replacing H&R Block, Coty, and Kohl's. The changes attracted significant market...