Will Sustainability be the New Normal in the Real Estate Sector?
September 30, 2020 at 11:46 AM EDT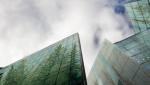 The popularity of environmental, social and governance (ESG) investing is permeating all sectors, including real estate. In particular, sustainability is becoming a new normal in the sector, which could spur gains for real estate-focused exchange-traded funds (ETFs). "There's an odd dynamic...