Can Gold Surpass the $3,000 Price Mark?
August 12, 2020 at 11:03 AM EDT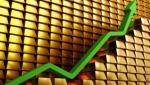 Market uncertainty is still reigning in the capital markets as a number of economies have yet to still operate at full capacity thanks to the Covid-19 pandemic. As such, precious metals like gold could continue to soar to higher heights with gold surpassing the $3,000 price level. "Since...