Bitcoin: Less Volatile Than Many S&P 500 Stocks?
August 02, 2020 at 07:00 AM EDT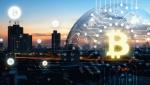 By Gabor Gurbacs, Director, Digital Assets Strategy, VanEck Global Historically, bitcoin has been discussed in the news and among investors as a nascent and volatile asset outside of the traditional stock and capital markets. Much of the volatility over the past few years can be attributed to...