How Will Gold React To Fed's Interest Rate Move This Week?
October 27, 2019 at 23:31 PM EDT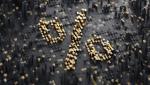 The capital markets are expecting a rate cut with algorithms like the CME FedWatch Tool calculating a 93% chance that the central bank will institute its third straight cut in 2019. How should gold traders play the move? "You have demand now from momentum traders. We have options expirations on...