Is the U.S. Dollar's Strength Fading?
August 31, 2018 at 12:35 PM EDT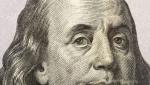 Despite the U.S. dollar's robust rise over the past few months, there are some signs that this rally might be fading. Wells Fargo currency strategist Nick Bennenbroek lays out his main thesis in an interview with CNBC, saying the US is well ahead in terms of growth and they're doing extremely well....