Vibrant Occasions and Cat Sims hosted Dinner on the River to celebrate the launch of Sims' latest fundraising campaign for the Children's Tumor Foundation via her participation in the Dancing with Our Stars 2023 event.
North Little Rock, Arkansas, United States - March 25, 2023 /MarketersMEDIA/ —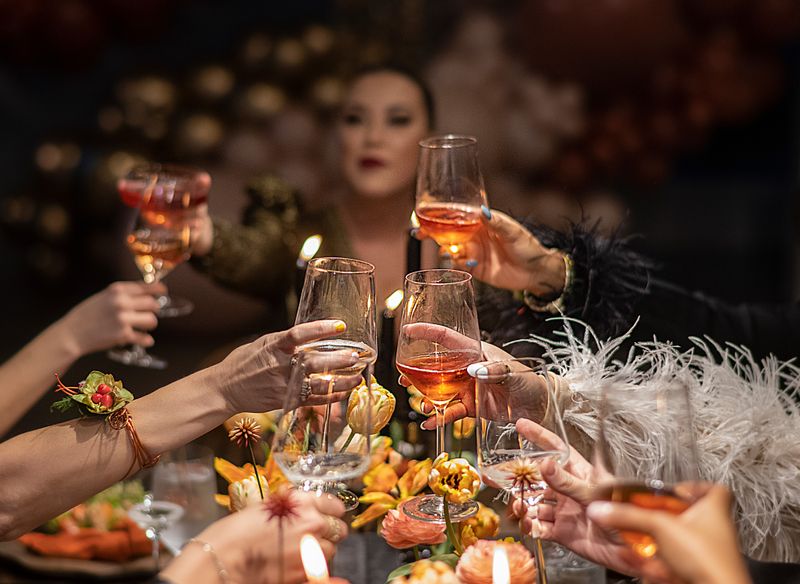 Vibrant Occasions co-hosted the private dinner party, Dinner on the River, on Tuesday, March 21, 2023 to celebrate the announcement of well-known philanthropist and content creator Cat Sims' participation in the Dancing with Our Stars 2023 annual fundraising event benefiting the Arkansas Chapter of the Children's Tumor Foundation. Several local event vendors came together to sponsor the soiree in Sims' home situated in North Little Rock next to the Arkansas River. Sims invited several friends who are also fellow content creators to celebrate with her and officially kick-off the fundraising campaign. Dancing with Our Stars is the Arkansas Chapter's largest fundraising event of the year that allows the Children's Tumor Foundation to advance their mission to drive research, expand knowledge and advance care for the neurofibromatosis (NF) community. 

Donate to Cat Sims' fundraising efforts for the Children's Tumor Foundation via her participation in Dancing with Our Stars 2023 here:

https://join.ctf.org/fundraiser/4321522

All participants for the Dancing with Our Stars 2023 annual event were announced via the Arkansas Chapter's Children's Tumor Foundation's Dancing with Our Stars program on March 20, 2023. Cat Sims will be competing against other local philanthropy-driven contestants including Tanya James with Arvest Bank, Nathan Kirby with Rock City MMA, Gina Radke with Galley Support Innovations, Luke O'Gary with Keet O'Gary Construction and Burt Hicks with Encore Bank. Dance partners for each contestant will be announced soon.

"This year, I am honored to be participating as one of our Stars in the Dancing with Our Stars' Little Rock Gala.  Please consider supporting the Children's Tumor Foundation and their mission to #ENDNF by voting for me and donating to my fundraising campaign," says Cat Sims. "I had an amazing time with some of my dearest friends celebrating the launch of this campaign with Dinner on the River. Thank you to all the event vendors who made it happen and to my amazing friends for a wonderful evening."

Upon arrival guests were greeted with hors d'oeuvres followed by a formal dinner in Sims' dining room. The meal ended with desserts in the living room alongside plenty of laughter and chatter. Each guest donned original high fashion looks put together by wardrobe stylist, Kimberly Cyr Calhoun, and sourced at Royal We in Conway, Arkansas. A brief fashion photo shoot took place after dessert against a photo backdrop creation by Just Peachy. The evening ended with music by local celebrity deejay, DJ Jellybean with Central Arkansas Entertainment, and loads of dancing.

"We offer private cheffing through Vibrant Occasions and could think of no better way to showcase this service than catering for a cause like the Children's Tumor Foundation. Our staff was honored to serve Cat Sims and her special guests while celebrating the launch of her latest fundraising campaign through the annual Dancing with Our Stars 2023 gala. My wife, Mary Krikorian, and I created a custom menu for Dinner on the River that was flavorful, fun and, of course, vibrant for the occasion," says chef Serge Krikorian with Vibrant Occasions.

Menu

Stationary Hors d'Oeuvres 

Buratta 
Topped with basil pesto, aged balsamic, and roasted grape tomatoes, served with toasted bruschetta 

Shrimp Cocktail 
Cajun shrimp with a smokey cocktail sauce 

Hummus Shooters 

Topped with marinated feta and served with vegetable crudites 

Yogurt Parfait with Granola and Fruit 
Individual yogurt parfaits topped with triple berry compote and granola 

Passed Hors d'Oeuvres 

Tomato Bisque 
A rich, creamy soup made with applewood smoked bacon, a mirepoix of carrots, celery and onions, and red ripe tomatoes pureed with a touch of cream, served with a grown up grilled cheese 

Mini Lox & Bagel 
House-smoked salmon with dilled cream cheese on a mini house-made "bagel" 

Cheese Stuffed Mushrooms 
Fresh mushroom caps stuffed with a blend of cheeses and seasoned bread crumbs and baked until gooey Spinach Artichoke Dip 
Served warm with toasted crostini 

Plated Dinner Menu 
1st Course 

Strawberry Salad 
Fresh salad green topped with fresh strawberries, cinnamon sugar candied walnuts, grape tomatoes, and feta crumbles, dressed with our strawberry and white balsamic vinaigrette 

2nd Course 

Cabernet Braised Beef Short Ribs 
Beef short ribs slowly braised in cabernet wine infused with a puree of leeks, carrots, celery and tomatoes until fork tender, served with the flavor-packed sauce reduction 

Mashed Yukon Gold 
Whipped with butter and cream 

Roasted Broccolini 
Lightly seasoned and roasted with extra virgin olive oil 

Dessert 

Blueberry Mousse Cake 
Blueberry mousse filled with a blueberry gelée on top of an almond sponge cake, covered with a white chocolate mirror glaze 

Blood Orange Mascarpone Panna Cotta 
A light and velvety blood orange panna cotta with a blood orange sauce 

Dinner on the River Participants and Sponsors

Co-host: Cat Sims, @catsimsxoxo
Co-host and Private Catering: Vibrant Occasions, @vibrantoccasionscatering 
Floral Design: Rose of Sharon Floral Design Studio, @roseofsharonfloral
Photography: Lori Sparkman Photography, @lorisparkmanphotography
Music: Central Arkansas Entertainment Agency, @cae_lr
DJ: DJ Jellybean, @djjbean
Planner: Meredith Events, @meredithevents 
Public Relations: Meredith Corning PR, @meredithcorningpr
Videography: KB Studios, @kbstudiosar
Balloon Photo Backdrop: Just Peachy, @justpeachylr
Dinnerware Rentals: Eventology, @eventology_us
Wardrobe Stylist: Kimberly Cyr Calhoun, @kimberlycyr
Wardrobe Retailer: Royal We, @royalweprom

Special Guests and Content Creators: @tabithanstaylor, @alexa_hart_, @kailux, @kimberlycyr, @lesley_withrow, @jennymartinphoto, @alishacurtis, @sarahkmeyer

Special thanks to Jamie Lynn Jones for serving as the florist's hair stylist/makeup artist.

About Vibrant Occasions Catering: Chef Serge Krikorian and his wife, Mary Krikorian, started their catering business in 2002 and have been in the family restaurant business since 1994. Having catered thousands of events over the years as Dinner's Ready, they launched Vibrant Occasions Catering, a new name that more accurately depicts the level of food and service provided at weddings and social events. Krikorian was born in Lebanon and moved to the United States with his family as an adult entering college.  He now hails from the quaint town of Benton, Arkansas. His southern hospitality paired with his penchant for developing unique international fusion-style recipes, especially sauces, has garnered his reputation as foodies' fan favorite in his community and now on the Youtube space for his cooking show, Cooking with the Kriks.  After years of dreaming about owning a mobile kitchen, in December 2020, Serge and Mary launched Our Mobile Kitchen with the intention of providing fresh, 5-star quality chef-prepared cuisine to patrons visiting where the mobile kitchen is parked or on site for catered weddings and social, private or corporate events.  Krikorian is an alumnus of Henderson State University where he studied business earning his Bachelor's Degree and met his wife, Mary. He earned his MBA from the University of Arkansas at Fayetteville.  Serge became a restaurant entrepreneur when he purchased an old, run-down pizza parlor he and Mary revived called Sergio's Pizza.  After a few years, they knew the restaurant business was not for them.  Mary booked their first official catering gig, much to Serge's surprise. They began receiving more and more requests for catering luncheons and events. The catering business took over after six months and they never looked back.  They have three sons who often work in the business around their academic and career schedules, making their enterprise a family-built business. 
Video footage in this press release taken by @djjbean with @cae_lr. Music licensed via promo.com for @meredithcorningpr.
About Us: Vibrant Occasions is a corporate and social event catering company based in central Arkansas and owned by Serge and Mary Krikorian.
Contact Info:
Name: Meredith Corning
Email: Send Email
Organization: Vibrant Occasions Catering
Website: https://vibrantoccasionscatering.com/

Video URL: https://youtube.com/shorts/zmrLm162ONg
Release ID: 89092679
If you detect any issues, problems, or errors in this press release content, kindly contact error@releasecontact.com to notify us. We will respond and rectify the situation in the next 8 hours.