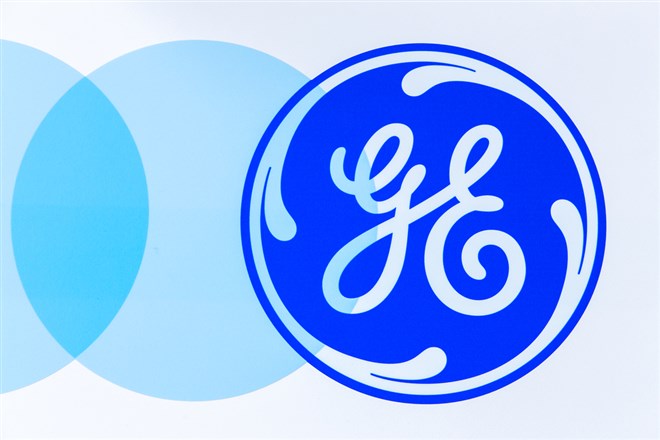 Industrial power solutions company General Electric Company (NYSE: GE) stock has climbed over 20% in 2023 as positive sentiment for its restructuring gains steam. General Electric has been divesting its businesses for the past several years. Some well-known past spin-offs include oilfield services provider Baker Hughes Company (NYSE: BKR) and lending business GE Capital.
Its GE HealthCare Technologies Inc. (NASDAQ: GEHC) spin-off was immediately added to the S&P 500 index (NYSEARCA: SPY), replacing Vornado Realty Trust (NYSE: VNO), which moved to the S&P MidCap 400 index. There appears to be more upside as a weekly cup and handle breakout formation may be set up.
Sum-of-the Parts Strategy
General Electric announced its plans to split into three standalone companies in November 2021. Since they are not necessarily complementary businesses, CEO Larry Culp believes they will each retain higher multiples as separate entities and bring more value to shareholders.
GE shareholders would get extra shares of the spin-offs based on a ratio to their ownership of GE shares. CEO Culp has a strong background in this strategy as the former CEO of industrial giant Danaher Co. (NYSE: DHR), as they bought and sold many companies during his tenure there.
GE HealthCare
The first spin-off GE HealthCare Technologies was completed and started trading on the NASDAQ exchange on Jan. 4, 2022, gaining 5.5% for the day. General Electric shareholders received one share of GE HealthCare for every three shares of General Electric stock they owned.
General Electric still retains a 19.9% stake in GE HealthCare. GE HealthCare has more than four million product installations servicing over two billion patient exams annually.
GE HealthCare Preliminary Q4 2022 Update
On Jan. 10, 2023, GE HealthCare disclosed preliminary results for its Q4 2022. Revenue rose 7% YoY to $4.9 billion. Organic revenue rose 12% YoY. Fiscal full-year 2022 revenues rose 4% YoY to $18.3 billion or 7%YoY for organic revenue. It expects full-year adjusted EBIT to come in above its outlook.
GE HealthCare CEO Peter Arduni commented, "We delivered strong year-over-year revenue growth in the fourth quarter and full year, reflecting robust customer demand, backlog fulfillment, and improved pricing. While inflation remains a factor, we are seeing the supply chain environment continue to improve with demand for our products and services growing in 2023."
GE HealthCare provided its outlook for the fiscal full-year 2023. It expects organic revenues to grow 5% to 7% YoY. Adjusted EBIT margin is expected between 15% and 15.5% representing a 50 bps to 100 bps improvement over the 2022 pro forma adjusted EBIT margin.
GE Aerospace
Its aviation division that makes jet engines will be called GE Aerospace. This division has an installed base of 39,400 commercial and 26,200 military aircraft engines. This division also supplies The Boeing Company (NYSE: BA) and Airbus SE (OTCMKTS: EADSY) with jet engines and will benefit from the recovery in the travel sector.
GE controls nearly 51% market share of the widebody airplane engine market. The recent deal with United Airlines Holding Inc. (NYSE: UAL) committing to purchasing 100 Boeing 747 MAX airplanes is a big win for GE as it can expect to collect nearly $4 billion in revenues. The modernization of fleets is a significant tailwind for this Company.  
GE Vernova
Vernova is a combination of the words verde and nova. Verde is green, and nova is Latin for the word new. This spin-off will consist of GE's renewable energy, digital, and energy financial services. Together with its customers, GE provides one-third of the world's electricity.
The Company will continue accelerating the development of reliable, affordable, and sustainable energy with an installed base of 7,000 gas turbines and 400 GW of renewable energy equipment. These spin-offs are planned for early 2024.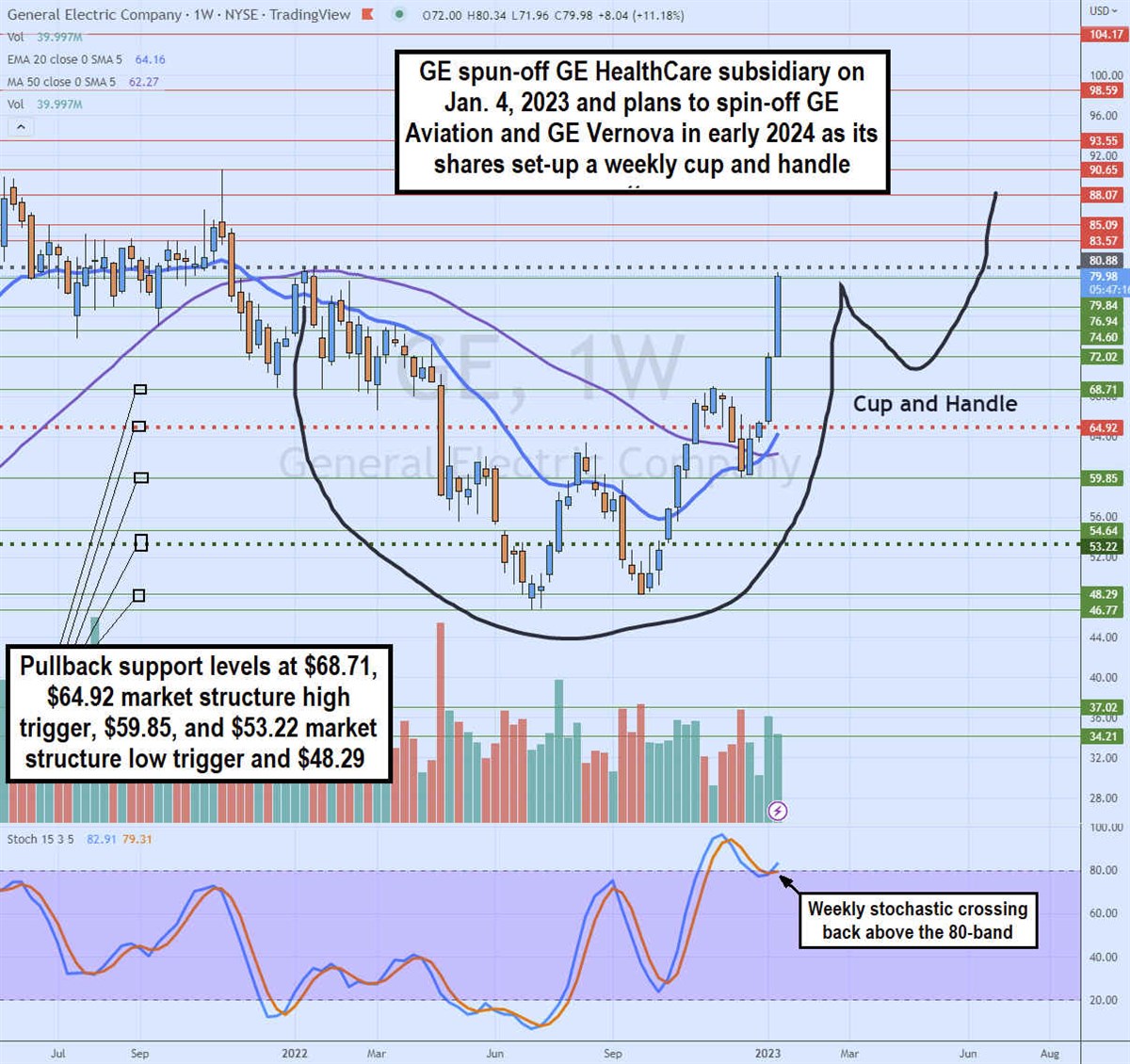 Weekly Cup and Handle Pattern
GE stock has rallied towards the $80.88 price level where the lip of the cup-and-handle resides. The pattern commenced at the start of 2022. Shares fell to a low of $46.77 by June and rounded out a bottom after breaking through the $53.22 market structure low (MSL) trigger.
Shares exploded to the upside upon the debut of its GEHC spin-off in January. Shares have now returned towards the year-long lip level resistance setting up for a breakout or a slight dip and then a breakout to form a weekly cup and handle pattern.
The weekly 20-period exponential moving average (EMA) at $64.16 broke out through the weekly 50-period MA at $62.27. Volume has also accelerated as the weekly stochastic attempts to cross back up through the 80-band.