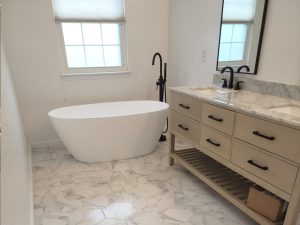 Vienna, Virginia — Hometech Services is Northern Virginia's leading home remodeling firm, helping homeowners across the region reimagine their spaces.
This team of expert remodeling contractors have been part of the leading home remodeling business in Northern Virginia for almost a decade, specializing in home remodels, additions, and interior renovation services. At HomeTech, the team is proud to provide honest, quality work with exceptional results and at reasonable prices.
From bathrooms and basements to full interior remodeling projects, HomeTech Services, and now HomeTech Services is proud to be expanding their offerings to full kitchen remodeling.
Kitchen Renovations
The kitchen is the soul of the home. If the kitchen space feels cramped, outdated, and could use a functionality upgrade, HomeTech Services can find the solutions.
Upgrade any kitchen's form and function, and add a touch of modern flair and style with HomeTech's high-quality kitchen remodeling services to help bring any dream project to life. This team of experienced and professional designers and contractors will help clients design the perfect kitchen to meet their unique needs and personal style. Once the design is created and agreed upon, the team will get to work handling every aspect of the kitchen remodeling process, from initial design and planning to execution and completion.
If entertaining and gathering is the goal, the kitchen may need more space. Consider an open-concept kitchen remodel, which will allow interacting with family and friends while cooking. Open-concept kitchens are at the top of the wish list for many homebuyers, so this type of remodeling can also help increase the value of your home.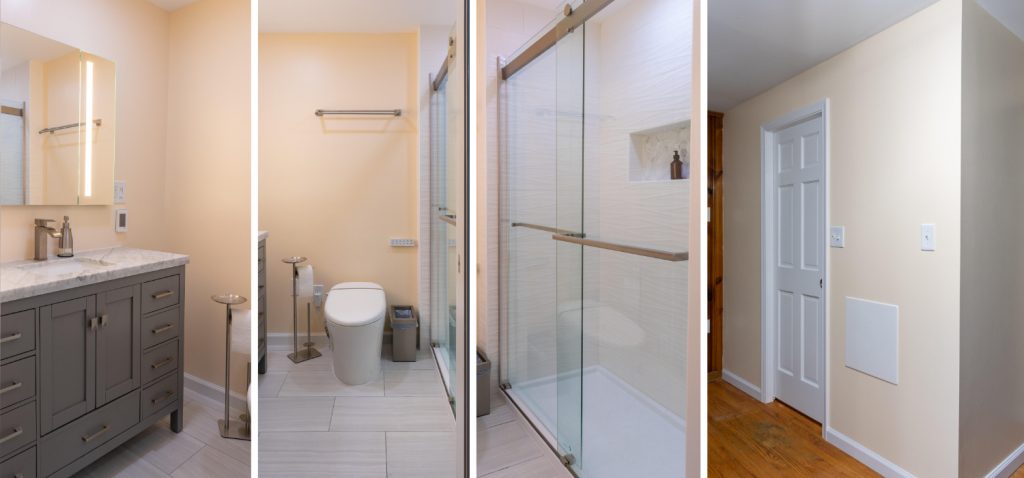 Bathroom Renovations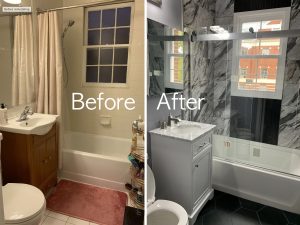 The bathroom is an essential part of the home. It's required for both comfort and hygiene, and it doesn't matter if it's the guest bathroom or the master bath, they always need to be fully functional. But because bathrooms are regularly exposed to use, heat, and moisture, these spaces can experience more wear and tear than other rooms.
HomeTech Services is the top choice for bathroom remodeling in Northern Virginia. With an A-rating from the Better Business Bureau and extensive home remodeling experience, they are always a top choice.
Let HomeTech Services help rethink those old, outdated bathrooms and create newly renovated, comfortable, and more stylish spaces.
Basement Remodeling
When it comes to creating the perfect finished basement that meets every need, turn to HomeTech Services of Northern Virginia. Offering the highest-quality basement remodeling and redesign services, they are the most trusted name in finished basement projects. Transform any basement into any space, from playroom to home gym, crafting or gaming room, or guest area, and HomeTech Services will keep the project on-time and on-budget. Even if it's just to configure additional storage space, this team of experts has every basement remodeling project covered.
Interior Remodeling
Sometimes a remodeling project needs to be a little more involved than just one room or space. If it's time to revamp or completely reimagine the interior space, HomeTech Services interior home remodeling services provides everything necessary to create a beautiful space, no matter the size. From flooring, to countertops, paint, and more, HomeTech Services is the best partner for interior home remodeling.
More Information
HomeTech Services seeks to provide first-rate home remodeling services through transparent communication and effective, efficient results. Every project is completed with exceptional quality and at competitive prices, see for yourself at https://www.hometechdmv.com/.
Source: https://thenewsfront.com/hometech-services-expands-services-to-include-kitchen-remodeling/
About HomeTech Services
We're a leading home remodeling business serving Northern Virginia. We take on a wide range of projects, from remodeling to additions to painting.
Contact HomeTech Services
8460 Tyco Rd # H
Vienna
VA 22182
United States
(703) 313-1344
Website: https://www.hometechdmv.com/