05/15/2023, London, UK // PRODIGY: Feature Story //



Ordinal PEPE, powered by $oDoge, introduces the world's first Pepe on the Bitcoin blockchain. With fractionalization, wrapping on Ethereum, and the support of the $oDoge network, influencers, and leading cryptocurrency exchanges, Ordinal PEPE is set to redefine the meme culture in the crypto space.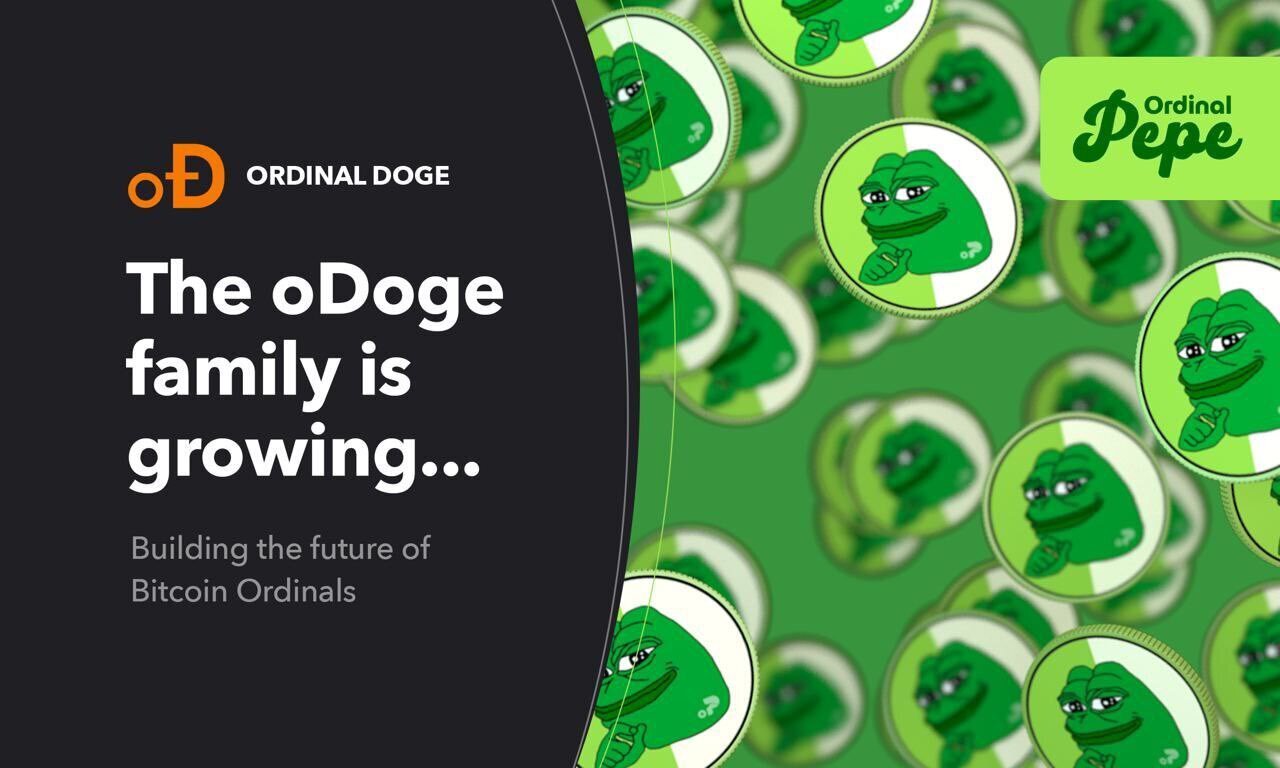 $oPepe Revolutionizing the Bitcoin Ordinals
The crypto community is about to witness a groundbreaking moment as Ordinal PEPE ($oPepe) merges the excitement of memeable coins with the power of Bitcoin. By creating the inaugural Pepe ordinal on the Bitcoin blockchain, and subsequently fractionalizing it into 1 quadrillion ERC-20 tokens, the $oPepe smart contract has come to life.
The team behind Ordinal PEPE comprises the same brilliant minds that brought the world the first BTC memecoin, Ordinal Doge, and raised the bar by vaulting the most valuable Ordinal to date. With an impressive lineup of massive influencers, strategic partners, extensive PR campaigns, billboard advertisements, celebrity endorsements, and top exchange listings, Ordinal PEPE is set to become an iconic force in the crypto industry.
"We are thrilled to bring together two incredibly hyped cultures, Pepe and ordinals, to revive and elevate the meme culture," said the spokesperson for Ordinal PEPE. "With our successful smart contract audit, we are excited to announce that our Fairlaunch will take place on Wednesday, May 17, at 6 pm UTC on Pinksale."
To celebrate the launch, Ordinal PEPE has planned an airdrop for $oDoge holders, along with exclusive bonuses for those purchasing $oPepe tokens. Additionally, the project has big plans for the $oPepe token and the $oDoge ORX platform, ensuring an immersive and engaging experience for the community.
View more details about Pinksale fairlaunch here.
The deployment of the first-ever Pepe ordinal on the Bitcoin blockchain marks a significant milestone for the Ordinal PEPE project. The process involved creating an ordinal on Bitcoin, securely storing it in an Emblem Vault on the Ethereum blockchain, fractionalizing the Emblem Vault to represent the ordinals as an ERC-20 token ($oPepe), and recently introducing the logo ordinal to the Vault, adding cultural value to the $oPEPE token.
The inscription link, available at https://ordinals.com/inscription/11f76a399c9388372cb118b53f41bd24573e03dc1776ab2dee8719388414b0f8i0, provides enthusiasts and supporters with an opportunity to be part of the Ordinal PEPE revolution.
Tokenomics
As with any cryptocurrency, tokenomics play a vital role in the success and sustainability of the project. The $oPepe tokenomics are designed to ensure that the token's value remains stable, liquidity is maintained, and the project is sustainable in the long term.
The total supply of $oPepe is 1,000,000,000,000, with a well-balanced distribution across different categories. The $oPepe supply is further distributed in the following way:
Burn: 50%

Fair Launch: 26%

Liquidity: 14%

CEXs: 6%

oDoge Ecosystem: 2%

Advisors/Influencers Partnership: 2%
Additionally, the $oPepe token has a 0% buy and sell tax, ensuring that holders can trade the token freely without being subjected to additional fees. Furthermore, the ownership of the $oPepe token is locked and renounced, providing holders with peace of mind that their investments are secure and preventing any malicious activities such as rug pulls.

About Ordinal PEPE

Ordinal PEPE ($oPepe) is the first-ever Pepe on the Bitcoin blockchain, powered by the $oDoge network. With a fractionalized and wrapped ERC-20 token, Ordinal PEPE brings together the worlds of memes and cryptocurrencies, amplifying the excitement and cultural impact. The project is backed by influential partners, extensive PR campaigns, and a strong presence on leading cryptocurrency exchanges, ensuring widespread adoption and liquidity for $oPepe.

Join the Ordinal rush and be part of the movement that combines the power of Bitcoin with the infectious charm of Pepe memes. Visit the official Ordinal PEPE website at https://ordinalpepe.io/ for more information about the project and its upcoming Fairlaunch.

Website | Twitter | Telegram | Whitepaper

###

Ordinal PEPE

Muhammad Ali

Disclaimer:

This announcement is not directed at any investors or potential investors, and does not constitute an offer to sell — or a solicitation of an offer to buy — any securities, and may not be used or relied upon in evaluating the merits of any investment. Any projections, estimates, forecasts, targets, prospects and/or opinions expressed in this release are subject to change without notice. The contents in here should not be construed as or relied upon in any manner as investment, legal, tax, or other advice. Furthermore, $oDoge has no relation with the Dogecoin ($DOGE).









Source: Prodigy.press

Release ID: 614565

Source published by Submit Press Release >> Ordinal PEPE Launches, Introducing the World's First Pepe on BTC Ordinal, Fairlaunch Starts on May 17