BELVIDERE, NJ, March 01, 2023 (GLOBE NEWSWIRE) -- Edible Garden AG Incorporated ("Edible Garden" or the "Company") (Nasdaq: EDBL, EDBLW), a leader in controlled environment agriculture (CEA), locally grown, organic and sustainable produce and products, announces that the Company will showcase its new line of Pulp sustainable gourmet sauces and chili-based products at National Products EXPO WEST® 2023, booth #8407, in Anaheim, California from Wednesday, March 8th to Friday, March 10th. The Company also reports it will market Pulp under the pending trademark: Bland to Bold™.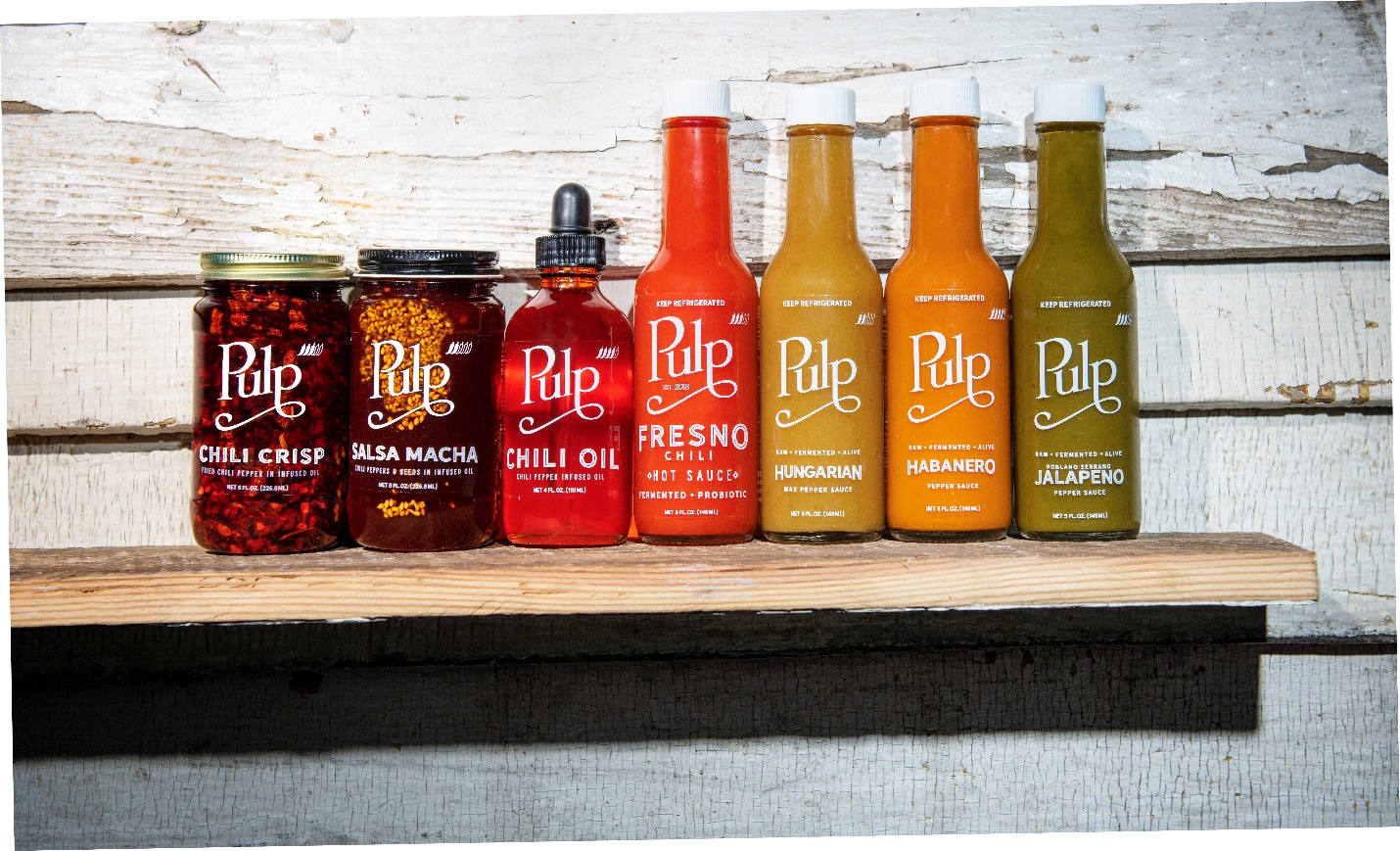 Pulp sustainable gourmet sauces and chili-based products
National Products EXPO WEST® 2023 is produced by New Hope Network and co-located by Fresh Ideas Organic Marketplace. The event is expected to bring together between 60,000 and 65,000 attendees, with the buyer audience expected to make up an estimated 60% of that total. Attendees will be able to experience the newest innovations in natural and organic foods and beverages; clean beauty and home products; and supplements and ingredients.
Mr. Jim Kras, Chief Executive Officer of Edible Garden, commented, "We are excited to introduce Pulp's complete line of sustainable gourmet sauces and chili-based products at EXPO WEST® 2023. This marks our initial entrée into the global sauces and condiments market, which is projected to grow from $172.79 billion in 2021 to $240.7 billion by 2028 according to Research and Markets. Pulp sauces will be USDA Organic produced with natural and non-GMO, preservative-free ingredients, allowing the peppers to take center stage and shine, while showcasing their flavors. This is a big step forward in the evolution of the Edible Garden brand, including our new trademark, as we expand into what we expect will be a new, higher-margin, product category. In addition, the Pulp line of products will allow us to leverage our established retail relationships and distribution channels with a new product that will be strategically located within the refrigerated section, adjacent to the produce section."
"The Pulp product line includes Hungarian Wax Hot Sauce, Poblano Serrano Jalapeno Hot Sauce, Fresno Chili Hot Sauce, Habanero Carrot Hot Sauce, as well as Salsa Macha, Chili Crisp, and Chili Oil. Please stop by the Edible Garden booth, # 8407, located on Level 3 in the Hot Products area of EXPO WEST, and taste these gourmet sauces for yourself."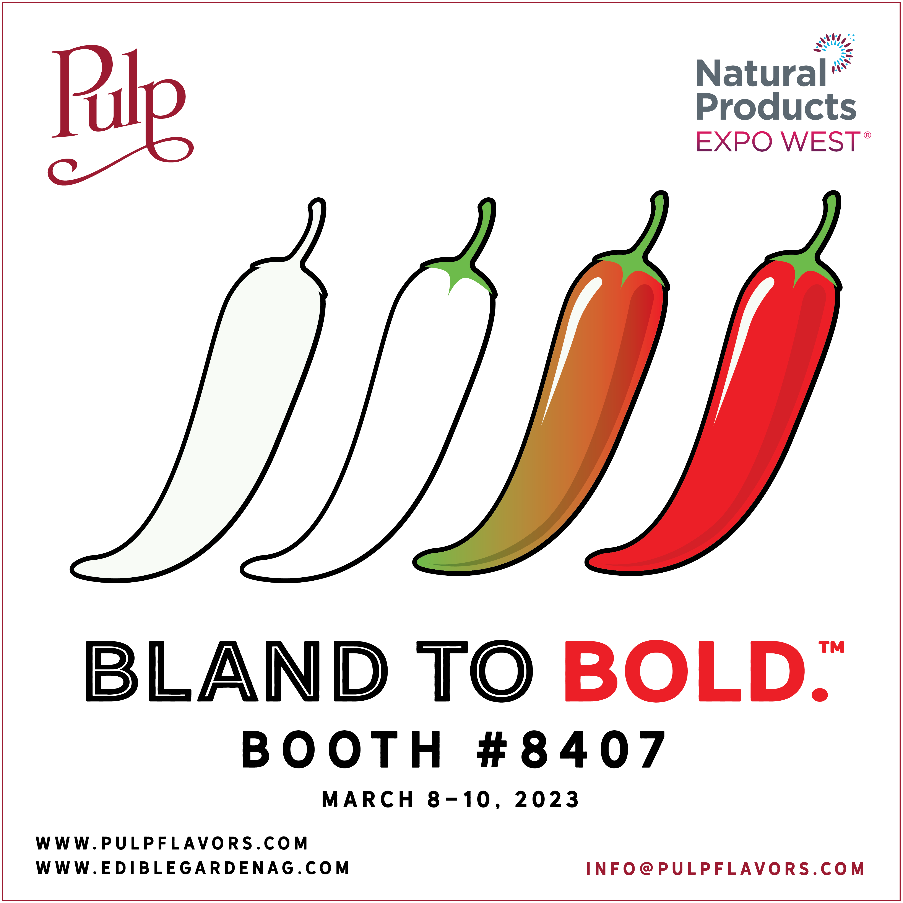 Visit Edible Garden's booth #8407 at Expo West
ABOUT EDIBLE GARDEN®
Edible Garden AG Incorporated, is a leader in locally grown organic leafy greens and herbs backed by Zero-Waste Inspired® next generation farming. Offered at over 4,000 stores in the US, Edible Garden is disrupting the CEA and sustainability technology movement with its safety-in-farming protocols, use of sustainable packaging, patented GreenThumb software and self-watering in-store displays. The Company currently operates its own state-of-the-art greenhouses and processing facilities in Belvidere, New Jersey and Grand Rapids, Michigan, and has a network of contract growers, all strategically located near major markets in the U.S. Its proprietary GreenThumb software optimizes growing in vertical and traditional greenhouses while seeking to reduce pollution-generating food miles. Edible Garden is also a developer of ingredients and proteins, providing an accessible line of plant and whey protein powders under the Vitamin Way® and Vitamin Whey® brands. In addition, the Company offers a line of sustainable food flavoring products such as Pulp gourmet sauces and chili-based products. For more information on Edible Garden go to https://ediblegardenag.com/
Forward Looking Statements
This press release contains forward-looking statements, including with respect to the Company's growth strategies, the potential benefits of expanding its product lines, and performance as a public company. The words "expect," "objective," "potential," "projected," "seek," "strategy," "will," and similar expressions are intended to identify forward-looking statements. These forward-looking statements are subject to a number of risks, uncertainties, and assumptions, including market and other conditions and the Company's ability to achieve its growth objectives. The Company undertakes no obligation to update any such forward-looking statements after the date hereof to conform to actual results or changes in expectations, except as required by law.
Investor Contacts:
Crescendo Communications, LLC
212-671-1020
EDBL@crescendo-ir.com